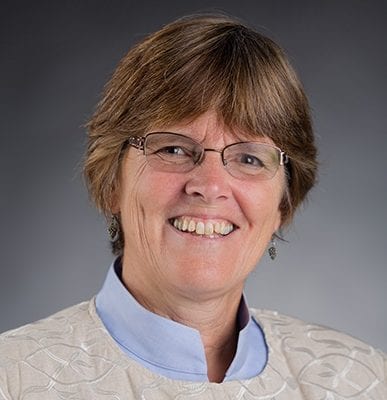 Andrea Easter-Pilcher, PhD, MSc
Dean, School of Arts and Sciences
Professor, Department of Biology, Ecology, and Conservation
Dr. Andrea Easter-Pilcher is the Dean in the School of Arts and Sciences, a professor in the Department of Biology, Ecology, and Conservation (BEC), and a cooperating faculty member in the School of Veterinary Medicine. She joined St. George's University as the BEC Chair in 2009.
Her research has focused on the conservation and restoration of threatened species and ecosystems, the ecology of rare vertebrate species and issues at the human-wildlife interface. Dr. Easter-Pilcher's research has included snare-trapping and radio-tracking grizzly bears in Montana for an aversive conditioning project (featured in National Geographic); leading a long-term, wetlands biodiversity restoration project reintroducing beavers into the Volga-Kama National Nature Preserve in Tatarstan, Russia; and assessing riparian ecosystem changes driven by the reintroduction of a top predator, the gray wolf, to Yellowstone National Park.
Prior to her appointment at SGU, Dr. Easter-Pilcher was a tenured professor of wildlife and conservation biology in the Department of Environmental Sciences at the University of Montana-Western. In the spring of 2016, she accepted an additional adjunct faculty position at the Natural Resources Institute at the University of Manitoba.
Dr. Easter-Pilcher received her Doctor of Philosophy in biological sciences with a supporting field in statistics from Montana State University-Bozeman in 1993. In 1995, she was awarded a postdoctoral research appointment in wildlife ecology at Purdue University in West Lafayette, Indiana. She earned her Master of Science in wildlife biology from the University of Montana-Missoula and her Bachelor of Arts from Bowdoin College in Brunswick, Maine.
Dr. Easter-Pilcher was awarded the SGU Undergraduate Student Association (USGA) Outstanding Teacher award for exceptional teaching and commitment to students in the spring of 2015 and the SGU USGA faculty teaching and mentoring award in the biological sciences in 2012.  She also serves as a delegate representing the country of Grenada at the Conference of the Parties (CoPs) for the Convention on International Trade in Endangered Species of Flora and Fauna (CITES).
https://www.sgu.edu/wp-content/uploads/2017/01/EASTER-PILCHER-Andrea-20161027_1088-BIO.jpg
428
387
joannvastola
https://www.sgu.edu/sgu-main-website/wp-content/uploads/2016/01/SGU-Signature-Horizontal-SPOT-300x55.png
joannvastola
2017-01-27 18:42:31
2018-04-16 14:57:16
Andrea Easter-Pilcher