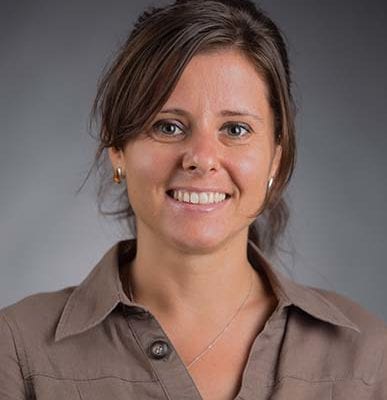 Melania Crisan, DVM, PhD, MSc
Assistant Professor
Dr. Melania Crisan is an Assistant Professor of Veterinary Anatomy in the Department of Anatomy, Physiology, and Pharmacology. Her research interests include anatomy, equine locomotor apparatus, diagnostic imaging, and regenerative medicine.
Dr. Crisan received her Doctor of Veterinary Medicine in 2008 and Master of Science in 2010 from the University of Agricultural Sciences and Veterinary Medicine (USAMV) of Cluj-Napoca, Romania. In 2013, she earned her Doctor of Philosophy from USAMV and the Université de Caen, Basse Normandie, France.
Before joining SGU, Dr. Crisan was an Assistant Professor of Veterinary Anatomy on the Faculty of Veterinary Medicine in Cluj-Napoca. She has also had multiple externships in France and the United States, as well as an eight-month internship at CIRALE-Hippolia, France, where she gained experience in equine locomotor pathology and diagnostic imaging.
https://www.sgu.edu/wp-content/uploads/2017/04/CRISAN-Melania-web.jpg
428
387
bpmauser
https://www.sgu.edu/sgu-main-website/wp-content/uploads/2016/01/SGU-Signature-Horizontal-SPOT-300x55.png
bpmauser
2017-04-18 19:50:49
2017-08-18 15:33:32
Melania Crisan, DVM, PhD, MSc