On Saturday, May 14, St. George's University held its annual Commencement Ceremony for the School of Arts and Sciences and the Graduate Studies Program. More than 300 students took to the stage to receive their diplomas at Patrick Adams Hall, the University's newest and largest auditorium. This year's Commencement Day also marked several firsts for the University. The commencement included the first cohort sponsored by the University of Botswana to earn their Bachelor of Preveterinary Medical Sciences; the first class to earn a Bachelor of Science in Nursing (BSN); and the charter class graduation of the Master of Business Administration (MBA) in Multi-Sector Health Management.
Renowned Grenadian writer and poet, Dr. Merle Collins, OBE, PhD, was the keynote speaker, taking center stage to address all students and their families. Along with Dr. Collins, honored guests included Deputy Chair of the Conference of Churches in Grenada, Reverend Osbert James, PhD, and 2011 Distinguished Service Honoree Gloria Payne-Banfield, OBE, MSc. Ms. Payne-Banfield received St. George's Distinguished Service Award in recognition of her outstanding service to the University; in acknowledgement of her long friendship with the University and leadership in forwarding its progress; and in gratitude for her advocacy and commitment to the evolution of graduate studies, research programs, and to the creation and development of the School of Arts and Sciences. Additionally, the University's Undergraduate Student Government Association (USGA) presented the George B. Daniel Undergraduate Award to Ejaz Ramsingh, BS for his outstanding contribution to student life.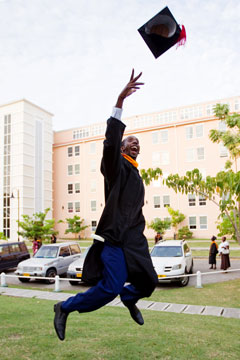 In the School of Arts and Sciences, more than 250 undergraduate degrees were conferred and included Bachelors of Arts (BA), of Education (BEd), of Science (BS), or of Science in Nursing (BSN) degrees. Grenadian students made up the majority of the graduates and were addressed by Class Valedictorian, Alana Praimdass of Trinidad and Tobago. "It is important for us to realize that final examinations and graduation does not mark our end to the relationship we have with St. George's University," she emphasized during her speech. On behalf of the graduating class, Ms. Praimdass also expressed her gratitude for the support offered by the University staff and faculty. She reminded her fellow classmates, "We are the force that will drive this institution towards future success. We should wish to contribute in whichever manner possible to the enrichment and enhancement of the quality of education being received by the current and future students."
The commence ceremony included a group of Batswana students—sponsored by the University of Botswana— to earn their BS in Preveterinary Medical Sciences in Grenada. Similarly, a handful of students who completed their first two years at Stony Brook University in New York also had their Bachelor's degree conferred. Each of these students will continue onto the four-year veterinary medical program at St. George's. Their graduation, and promotion into the School of Veterinary Medicine, speaks to the success of St. George's collaboration with the University of Botswana and Stony Brook University.
The second half of the Commencement Day was dedicated to St. George's graduate students. In the Graduate Studies Program, approximately 70 students earned their Master of Business Administration (MBA), Master of Public Health (MPH), or Master of Science (MSc) degrees. While four MBA graduates were members of the MBA in Multi-Sector Health Management charter class, the remaining MBA students specialized in the International Business.
MPH graduate, St. Lucian born Lydia Atkins, represented the graduate students during the ceremony as Class Speaker. Ms. Atkins joined St. George's in 2010, excelling throughout her years in Grenada. She was selected as Class Speaker due to her unique combination of technical expertise and administrative experience in the health sector as well as community and youth development.
St. George's University is proud of all its graduating students and confident its alumni will positively impact the world in each respective field.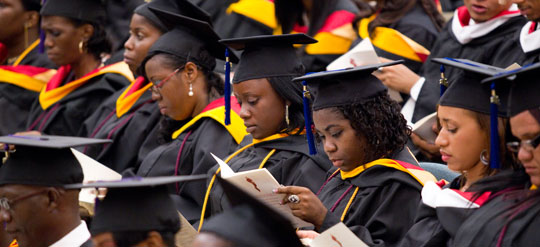 https://www.sgu.edu/wp-content/uploads/2016/10/news-2011-graduating-class1.jpg
251
536
VS
https://www.sgu.edu/sgu-main-website/wp-content/uploads/2016/01/SGU-Signature-Horizontal-SPOT-300x55.png
VS
2011-05-25 15:32:29
2017-01-18 01:16:15
Several Firsts for SGU 2011 Graduating Class