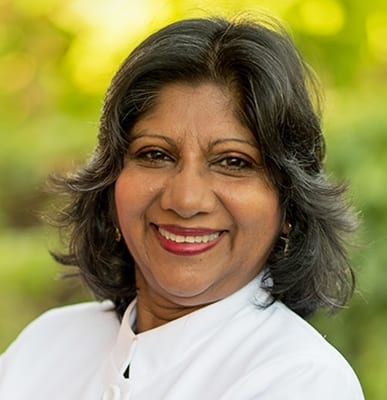 Shamin Renwick, MLIS, PhD, FCLIP
Library Director
Dr. Shamin Renwick has more than 30 years experience in school and academic libraries, of which 10 years were spent at the Medical Sciences Library at the University of the West Indies (UWI), St. Augustine, Trinidad and Tobago. Dr. Renwick holds a Bachelor of Science, Master of Philosophy, and Doctor of Philosophy in agricultural extension as well as a Master in Library and Information Science from UWI.
She has published several referenced articles, including co-authoring "Health Risk Behaviours among Adolescents in the English-speaking Caribbean: A Review" and edited works, such as "Caribbean Libraries in the 21st Century: Changes, Challenges, and Choices" and "Sustainable Funding of Higher Education in Challenging Times."
Dr. Renwick completed the Leadership Institute for Academic Librarians at the Harvard Graduate School of Education in 2009. She is a past president of the Association of Caribbean University, Research and Institutional Libraries (ACURIL) and a fellow at the Chartered Institute of Library and Information Professionals, UK. Dr. Renwick was the recipient of several awards including the ACURILEANA Star 2007 for Research and Publication and, in 2012, was named an Outstanding Graduate of the 1980s by the Department of Library and Information Science, Mona Campus, UWI.
She considers working closely with library staff, students, and faculty as integral to her goal of achieving the library's mandate of providing high-quality services and academic support for the University's mission. Having substantial experience teaching information literacy, providing research support especially with Caribbean materials, and working with research data management, Dr. Renwick believes that the management of one's information environment involves more than using Google.
Dr. Renwick looks forward to a student-centered, user-friendly library service for students; a collaborative relationship with staff and faculty; high levels of customer service and job satisfaction for library staff; academic support for achieving the mission and vision of SGU; and achieving the library's objectives of being the center of teaching, learning, and research.
https://www.sgu.edu/wp-content/uploads/2019/02/Shamin-Renwick-Bio.jpg
428
387
joshuayetman
https://www.sgu.edu/wp-content/uploads/2020/02/sgu-logo-grenada.svg
joshuayetman
2019-02-13 18:07:29
2019-02-13 20:02:02
Shamin Renwick