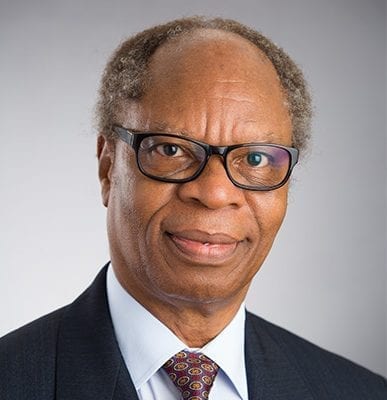 Tom Aire, DVM, PhD, FCVSN, FAS
Professor
Dr. Tom Aire is a professor of anatomy, and has taught this subject in veterinary schools in many parts of the world. Dr. Aire came to St. George's University as professor and course director of Veterinary Anatomy II in July 2006, and served as chair of the Department of Anatomy, Physiology and Pharmacology from January 2007 to December 2014, associate dean of learning and teaching from July 2008 until December 2014, and then associate dean of academics from February 2015 until June 2018, when he retired from the position.
Dr. Aire earned his Doctor of Veterinary Medicine in 1970 from the University of Ibadan, in collaboration with Kansas State University, and subsequently obtained his Doctor of Philosophy (PhD) from the University of Ibadan in 1976. A foundation fellow of the College of Veterinary Surgeons of Nigeria (FCVSN) and a fellow of the prestigious Academy of Sciences of Nigeria (FAS), he did his postdoctoral studies in Sweden and the United States. Dr. Aire was a rated scientist by the National Research Foundation of South Africa, and, indeed, was appointed as the representative for the veterinary and animal sciences in the rating body of that Foundation until he came to SGU in 2006.
A reproductive biologist, Dr. Aire has trained several PhD and Master of Science students. He continues to train then even as he devotes more time to writing invited reviews and chapters in state-of-the-art reference books in his area of specialty. Dr. Aire is professor emeritus of the University of Pretoria, South Africa.
https://www.sgu.edu/wp-content/uploads/2017/01/AIRE-Tom-20170914_0154-BIO.jpg
428
387
collegiseducation
https://www.sgu.edu/wp-content/uploads/2019/09/sgu-logo-west-indies.png
collegiseducation
2017-01-19 15:49:59
2019-02-19 20:39:06
Tom Aire