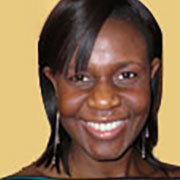 Carol Munyame, MD
Graduation Date: 2004
Zimbabwe
Dr. Carol Munyame had long prepared for a future in medicine.  Armed with a tireless work ethic, she graduated from St. George's University School of Medicine and has recently been accepted into a highly competitive seven-year training program at Southampton General Hospital in Hampshire, UK, where she will specialize in Obstetrics and Gynecology.  With only 18 posts available, Dr. Munyame believes her training at St. George's University set her apart from many of the other applicants because of its location in a developing country.  In addition, Munyame said that the multicultural environment in Grenada prepared her well for the similarly diverse medical system in the UK.
Dr. Munyame first became aware of St. George's while researching medical schools on the Internet with her father.  She found the SGU website to be a valuable asset.  Also important in her final decision to apply to the University was the first-hand experience of a fellow African who had recently graduated from the University, whom she contacted at the suggestion of SGU.  Based upon her performance on Advanced level exams, Dr. Munyame was accepted into the five-year medical degree program in 2000.
Born in Edinburgh, Scotland but raised and educated in Zimbabwe, Carol, whose African name is Rutendo, was not intimidated by the distance of Grenada.  In fact, she viewed the opportunity to study at SGU as a great adventure.  Her family, however, was a bit apprehensive, and so her parents and brothers accompanied her during her first visit to Grenada.  Ten days later they left the Island feeling reassured and excited for her future.
Dr. Munyame describes her transition into SGU as seamless.  She found great comfort in the diverse student body that included a strong presence of African, British and American students.  "I felt an instant connection with the SGU students, as we were all in a similar situation.  Before I realized it, my network of friends was tremendous," said Munyame.
Dr. Munyame praises the SGU faculty for their guidance, as it helped her achieve her goal of practicing medicine in the UK.  "Several of the SGU professors played a critical role in my selection of an appropriate training program in the UK.  My clinical years in the UK were based purely on their recommendation," said Dr. Munyame. She felt she was a step ahead in knowing what to expect from the programs and what to focus on to be successful.
Dr. Munyame's respect for St. George's University and its commitment to its students is perhaps most evident in her recommendation of the University to her brother, Simba.  Her experience and subsequent success influenced his decision to apply to the School of Medicine for next term.  There could be no better testimonial.
https://www.sgu.edu/sgu-main-website/wp-content/uploads/2016/01/SGU-Signature-Horizontal-SPOT-300x55.png
0
0
Erin Shaw
https://www.sgu.edu/sgu-main-website/wp-content/uploads/2016/01/SGU-Signature-Horizontal-SPOT-300x55.png
Erin Shaw
2016-12-16 20:18:45
2017-02-07 21:03:40
Carol Munyame, MD