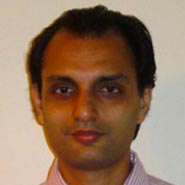 Druvindra Atapattu, MD
Graduation Date: 2005
Sri Lanka
Dr. Druvindra Atapattu is devoted to his native land of Sri Lanka and cares for the people to whom he is most connected. As an only child, he was influenced by his physician father who served as the Minister of Health in Sri Lanka and played an influential role at UNICEF in New York. It seemed his fate to practice medicine and assist the country he has always called home.
In the late 1980s, in the midst of an ongoing ethnic conflict, the North Colombo Medical College, the first private medical college in the country, was closed due to student unrest. At the time, the senior Dr. Atapattu was traveling extensively with UNICEF and became aware of St. George's University School of Medicine. St. George's worked closely with Sri Lankan government representatives and its own Academic Board to craft a unique entry and scholarship program that allowed many of the displaced medical students to continue their studies. As a result, nearly 300 future doctors eagerly accepted St. George's generous agreement with Sri Lanka and transferred to the University.
In 1990, Druvindra arrived in Grenada to begin his studies. Although he was in the presence of so many students from Sri Lanka, he was excited about the diversity of the student body at SGU. "The opportunity to meet students from other parts of the globe was tremendous," he said. In fact, most of his friends from SGU, including his roommate, were Americans. Druvindra was also impressed with the caliber of full-time professors at SGU, and the many visiting professors from the United Kingdom and United States with whom he studied.
Knowing he would ultimately return to Sri Lanka, Druvindra selected the United Kingdom for his clinical years, stating "the British medical system is most similar to that in Sri Lanka." He has been a physician for four years in the Accident and Emergency Unit at the National Hospital of Sri Lanka (NHSL), the premier teaching hospital and tertiary facility in the country. Positions at the NHSL are coveted and highly competitive, as it is the largest government hospital in Sri Lanka and is well-equipped for all medical specialties.
In his limited spare time, Dr. Druvindra Atapattu interviews students in the region who are interested in attending St. George's University. He is happy to assist these young men and women, offering his insight into the quality education and international environment of the University.
https://www.sgu.edu/wp-content/uploads/2020/02/sgu-logo-grenada.svg
0
0
dbriggs
https://www.sgu.edu/wp-content/uploads/2020/02/sgu-logo-grenada.svg
dbriggs
2016-07-13 16:15:53
2017-01-11 15:21:03
Druvindra Atapattu, MD