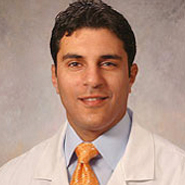 John Beshai, MD
Graduation Date: 1996
United States
John Beshai, a 1996 SGUSOM graduate, presented a late-breaking clinical trial to an audience of peers and mentors at the annual meeting of the American Heart Association (AHA) on November 6th in Orlando, FL. Dr. Beshai is an expert in cardiac electrophysiology, an area of medicine focused on the treatment of heart rhythm problems (arrhythmias). A respected scientist and the Director of Pacemaker and Defibrillator Services at the University of Chicago, he served as the National Principal Investigator and Steering Committee Chairman for the RETHINQ clinical trial.
For the RETHINQ trial, 172 heart failure patients were randomly selected to participate from August 2005 through January 2007. One group of 87 patients received treatment with Cardiac Resynchronization Therapy (CRT) devices while the remaining control group was untreated. Cardiac Resynchronization Therapy (CRT) devices are surgically implanted and deliver electrical impulses to both ventricles at the same time, making both chambers contract simultaneously thereby improving pumping efficiency.
While current guidelines support the use of CRT in patients with moderate to severe heart failure and a prolonged QRS duration, this study aimed to see if the device could benefit patients outside these recommended parameters.  Patients with a narrow QRS complex and evidence of mechanical dyssynchrony as demonstrated on echocardiography were included in the trial.  The results showed that those treated with CRT demonstrated no significant improvement in exercise capacity as measured by peak oxygen consumption. Some symptoms did improve, but quality-of-life scores, results of the six-minute hall walk test and echocardiographic parameters of left ventricular reverse remodeling did not improve significantly.
"There was no significant difference in the change in peak oxygen consumption between the treatment group and the control group during cardiopulmonary testing," reported Dr. John Beshai.  "Further research is necessary," he said.   These results were significant, as CRT may not benefit about a quarter of the country's estimated 500,000 heart failure patients.
The RETHINQ results presented by Dr. Beshai were simultaneously published online by the New England Journal of Medicine. They were published in the December 13 print issue of the publication.
https://www.sgu.edu/wp-content/uploads/2020/02/sgu-logo-grenada.svg
0
0
dbriggs
https://www.sgu.edu/wp-content/uploads/2020/02/sgu-logo-grenada.svg
dbriggs
2016-07-19 20:55:50
2016-08-02 17:00:04
John Beshai, MD