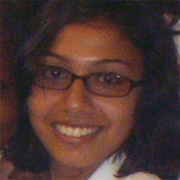 Mariz Weeresinghe, MD
Graduation Date: 2013
Sri Lanka
Mariz Amishka Weeresinghe is a native Sri Lankan who always knew she wanted to be a doctor. She completed her pre-medical program at St. George's University and, as of August 2010, she is in her third term at the University's School of Medicine.
In 2005, Mariz received a World Prize in International General Certificate of Secondary Education (IGCSE) Physics and was placed fourth in the world by Edexcel International. Aside from excelling in mathematics and sciences, the following year Mariz was awarded "Best Interactor" by Interact District 3220 for her community charity efforts. When asked why she wanted to study medicine, Mariz replied, "I felt I always wanted to practice medicine. When it was time to decide, I tried to think of other things, but there was nothing else that interested me. I enjoy sciences and interacting with people."
After graduating from high school, Mariz began researching medical schools and applied to some in the United Kingdom and Singapore. She first heard about St. George's University School of Medicine through one of her teachers and found it was recognized by the Sri Lanka Medical Council. One of her friends was accepted a term earlier and recommended she apply to St. George's as well. Mariz stated another factor in making her decision to apply and attend to St. George's. "I didn't have to do a whole undergraduate program. I was glad to do one year and then begin medical school." Mariz was awarded the Commonwealth-Grenada Scholarship, covering her tuition and fees for the duration of her studies—one year of pre-med and the four subsequent years in medical school.
Upon her acceptance, Mariz quickly embraced Grenada. She was already used to moving—living several years in Sri Lanka, Oman, and the United Arab Emirates. But this time she would be moving alone, without her family. Still, she found the campus to be "really beautiful and very pretty" and "it had the same climate as back home so it wasn't any trouble adjusting." Grenada life definitely suited Mariz—she made the Dean's List in 2009. In her first year living on-campus, Mariz's roommates hailed from Botswana, Trinidad, and Sweden. She believes her experience at St. George's is unique to that of other medical schools because of exposure to so many different types of people from different countries around the world. Commenting on the diversity Mariz says, "That's why I really like it here—it's not one crowd, one set of people."
In the School of Medicine, Mariz enrolled in the Complementary Medicine Selective, where St. George's students have the opportunity to learn non-traditional therapies, including Reiki, Acupuncture, and Ayurvedic medicines. Her purpose in taking this selective was "to keep an open mind and have an understanding of other therapies people might be using." According to Mariz, "It was interesting because it is not uncommon for the people of Sri Lanka to rely on ayurvedic and homeopathic remedies, which involves using herbs and non-traditional western medicine." Despite her young age and only now in her third term in medical school, she has recognized the importance of having awareness and an understanding different medical practices used around the world.
Mariz is currently Vice President of the Surgery Club and encourages all interested students to join. The club organizes suture clinics and visits along with opportunities to learn and network. She also notes there are a variety of clubs open to all students. Her advice to all future medical students— "Be focused. If it's what you want to do, don't hesitate, don't back out and go for it."
Mariz Weeresinghe expects to earn her Doctor of Medicine degree in 2013. She plans to complete her residency in the United States. Ultimately, once she finishes specializing, Mariz plans on returning to Sri Lanka. She explained, "I hope to be part of a health camp or open up a clinic to provide free services to the people in Sri Lanka who cannot afford it, especially in the rural areas." Mariz is sure to have continued success as a student and as a physician of the future.
https://www.sgu.edu/wp-content/uploads/2020/02/sgu-logo-grenada.svg
0
0
Erin Shaw
https://www.sgu.edu/wp-content/uploads/2020/02/sgu-logo-grenada.svg
Erin Shaw
2016-12-07 18:51:51
2017-02-07 21:14:30
Mariz Weeresinghe, MD