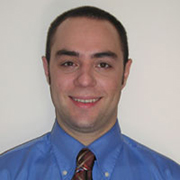 Matthew Myatt, MD
Graduation Date: 2008
Canada
Six years ago Dr. Matthew Myatt attended a St. George's University Information Session in his native Canada.  Although he had researched the University extensively, his interest was piqued as he listened to the inspiring words of Dr. Robert Jordan, Associate Dean of Enrolment Planning for Admission, who spoke about the University's dedication to quality medical education on a global scale and its impressive plans for the future.
His words, as well as those of fellow Canadian and SGUSOM graduate Dr. Jamie Adair, now Chief Resident in general surgery at St. Joseph Mercy-Oakland Hospital in Michigan, resonated with Matthew Myatt.  So much so that after finishing a Bachelor of Science from University of Toronto, he set off to Grenada to pursue both MPH and MD degrees. Dr. Myatt was accompanied by his wife, a registered nurse who participated in the Physician Extender Program at SGU, serving as a 'first responder' to injuries sustained by the student body.
For three years, as Matthew focused on his studies, his interest in public health and preventive medicine strengthened.  During that time, he got to know many of the administrators at SGU, including Chancellor Charles R. Modica, Dr. C.V. Rao, Dean of Students and Dawne Buckmire, Business Administrator, all of whom he said "strive to do what is best for the students." At the time, Dr. Myatt did not realize he would play such a critical role in the future expansion of SGU's clinical program in his Canadian homeland.
During a recent celebratory banquet in May, where Matthew was inducted into the exemplary Gold Humanism Honor Society (GHHS), he discussed with the Chancellor his interest in promoting SGU in Canada, with hope of securing clinical centers and hospital affiliations in the country.  With the Chancellor's approval, and the collaborative efforts of Dr. Stephen Weitzman, Dean of the School of Medicine, and Robert Ryan, Associate Dean of Enrolment Planning, Dr. Myatt was appointed Director, Canadian Clinical Program Development and hopes to secure the first Canadian hospital in the near future.
The necessity for such expansion was realized by Dr. Myatt as he himself faced the challenge of securing a clinical rotation in Canada.  With the shortage of physicians in Canada on the rise, and approximately 15% of Canadians (4.1 million people) without a primary care physician, the need for qualified medical doctors is grave.  To combat the shortage, that is largely due to an increase in population and the rise of retiring Canadian physicians, the government of Canada has increased enrollment in its 16 medical schools, further limiting opportunities for foreign medical school graduates.
While several SGU graduates have obtained residencies in Canada, it is a very arduous process.  Matthew explained that while not official, it is almost a requirement for residency to participate in Canadian rotations and obtain a reference letter from a practicing Canadian physician.  This, combined with a lengthy application process and associated fees, makes obtaining residency challenging.
Matthew believes the University's efforts in establishing successful clinical affiliations in Canada will open up a myriad of opportunities for the next generation of practicing physicians in Canada.  Speaking of next generation, Dr. Myatt and his wife Nicole are expecting their first child in January 2009.  Congratulations.
Dr. Myatt is currently putting his SGU education to great use as an Associate Epidemiologist at the Grey-Bruce Health Unit, the public health agency for Grey and Bruce counties in Ontario, Canada.
https://www.sgu.edu/wp-content/uploads/2020/02/sgu-logo-grenada.svg
0
0
Erin Shaw
https://www.sgu.edu/wp-content/uploads/2020/02/sgu-logo-grenada.svg
Erin Shaw
2016-12-07 18:55:59
2017-02-07 21:05:05
Matthew Myatt, MD