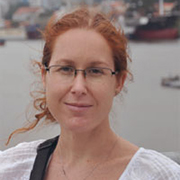 Olivia Wood, MD
Graduation Date: 2004
South Africa, Botswana
Dr. Olivia Wood was born in South Africa and raised in Botswana. She has traveled regularly her whole life so it seemed like a natural choice for her to study at an international academic institution such as St. George's University. In addition to the beauty of the island, Olivia loved that she could learn in different countries during her clinical years and through international selectives.
Olivia opted to complete all of her clinical rotations in England. However, she does regret not taking at least one elective in the United States. She had been sure that she wanted to work and live in England, and therefore did not pursue St. George's more than 60 clinical affiliations in the United States. When asked to reflect on her education, she responded, "During clinical rotations you immediately start comparing yourself to your colleagues…I found that I was completely on par, if not above average, compared to everyone else."
Upon graduating St. George's University School of Medicine in 2004, she completed a two-year internship in London followed by three years in Botswana. She explains, "I got placed in a government HIV clinic and it was an amazing experience…For me it was important to work in a developing country where there is limited resources and management. It's a great way to continue to learn and develop as a physician."
Through her work experience in the West Indies, Africa, and most recently East Asia, Olivia recognizes the importance of public health in the medical field. She expects to earn her Master of Public Health degree from the London School of Tropical Diseases in July 2011. SGU's Master of Public Health degree program (recently accredited by the US Council on Education for Public Health) was not available when she was studying in Grenada. If she only had the option to obtain a dual degree (MD/MPH) during her time in Grenada, Olivia would have liked to take advantage of the opportunity.
Her favorite thing about her MD degree is that it is transferrable, allowing her to travel. In 2010 Olivia and her husband moved to Vietnam. They had no trouble settling into the friendly and vibrant Vietnamese culture. She is happily working at a private practice. "I think it's nice to be back in family medicine after three intense years in infectious disease and public health in Botswana. Here I get the best of both worlds—family medicine as well as a hand in managing different diseases affecting the area. There are many travelers so you get some interesting cases as well." Olivia looks forward to experiencing various cultures while working and living in different countries. Dr. Olivia Wood's only regret is that she did not spend more time taking in the beauty and exploring the island of Grenada. "It was a really good experience and I made friends for life."
https://www.sgu.edu/wp-content/uploads/2020/02/sgu-logo-grenada.svg
0
0
Erin Shaw
https://www.sgu.edu/wp-content/uploads/2020/02/sgu-logo-grenada.svg
Erin Shaw
2016-12-07 19:04:04
2017-02-07 21:15:21
Olivia Wood, MD