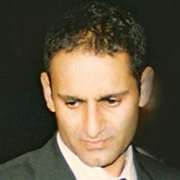 Rohit Seth, MD
Graduation Date: 2000
United Kingdom
Rohit Seth was born in the United Kingdom and planned to pursue a career in medicine, but desired to see other areas of the world. Dr. Seth discovered St. George's University (SGU) through the strong recommendation of an SGU student. His passion for medicine and his desire to travel flourished when he was accepted into the premedical program at St. George's University School of Medicine (SGUSOM) in 1994. Furthermore, Dr. Seth found the international aspect of SGU appealing because it would give him the flexibility to work in both the United Kingdom and the United States.
After completing his Basic Sciences program in Grenada, Dr. Seth carried out his core clinical rotations in the United Kingdom. Clinical electives in New York offered him an opportunity to experience yet another health care system while fulfilling his interest in world travel. "What I think impressed people most when I was interviewing for positions was the collaborative experience I gained from three different health care systems – the Caribbean, the United States, and the United Kingdom."
More than merely satisfied with his education, Dr. Seth remembers his years at SGU as a "truly amazing experience." "While studying hard, I was able to have fun. I loved being there and I received a great education," he said. Of the many superb professors, he credits Dr. Theodore Hollis, Professor of Physiology, as being very helpful and always available to provide guidance beyond the limitations of the classroom.
Dr. Seth found SGU to have a receptive atmosphere for learning, and a "great support system that was both comprehensive and challenging." Reflecting on his clinical years, Dr. Seth said, "My knowledge of basic sciences was far more advanced than students whom I met during the clinical years in the United Kingdom and the United States."
Dr. Seth graduated with his Doctor of Medicine (MD) from SGUSOM in 2000. Following his pre-registration house officer year, he began a basic surgical training program. As a first step in the program, he obtained membership to the Royal College of Surgeons of Edinburgh in June 2005. Afterwards, he spent one year training in plastic reconstructive surgery and burns at Stoke Mandeville Hospital. One additional year of training in plastic and reconstructive surgery was completed at Guys and St. Thomas's Hospital in London.
The exceptional foundation in basic sciences provided by SGU helped Dr. Seth rise above his peers in pursuit of a Doctoral degree. Dr. Seth has worked at the Institute of Cancer Research, and earned a Microsurgery Research fellowship from both the Royal Colleges of Surgeons of Edinburgh and of Ireland to fund the first year of the PhD project and further his research on microsurgical reconstruction using gene therapy. Dr. Seth is currently in the final stages of his work on microsurgical reconstruction and cancer treatment in the PhD program at the Royal Marsden Hospital. The Royal Marsden Hospital is the first hospital dedicated primarily to cancer treatment and research. Today the hospital, along with its academic partner, The Institute of Cancer Research, forms the largest and most comprehensive cancer center in Europe. After earning his PhD in October 2010, Dr. Seth plans to continue his plastic surgery training. Next year brings about another exciting development; Dr. Seth and his wife, Divya, will welcome their first child.
Dr. Seth is actively involved in interviewing candidates for St. George's University School of Medicine. Seeing it as a way of giving back to the St. George's University community, Dr. Seth enjoys meeting with potential students, sharing his academic experiences, and telling them what to expect in Grenada.
https://www.sgu.edu/wp-content/uploads/2020/02/sgu-logo-grenada.svg
0
0
Erin Shaw
https://www.sgu.edu/wp-content/uploads/2020/02/sgu-logo-grenada.svg
Erin Shaw
2016-12-07 19:50:33
2017-02-07 21:11:50
Rohit Seth, MD