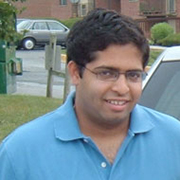 Selvam Joseph Mascarenhas, MD
Graduation Date: 2002
India
Dr. Selvam Mascarenhas entered the Premedical Sciences at St. George's University School of Medicine at age 18, after completing secondary school in his home country of India, and graduated with his Doctor of Medicine degree in 2002.  He is now a staff hospitalist medical doctor at Christiana Care Health System, one of the largest health care providers in the mid-Atlantic region, serving all of Delaware and portions of seven counties bordering the state in Pennsylvania, Maryland and New Jersey.
Dr. Mascarenhas joined Christiana Care Health System in 2006, immediately upon completion of his Residency in Internal Medicine at Norwalk Hospital in Connecticut, an affiliate of Yale University School of Medicine. His specialty in Internal Medicine is integral to his role as a hospitalist, as he helps manage patients throughout the continuum of hospital care, often seeing patients in the ER, admitting them to in-patient wards, following them as necessary into the critical care unit, and organizing post-acute care.
Dr. Mascarenhas appreciates the challenges of in-patient care, as he is continually faced with many different complications, each of which need to be addressed with speed and precision.  His goal is to continue in the direction of acute patient care.
Dr. Mascarenhas first learned of St. George's University through a friend of his father.  After researching the University, he decided to apply and is very happy with that decision.  He has much respect for the University's staff and faculty that he had so much contact with through the Premedical and Medical Sciences. Although he easily adapted to the international student body, he credits the Department of Educational Services and many of his Professors for assisting in a "pretty seamless transition."  Dr. Mascarenhas explained: "Since the classroom size was smaller for premed students versus medical students, the Professors were able to be more personally vested in our academic and social experience."  He is grateful that the faculty also encouraged the students to take in the Island's pristine surroundings and rich culture, as it made for a truly complete and unique education.
Born in Germany, Dr. Mascarenhas was educated primarily in India, where he returns each year to visit his family, which includes his father Dr. Jesurag Mascarenhas and mother Pamela.  The senior Dr. Mascarenhas is currently the Director of a local hospital, Pasam Trust, in southern India where he cares for many of the nations neediest.  He has served as both a professional and personal inspiration to his son.  Dr. Mascarenhas has one brother who is also pursuing a career in medicine and is now in post-graduate/specialty training in Ireland.
https://www.sgu.edu/wp-content/uploads/2020/02/sgu-logo-grenada.svg
0
0
Erin Shaw
https://www.sgu.edu/wp-content/uploads/2020/02/sgu-logo-grenada.svg
Erin Shaw
2016-12-07 19:54:06
2017-02-07 21:02:45
Selvam Joseph Mascarenhas, MD