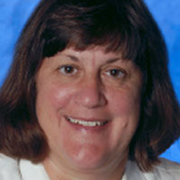 Susan Dulkerian, MD
Graduation Date: 1987
United States
Dr. Susan Jean Dulkerian always knew she wanted to study medicine and even worked with a veterinarian throughout her high school years. Susan earned her Bachelor of Science in Microbiology from the University of Maryland, just a short trip away from her hometown of Baltimore, Maryland. It was in college where she realized that instead of becoming a veterinarian, she preferred working with children—especially babies.
Medical school is a big decision and it is understandably frightening for many to go overseas to an unfamiliar region. Initially Susan did admit that such a move may have not been her first choice, but she also came to realize—and continues to appreciate today— the financial and international benefits of her decision to attend St. George's. When she decided to attend St. George's she "gained an opportunity to meet people from all different parts of the world." Susan has always maintained a positive attitude, and upon her acceptance considered herself "privileged to be in an incredible place to study medicine." Susan adjusted quickly to life in Grenada, and began to pursue her dream of becoming a physician.
During her fourth year of medical school, Susan spent six weeks in St. Vincent's General Hospital for an international general medicine elective, getting first-hand medical experience and working one-on-one with doctors. She credits this opportunity for international exposure in helping create better physicians. Susan explains, "Seeing how the practice of medicine is so different in developing nations helps you as a doctor. People can get good care regardless of a lack of sophisticated technology." To date Susan considers this one of her most valuable learning experiences and believes a student's greatest advantage in attending St. George's is how the "opportunity to experience international health gives a more well-rounded perspective of health care." Like everything in life, she cautions future medical students, "If you don't have the self motivation to learn, you could fall through the cracks and not achieve your dream to become a physician. If you work hard, you will be noticed." Her continued success, during and after her time at St. George's University, is indicative of her personal philosophy of dedication and determination to suceed.
Upon graduating St. George's University in 1987, she completed her residency at the St. Joseph's Hospital and Medical Center in Paterson, NJ, and was selected to serve as a Pediatric Chief Resident during her third year. But according to Susan, her greatest professional achievement was when she was selected to join the prestigious Neonatal-Perinatal Fellowship at the Hospital of Philadelphia, University of Pennsylvania, during which she had a dual role as Clinical Instructor in the Department of Pediatrics.
Susan is currently an Assistant Professor of Pediatrics in the Division of Neonatology at University of Maryland School of Medicine and Medical Director of Nurseries at Mercy Medical Center in Baltimore. She is also Co-Director of the Maryland Regional Neonatal Transport Program at the University of Maryland School of Medicine, a joint team with Johns Hopkins Medical Center that transports sick newborns from throughout the region to receive critical care services. She loves each of her roles, but especially the opportunity to look after babies in the intensive care. What does she love about medicine the most? "The fact that you don't know what the next patient is going to have or need—to me that's exciting, it's never boring."
In addition to the academic aspect of St. George's, Susan fondly recalls weekend motorcycle trips after exams, "where a group of friends would pack food and take in the scenery of the incredible place we were living in." The people she met during her years at St. George's University are "the closest friends that I have, people I can call on at any time." She remains close with the lifelong network of friends she made at St. George's, but regretfully has not been to visit her second-home in a few years.
In 2010 Susan had a unique opportunity as the physician spokesperson for the publicity of Discovery Health Channel's new series "NICU," which aired weekly throughout the summer of 2010. Mercy Medical Center was one of the hospitals featured in the show that followed families and babies who required care in a neonatal intensive care. Promoting the show, Susan was interviewed live on TODAY by Natalie Morales about the show and her experiences as a neonatologist.
Among her various roles at the hospital and teaching positions, she has also been focused on raising her eight year old son. Because of her determination and strong work ethic, Susan has achieved great success in both her career and personal life. Her continued success leaves her more than just content with her decision; and after meeting her husband of 13 years in Grenada, Dr. Susan Jean Dulkerian wouldn't change a thing!
https://www.sgu.edu/wp-content/uploads/2020/02/sgu-logo-grenada.svg
0
0
Erin Shaw
https://www.sgu.edu/wp-content/uploads/2020/02/sgu-logo-grenada.svg
Erin Shaw
2016-12-07 19:56:35
2017-01-30 21:39:27
Susan Dulkerian, MD