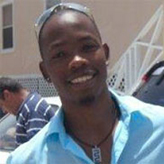 Tshephang Moeng, DVM, MPH
Graduation Date: 2012
Botswana
Tshephang Moeng is a fifth term veterinary medical student at St. George's University. He is originally from Kanye, Botswana—less than an hour away and southwest of the capital, Gaborone. After pursuing his Bachelors of Science at the University of Botswana, Tshephang applied to the preveterinary program at St. George's University and was placed into the third year, completing term 3-1 and 3-2. He first considered becoming a medical doctor, however he explains, "growing up in the countryside, I developed a stronger interest in agriculture and animals and I felt like it was something I could do."
In addition to his dreams of becoming a veterinarian, Tshephang has decided to pursue a dual degree Master of Public Health. His ultimate goal involves returning to Botswana where he hopes to use his dual degree "to improve standards of public health and address the different public health issues that can affect the country. I want to take my education on food safety, zoonosis, HIV/AIDS and knowledge of other public health issues back to Botswana."
Tshephang explained what he thought about St. George's University and Grenada, "It is a great place for social and academic life. The atmosphere is warm and welcoming. There are people from the University there to pick you up at the airport when you arrive and people to show you around. Everyone I met was so nice and fun that it is difficult to feel homesick when you are here. Academic life can be hectic, but we have study groups and lectures and people to help you along with the education requirements. International students in Grenada have a special orientation and are given a tour of the campus. We have different social groups and organizations to help immerse us in the culture—including driving, social customs, etcetera. "
"There are also many African and Caribbean student associations to help assist in the adjustment to a new island. But there are so many similarities between Botswana and Grenada, that the adjustment was easy." Tshephang Moeng describes his first reaction to the island. "Grenada looks like a paradise. When I first got there I went to the Grand Anse campus and it was awesome—the weather, buildings, view, vegetation, warm welcome from the people. There really are students from around the world and we all interact with one another."
Academically, Tshephang speaks of one African professor in particular who has inspired him—Dr. Saul Mofya from the Republic of Zambia offered Tshephang advice on areas to focus on and study and helped Tshephang discover what he was interested in and what further topics of study he could take back to utilize in Botswana.
Tshephang advises future students that "You have to look into the field you're considering. You have to research and make sure you're committed to the field because you can't do something you don't like. There are a lot of parties and activities, but stay focused on your studies and remember what you came here for."
In addition to pursuing his Doctor of Veterinary Medicine and Master of Public Health degrees, Tshephang is incredibly energetic and involved with many extracurricular activities, including intramural soccer, Public Health Society, and the African Student Association. He enjoys mingling with the locals and people from different places around the world to learn about their cultures. "My first roommate was from India and helped introduce me to the island," Tshephang recounts. Currently, he is considering completing one of his requirements for the public health degree by taking a practicum in Kenya through the University. Tshephang Moeng expects to graduate from the School of Veterinary Medicine in 2012 and earn his Master of Public Health in Spring 2011.
https://www.sgu.edu/wp-content/uploads/2020/02/sgu-logo-grenada.svg
0
0
Erin Shaw
https://www.sgu.edu/wp-content/uploads/2020/02/sgu-logo-grenada.svg
Erin Shaw
2016-12-07 20:11:17
2017-01-30 21:25:35
Tshephang Moeng, DVM, MPH