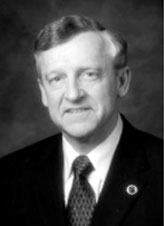 Dr. Roger K. Mahr, Immediate Past President of the AVMA (American Veterinary Medical Association), inspired a new class of 82 veterinary medical students during his keynote address at the White Coat Ceremony held at St. George's University on August 21st, 2007.  Dr. Michelle Cook, SGUSVM '05 alumni and a member of the Royal College of Veterinary Surgeons was the Master of Ceremonies and introduced the speakers.  Chancellor Charles R. Modica graciously welcomed the students and encouraged them to pursue their profession with integrity and commitment.  Dr. Raymond Sis, Dean, SVM, expressed the importance of continuously upholding standards in a profession they are privileged to serve.
As he addressed his audience of students, family, friends and SGU faculty, Dr. Mahr drew upon an impressive 34-year career in small animal practice and his experience as 2005/06 President-Elect of the AVMA.  Dr. Mahr emphasized the critical role veterinary medicine plays in securing the health and welfare of both people and animals.   "No other profession, I believe, has a comparable value to society," he expressed.
Dr. Mahr shared a quote from contemporary author, scholar and philosopher, Huston Smith:
"Infinite gratitude towards all things past;
Infinite service towards all things present;Infinite responsibility towards all things future."
"This," said Mahr, "formed the basis for my outlook on life, and in particular my career in veterinary medicine."  He continued to define the relevance of this to his audience.  "All things past" referred to the motivation that led to this day.  Dr. Mahr spoke of his youth, being raised on an Iowa dairy farm, which supremely influenced his pursuit of a career in veterinary medicine.
While the past will always remain a part of our lives, Dr. Mahr stressed the importance of looking toward the future, as "veterinary medicine is a small profession with great responsibilities and vast opportunities."  He spoke of the need for unity in the profession, and the role the AVMA plays as that singular voice.  He encouraged each of the students to serve the profession by building relationships through both the Student AVMA and AVMA activities, mentioning recent SGUSVM grad and Past President of the Student AVMA , Dr. Kara Tassone, who actively served in various AVMA capacities.  "You are the future leaders of the veterinary medical profession," said Dr. Mahr.  "Your voice is needed to address the important issues facing our profession now and in the future."
In his closing remarks, Dr. Mahr discussed the "One World, One Health, One Medicine" concept whereby animal, human and ecosystem health converge.  He stressed the critical role that leadership plays in the future well being of our global society.  It is the responsibility of today's veterinary medical students in collaboration with other health science professional students to assume this role in the years ahead.
A native of south-central Iowa, Dr. Mahr received his veterinary medical degree from Iowa State University in 1971.   Following graduation, he moved to suburban Chicago where he established, owned and directed the Meadow View Veterinary Clinic in Geneva, Illinois, an accredited hospital member of the American Animal Hospital Association from 1974 to 2004.  Dr. Mahr has been active in organized veterinary medicine his entire career, holding many influential positions at regional and national veterinary organizations.
SGU was privileged to have Dr. Mahr speak at the University.
Read Dr. Mahr's complete keynote address.
Published 10/2/2007
https://www.sgu.edu/wp-content/uploads/2016/10/Roger-K-Mahr-Portrait.jpg
226
164
smashm3233
https://www.sgu.edu/wp-content/uploads/2020/02/sgu-logo-grenada.svg
smashm3233
2007-10-02 16:15:15
2017-01-18 02:44:46
School of Veterinary Medicine Welcomes Incoming Students at White Coat Ceremony