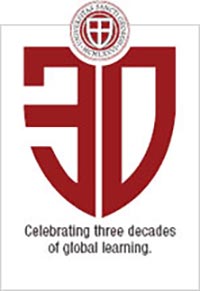 The stage is set, so to speak, for the highly anticipated opening day of the 30th anniversary celebration of SGU. January 17th will kick off a year-long celebration marking The University's astonishing road to academic excellence and innovation.
The celebratory theme- From the World, to the World – 30 Years of Global Innovation – is infused throughout the day and years events, reinforcing SGU's commitment to international medical education. The bell above the Bell Lecture Hall will ring 30 times to launch the festivities.
The day begins at 7am when respected alumni and faculty attending the event are welcomed at a breakfast hosted by the University. At 10AM a groundbreaking dedication ceremony for the 720-seat lecture hall at the Lower True Blue Campus will be named for SGU Alumni.
A festive parade full of cultural splendor will begin at 11AM with flags from all nations and students and faculty in their native dress being featured along the route. This impressive display of international unity is representative of the University's foundation and future.
All participants are invited to attend an exhibition and concert immediately following the parade. Popular Latin music by well-known local bands from Grenada and St. Vincent will add to the festivities. An emotional rendition of "We Are The World" will befittingly end the afternoon.
The celebration continues that evening at 7PM with an Award Ceremony recognizing individuals whose efforts have contributed to the University's unprecedented growth. Attendees will be honored for years of contribution, community service and external contribution, with an additional award bestowed to the founding members of the University.
https://www.sgu.edu/wp-content/uploads/2016/10/30th-Anniversary-Logo.jpg
291
200
smashm3233
https://www.sgu.edu/wp-content/uploads/2020/02/sgu-logo-grenada.svg
smashm3233
2007-01-12 14:22:40
2017-01-18 03:01:55
January 17th Marks the Beginning of The 30th Anniversary Celebration