For more than 15 years, the St. George's University Small Animal Clinic (SAC) has provided quality care for animals throughout Grenada. This month, the American Animal Hospital Association (AAHA) gave its stamp of approval, accrediting the SAC for two years, making it the second practice outside the United States and Canada to earn the distinction.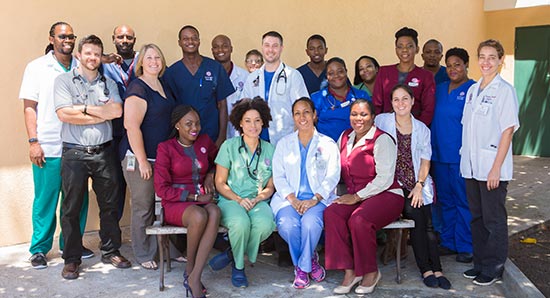 Comprised of 10 clinicians and 15 support staff, the Small Animal Clinic is open year-round and around the clock, welcoming between 5,000 and 7,000 patients for wellness visits, emergencies, and surgeries. In addition, the SAC has been a clinical training venue for more than 1,200 School of Veterinary Medicine (SVM) graduates.
"Accreditation proves that we are practicing a standard of excellence at the Small Animal Clinic," said Dr. Christina Fernandez, DVM SGU '07, Immediate Past Director of the SAC and an SVM Associate Professor in Emergency Critical Care. "The AAHA assessed what we're teaching our students, providing for our clients, and how we work together as a business. On all of these fronts, we showed that we are doing a really good job."
"AAHA accreditation provides an enhanced and enriched learning environment for students," added Dr. Tim Ogilvie, Dean, St. George's University School of Veterinary Medicine. "It is a point of pride for clinicians and staff, and it is a measure of quality and service focus for clients comparable to the best standards of care for animal patients."
The SAC team began working toward AAHA accreditation in 2015, studying their efficiency of the practice, changing protocols, and updating the facility with state-of-the-art equipment. Earlier this month, an AAHA representative visited Grenada to measure the clinic on more than 900 mandatory and additional standards. The SAC attained accreditation for two years, and will be evaluated for potential three-year re-accreditation in 2018. According to the AAHA, only 12 to 15 percent of all veterinary practices in the US are accredited.
Dr. Wayne Sylvester, a longtime SVM Associate Professor and SAC Clinician, assumed the role of Interim Director, taking over for Dr. Fernandez on July 1.
"At the Small Animal Clinic, we are constantly striving to improve the standard of veterinary practice while optimizing the delivery of our services to our patients, clients and the community," Dr. Sylvester said. "AAHA accreditation is a monumental accomplishment. It is a clear demonstration of the dedication and professionalism of our team, and we will continue to maintain the highest possible standards."
For Dr. Fernandez, accreditation is only the latest feather in the clinic's cap. She has witnessed tremendous improvements at the SAC since arriving at SGU as a student in 2003. "The clinic has changed so much, and the quality of medicine and teaching that the faculty offers is really outstanding at this point," Dr. Fernandez said.
It has not only provided care and clinical training for SGU students but it has shifted Grenadians' perspective of pet ownership. "Years ago, pets were considered property – they had a job to do, like to guard property or hunt," Dr. Fernandez said. "Now we're seeing more and more Grenadians who are proud of their animals. They bring their pets in for preventive care as opposed to just when they're sick. They're part of the family now."
Published on 10/18/16
https://www.sgu.edu/wp-content/uploads/2016/10/Small-Animal-Clinic.jpg
298
550
smashm3233
https://www.sgu.edu/wp-content/uploads/2020/02/sgu-logo-grenada.svg
smashm3233
2016-10-18 20:52:11
2017-01-17 22:46:12
St. George's University Small Animal Clinic Obtains AAHA Accreditation