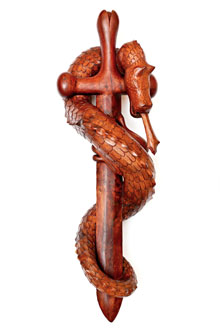 One June 13, 2010, St. George's University bestowed its prestigious Order of the Mace Award on Mr. Andy Belford, whose 33-year career at the University has had immeasurable impact on its evolution and success.
Having been with the University since its inception, Mr. Belford took on his first challenge as Director of Admission with passion and creativity, vision and honesty, communicating the University's vision with conviction, and assembling the School of Medicine's Charter Class. This was no easy feat since the whole concept of this medical school was totally new. It had never existed before, but Andy managed to talk students into joining a dream. Many classes followed the Charter Class, and at the graduation exercises at which Mr. Belford received this award, the University graduated its 8,925th doctor.
By the time of the second phase of the University's development, Mr. Belford had become an architectural designer and led the University in the transformation of the True Blue campus in Grenada. According to Margaret Lambert, Dean of Enrolment Planning, who presented her longtime colleague and friend with the Order of the Mace, "He (Andy) is the visionary who saw from the beginning what we mortals have only seen little by little as, one by one, each beautiful building came into structural being and was finally adorned with its signature coral color."
Dean Lambert eloquently defined Andy Belford's innate talent as stretching well beyond designing a campus and erecting 50 plus buildings. "His keen understanding of the human psyche and of all the St. George's University players (opinionated academics, administrators, trustees), and their wants, needs, changing perceptions, and world views frequently required the insight of a Machiavelli to give us what we didn't even know we need."
Mr. Belford was recognized during the School of Medicine Commencement Ceremony in New York City, an appropriate venue considering his role in expanding the University from an initial graduating class of a handful of students, to its current state which is now marked by its almost 9,000th graduate of the School of Medicine.
St. George's University created the Order of the Mace four years ago, coinciding with its 30th Anniversary. This award is symbolic of the unique spirit of our University and is granted to those rare individuals who embody and drive that spirit forward into the community, the region and the world. Andy Belford joins Chancellor Charles R. Modica , Sir Kenneth Stuart, and Sir Paul Scoon as the fourth recipient of this symbolic award and the University's highest honor.

https://www.sgu.edu/wp-content/uploads/2016/10/news-sgu-Mace-award.jpg
330
220
VS
https://www.sgu.edu/wp-content/uploads/2020/02/sgu-logo-grenada.svg
VS
2010-06-17 15:48:47
2017-01-18 01:35:51
St. George's University Bestows Order of the Mace Award