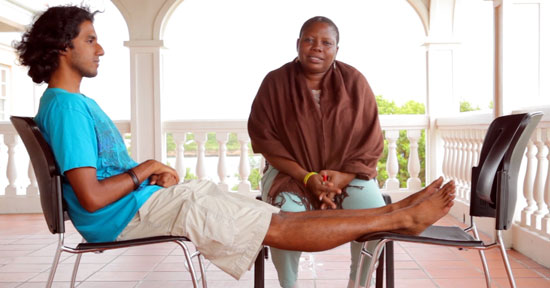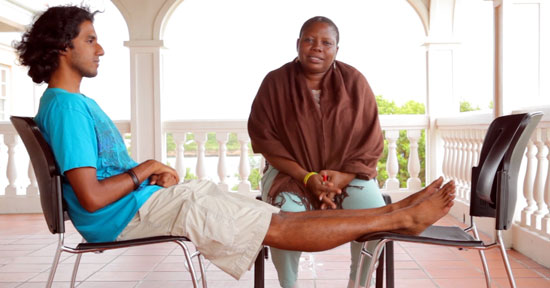 Grenada's neighborhoods this Wednesday were filled with the odd sight of reclining people, eyes closed, being poked in the feet by friends and family.  It may have seemed that Grenada was suffering from a mass hysteria, but in fact, Grenada was joining the world's countries in observing World Diabetes Day on November 14, 2012.
St. George's University's Department of Public Health and Preventive Medicine (DPHPM), the Public Health Students Association (PHSA) and the Windward Islands Research and Education Foundation (WINDREF) came together with Grenada's Ministry of Health to promote a program to raise awareness of diabetes and its effects, and to help diabetes sufferers avoid serious complications of the disease.
The public health students, through, PHSA, were dedicated to the success of this effort.   Branding this effort, Touch Toe Test: Love the Feet you Walk On,  they  created a three-minute public service announcement describing and demonstrating the Touch Toe Test  – a simple examination that can be performed by just about anyone to help diabetes sufferers detect loss of sensitivity in their feet.   The outreach initiative centered on promoting the Touch Toe Test via television and radio as well as an online video, potentially reaching thousands of Grenadians, among whom diabetes continues to be a serious problem as it is the world over.
Jenna Nakagawa, a member of PHSA, explained that with loss of sensitivity in the feet, cuts or abrasions may go undetected and become infected, leading to further complications including amputations in serious cases.
To conduct the test, the patient must sit with feet elevated and eyes closed while someone lightly and randomly touches each toe; the patient then indicates whether he/she has felt each touch. If loss of sensitivity is detected, the patient is advised to see a health care provider.
This amazingly simple – and absolutely free – medical test has been shown in a UK study to reduce the instance of reulceration by 60% and the instance of amputation by 85%. Love the Feet You Walk On. Tickle those toes.
https://www.sgu.edu/wp-content/uploads/2016/10/news-lovethefeet-walkon.jpg
288
550
jrichardsink
https://www.sgu.edu/wp-content/uploads/2020/02/sgu-logo-grenada.svg
jrichardsink
2012-11-27 19:06:47
2017-01-18 00:41:16
SGU Joins in the Worldwide Attack on Diabetes: Love the Feet You Walk On