St. George's University School of Medicine (SGUSOM) student Ahmad Khalid has just returned to Grenada from the Royal College of Obstetrics and Gynaecology (RCOG) Scientific Meeting in Trinidad held from March 4-6, 2009. Ahmad's research project on Emergency Caesarean Section in Multiethnic Environment was selected from several thousand abstracts for its innovative and original approach to women's health. The impetus for the topic selection stemmed from his core rotation of Obstetrics and Gynaecology at North Middlesex Hospital in London, a facility which serves a diverse multiethnic community.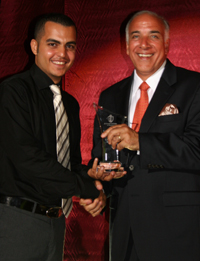 Ahmad explained that throughout his clinic and ward rounds in OBGYN rotation he became aware that many expectant mothers were curious about their chances of having a caesarean section, particularly in an emergency situation. He noticed that while there was significant research on risk factors for emergency caesarean section, most of the results were based on uni-ethnic population versus a multi-ethnic environment which is far more typical of a cosmopolitan hospital. This generated the idea for his research project.
Ahmad, with the help and guidance of St. George's University faculty members Dr. AF Fakokunde and Dr. W. Yoong, performed a retrospective analysis of 10,217 women who had caesarean sections at the North Middlesex hospital over a three year period (2005-2008). The 10-month study explored risk factors such as age, parity, ethnicity, antenatal risk category, and epidural analgesia. Controlling for nulliparity, the results showed a strong correlation of nulliparity and higher rate of emergency caesareans.
The study provided a valuable guide to enable better preparation and management of pregnant women, hospital resources, and health care professionals within a diverse multiethnic environment. It is Ahmad's hope that the research will help stem the caesarean section epidemic and provide substantiated data for better allocation of human resources, treatment, and screening.
This presentation was a terrific honor for Ahmad, who at 25 years of age earned himself the opportunity to address the RCOG audience of 240 delegates, all supreme experts in the field, from throughout world. With humility, Ahmad reflected upon the gracious and enthusiastic welcome he received, as the only student presenter, by many of the attendees. The President of RCOG himself was surprised to learn that Ahmad was actually a medical student. He assumed that only a medical doctor could communicate that level of knowledge and experience which such conviction.  In fact, several other delegates communicated a similar response. One such delegate, who had attended this particular conference for 32 consecutive years, expressed this was the first time he had ever been interested in a presentation from a medical student.
Ahmad explained that as first author of the research project, serving as primary researcher and writer, he lived and breathed this data for the entirety of the 10-month process. He was pleased that his presentation accurately reflected his passion and expertise. Ahmad also noted that because this year's Scientific Meeting was held in Trinidad, there were numerous Caribbean medical doctors present: many of whom expressed pride in St. George's University being represented at such a high caliber.
He defines this opportunity as an "experience of a lifetime:" "I never thought as a medical student I would get the opportunity to be surrounded by the world's finest doctors discussing cutting-edge scientific data and engaging in such stimulating conversations to better women's health," he said. He views this remarkable opportunity as a stepping stone for his career as a physician and is grateful to St. George's University for instilling in him that research is a continuous and critical process, worthy of taking risks and leaps of faith.
Ahmad came to St. George's University as a premedical sciences student from his family home in Jordan. In 2007, Ahmad was the recipient of the Student Humanitarian Award, a peer-nominated recognition of his exemplary role in community outreach programs, which included Hurricane Ivan relief efforts, hospital and orphanage volunteer work, and serving on numerous student government organizations.
Ahmad realized his passion lied in the field of obstetrics and gynaecology as his education at SGUSOM progressed.  Ahmad believes that there is no greater gift than helping provide good health care to all women, as they are "the lifeline from which our future stems." Upon graduation in June, Ahmad will return home to Abu Dhabi, setting forth proudly as the first physician in his family. He is eager to apply the "international approach to medicine" he gained from St. George's University, always being mindful to combine research with his skills as a physician.  Ahmad believes that research is what distinguishes one physician from another: his desire to challenge himself with the ultimate goal of providing more for his patients. He hopes this will be his legacy.
The Royal College of Obstetrics and Gynaecology (RCOG) has long served to promote standards of care in obstetrics and gynaecology by a program of research publication and review.  The Royal College of Obstetricians and Gynaecologists (RCOG) is a professional association based in the United Kingdom dedicated to improving sexual and reproductive health care worldwide.  11,000 members live outside Britain, spread among 83 other countries.
It was founded as the British College of Obstetricians and Gynaecologists in 1929 by Professor William Blair-Bell and Sir William Fletcher Shaw and was granted a Royal Charter on March 21, 1947.
https://www.sgu.edu/wp-content/uploads/2016/10/news-Ahmad-Khalid-large.jpg
261
200
jrichardsink
https://www.sgu.edu/wp-content/uploads/2020/02/sgu-logo-grenada.svg
jrichardsink
2009-03-23 19:59:03
2017-01-18 02:01:13
Royal College of Obstetrics and Gynaecology Applauds Student Presenter: St. George's University's Ahmad Khalid