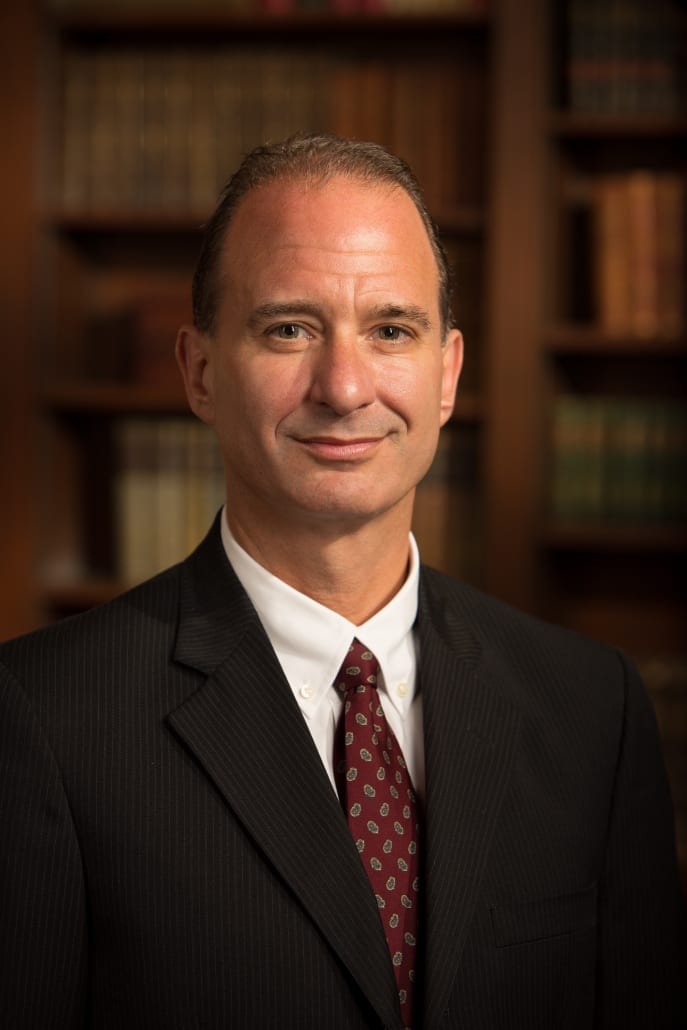 Education can not only empower students but change entire communities. Dr. Stuart Noble-Goodman has witnessed it firsthand, having spent the last quarter century as an administrator and faculty member at universities across the United States. His students have built a foundation of skills and knowledge, putting them into a position to serve as the "economic engine" for the cities and towns in which they go on to work.
Named the Dean of the School of Arts and Sciences at St. George's University this month, Dr. Noble-Goodman brings a wealth of experience and ideas that can help prepare students to become leaders in their professions and in turn enhance businesses in Grenada and throughout the surrounding islands.
"I am looking forward to serving the Grenadian and Eastern Caribbean community by creating pathways for students to earn degrees and advance professionally," Dr. Noble-Goodman said. "This work is extraordinarily attractive to me and aligns with my deeply held belief in the transformative power of education for the individual, and of the value of education to the community as a whole."
Dr. Noble-Goodman's academic experience has included stops at Benedictine University, North Carolina State University, the University of Redlands, and Marylhurst University. In addition to working with tertiary level students, he has successfully built and developed online degree programs and adult education programs, as well as integrated liberal arts into business training.
"We are delighted to have Dr. Noble-Goodman join St. George's University as Dean of the School of Arts and Sciences," said Dr. Glen Jacobs, Interim Provost, SGU. "Throughout his impressive career, he has exhibited a commitment and dedication to both educating and elevating students in the arts and sciences to reach new heights. We look forward to welcoming him on campus and to the continued growth and success of our students in the SAS."
The School's service to the people of the island heavily influenced Dr. Noble-Goodman to accept the position, and will also be the impetus for his efforts as dean.
"We need to focus on allowing people to really generate an economic engine and energy that's centered specifically on Grenadians and the people of the Eastern Caribbean. I want to start by meeting the educational needs of Grenadians, but I also want to attract students from across the EC and then internationally," said Dr. Noble-Goodman. "Looking forward, I believe that with what I would call Grenada's brand—the original Spice Island with world-class education, incredible beaches, and a culture of safety, friendliness, and respect—that we should aspire to become the premiere university in the Caribbean for all tertiary education. That is what I'm aiming for."
At SGU, he will focus on maintaining the already strong programs available to students but also on expanding these opportunities.
"I would like to broaden and enhance the School of Arts and Sciences signature programs in the sciences, humanities, social sciences, business, and nursing, but I also want to create new programs to give our students access to professions in areas such as hospitality management, construction management, and social entrepreneurship," said Dr. Noble-Goodman. "It is very important to me that Grenadians benefit directly from the development of these industries on the island. I want to prepare our graduates for management and leadership positions in those industries."
Currently, the School of Arts and Sciences is heavily staffed by Caribbean professionals. SGU has pointedly stacked the faculty role with professors who are from the region to educate the region. According to Dr. Noble-Goodman, comparatively to the other Schools within SGU, the SAS is the most endemic. He believes one of the strengths of the School is creating capacity within the region while also pulling from that same capacity to help build the next generation.
"We certainly encourage the students we educate here as undergraduates, or even in our graduate programs, to continue their education elsewhere if that is their goal," stated Dr. Noble-Goodman. "Yet, we also hope that these individuals come back to the island and establish themselves in whatever field, contributing to the island's economy, resilience, and culture. This is an issue every island faces—after we educate our citizens, where are they going to work? Will they stay here or are they going to have to go abroad? By effectively preparing our students to work in Grenada's expanding range of professional fields, we are creating opportunities for them to stay right here, with their families, and help us grow this economy."
Dr. Noble-Goodman earned a Bachelor of Arts in English at UC-Berkeley and a Doctor of Philosophy in American Literature at Duke University. Among his academic roles prior to SGU was a 16-year tenure at the University of Redlands, the majority of time spent as Dean of the School of Business, a stint that included creating a successful industry mentorship program and International MBA program with students from India and China. He also served as the Dean of the School of Continuing Studies at Redlands. While in his most recent position as the Director of the School of Business at Marylhurst, Dr. Noble-Goodman was instrumental in helping launch a new bachelor's degree program in hospitality management, the first of its kind in the Portland metro region.
In addition, Dr. Noble-Goodman's past research efforts have focused on a broad range of sustainability issues facing humanity and the planet. As the former Chair of Environmental Studies at Redlands and a professed nature lover, he looks forward to exploring the forests and reefs in Grenada, and is eager to help with the conservation efforts on the island.
– Ray-Donna Peters
https://www.sgu.edu/wp-content/uploads/2018/08/BUS-stuart-noble-goodman-sq-798x798@main.jpg
500
845
bpmauser
https://www.sgu.edu/sgu-main-website/wp-content/uploads/2016/01/SGU-Signature-Horizontal-SPOT-300x55.png
bpmauser
2018-08-24 19:06:17
2018-08-27 13:15:32
Dr. Stuart Noble-Goodman Appointed Dean of School of Arts and Sciences