When Mohammad "Moody" Kassem, a third-year clinical student at St. George's University, went to Washington, DC, for the American Clinical Congress' Leadership and Advocacy Summit in April, he expected to play a supporting role in lobbying for the organization's objectives. Instead, he found himself as one of the lead voices in the Surgical Workforce's efforts to ensure the availability of general surgery where it most needed across the United States.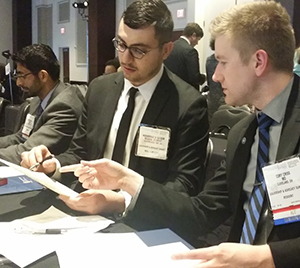 Mr. Kassem, who is currently rotating at Mercy St. Vincent Medical Center in Toledo, visited the nation's capitol from April 8-12. During that time, he and a team of ACS representatives met with a host of politicians on a variety of topics. Mr. Kassem headed his team's presentation for the Ensuring Access to General Surgery Act of 2016. According to Mr. Kassem, the US Department of Health and Human Services (HHS) designates funds and resources for its health professional shortage areas (HPSA), or underserved populations in the US, in the realms of dental medicine, mental health, and general medicine. Surgery, however, is not considered, yet the ACS argued that it should be based on the critical service it provides.
"We need to figure out what areas are short on surgeons, what is considered a surgical shortage, and work toward having funds allocated for the areas most in need," Mr. Kassem said. "We also want to incentivize this program so physicians are encouraged to stay in these communities that are underserved and improve the quality of care and life of these patients. It would give them a better chance of living through a traumatic experience, and it would save money for the government because these are lawsuits that you can prevent."
The Surgical Workforce throng, approximately 500 people in number, was divided into small groups. Each presented on the five initiatives on the ACS agenda. When it came time to present for his delegate team, Mr. Kassem, who was well versed on his assigned topic, was asked to lead the presentation despite being, by his estimation, the only medical student among the 500 Workforce representatives.
"After giving the first presentation, I felt good about it," said Mr. Kassem, who is set to earn his Doctor of Medicine from SGU in 2017. "I loved the interaction with such influential leaders. The overall process was extremely interesting. Political leaders forgot about partisan views and reached across the political lines in order to work together and help their constituents. The experience pushed my drive to pursue politics even further."
The Ensuring Access to General Surgery Act (H.R. 4959) gained the support of US Representatives Larry Bucshon (R-IN) and Ami Bera (D-CA), both of whom are physicians, and on April 15, they proposed the bill, which "would direct the Secretary of the US Department of Health and Human Services to conduct a study on the designation of Health Professional Shortage Areas (HPSAs)." Mr. Kassem expects the bill to be brought to the floor of the US Senate and House of Representatives, and if it passes there, it would be brought to the sitting US President to be signed into law.
The experience was a boon for him as he hopes to one day marry his two passions – medicine and politics. For four days, ACS physicians and administrators led demonstrations on leadership and advocacy topics ranging from how to handle stressful situations to how to propose and push a bill through political channels. It led up to the fifth and final day, during which its representatives lobbied with state politicians for their support.
Politics has long been in Mr. Kassem's blood. He came to SGU after having earned his Bachelor of Science in biological sciences from Wright State University. There he heavily involved himself in student groups, including Director of International Affairs, as well as Student Affairs, for the Student Government Association. He was an active member of the SGA at SGU, while also serving as an Academic Enhancement Program Cohort leader, Footstep Buddy, human anatomy demonstrator, and biochemistry tutor.
"I've been involved in leadership organizations going back to middle school," Mr. Kassem said. "I like coaching, teaching, and being taught. I would like to become a leader in politics, and I think the best path is to get started early, get to know many people, and move your way up."
In addition to his lobbying experience in Washington, he met and networked with an array of politicians, who offered him guidance on how to launch his political career and balance it with his career in medicine. When he completes his MD, Mr. Kassem hopes to obtain a surgery or emergency medicine residency, and then explore fellowship opportunities in either the surgery or EM realm.
Of his experience in Washington, DC, Mr. Kassem said, "It allowed me to see the possibility of helping my patients beyond the individual level and instead through making a larger impact on patient care by advocating for better medical legislation and policy."
– See more at: https://www.sgu.edu/news-events/2016/SGU-Medical-Student-Helps-Drive-General-Surgery-Legislation-in-Washington.html#sthash.H9NDV71l.dpuf
https://www.sgu.edu/wp-content/uploads/2016/06/Mohammad-Kassem.jpg
298
550
dbriggs
https://www.sgu.edu/wp-content/uploads/2020/02/sgu-logo-grenada.svg
dbriggs
2016-06-08 12:35:20
2017-01-17 22:56:30
SGU Medical Student Helps Drive General Surgery Legislation in Washington