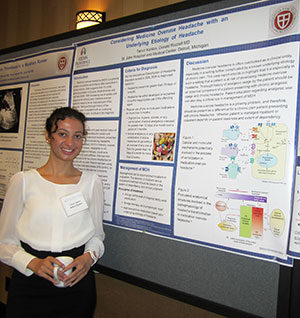 A research poster on medical overuse to treat headaches assembled by St. George's University clinical student Tanvir Kahlon took first prize in the medical student category at the 2013 American College of Physicians (ACP) Michigan Chapter Scientific Meeting, held at Shanty Creek Resorts in Bellaire, MI, in October.
"Those on the judging team are all in academia, and for them to recognize my work as something important to the medical field is a great feeling," said Ms. Kahlon, who is currently rotating at St. John Hospital and Medical Center in Detroit. "This topic may have resonated with the judges because it's a widely applicable case that is overlooked so frequently. It's important to address because patients with chronic pain are often disregarded as drug-seeking patients."
Her presentation, "Considering Medical Overuse Headache with an Underlying Etiology of Headache," was selected from hundreds of abstracts submitted for the meeting. It stemmed from the treatment of a female patient at St. John in 2012, Ms. Kahlon's first clinical year. The patient was in her 30s and experiencing chronic headaches, a predicament that had been addressed both medically and surgically with the insertion of a shunt to drain spinal fluid. Despite continued medical intervention, the headaches persisted. Ms. Kahlon met with the patient and learned that she had been taking analgesics too frequently and a long-acting opiate only intermittently. When her pain medication prescription was lessened and taken correctly, the headaches subsided.
"She responded very well," Ms. Kahlon said. "All she needed was supportive care and for someone to talk to her about pain management and the side effects of pain medicine."
Ms. Kahlon was born and raised in India before she and her family moved to Michigan when she was 13. At the University of Michigan, she earned bachelor's degrees in economics and political science, but medicine didn't enter the picture until she began taking care of her ill grandmother.
"My grandparents contributed a lot to my life and my education, and through taking care of her, I wanted to pursue medicine and I began looking for where I could pursue that dream," she said. "SGU was the perfect option."
Ms. Kahlon took advantage of the wealth of international opportunities at SGU, completing selectives in Kenya and India, and attending conferences in Canada, Denmark, and India as a member of SGU's International Federation of Medical Students' Association (IFSMA) chapter. Ms. Kahlon credits the IFSMA experiences with helping her gain confidence when presenting to large audiences, confidence she drew on when speaking at the ACP conference.
Now in her final year, she looks forward to starting an internal medicine residency in the Midwest upon graduating next June.
"It has been a great experience," Ms. Kahlon said. "SGU has prepared me not only from a knowledge standpoint but in helping me become a well-rounded person and clinician."
https://www.sgu.edu/wp-content/uploads/2016/10/news-tanvir-kahlon.jpg
318
300
VS
https://www.sgu.edu/wp-content/uploads/2020/02/sgu-logo-grenada.svg
VS
2013-12-03 18:17:02
2017-01-18 00:07:22
SGU Student Takes First Place in American College of Physicians Competition