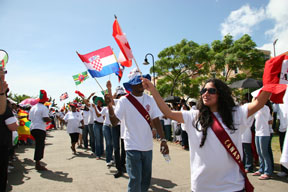 Clear blue skies, a warm sun and a truly bright and picturesque day heralded the start of a beautiful celebration of St. George's University's Commencement 30 years ago. "From the World to the World – 30 Years of Global Innovation" is an apt theme for a year-long festival that will honour the unification of people, culture and ideals from across the globe. So much has been accomplished since the first day of classes on January, 17th 1977, and it was a fitting beginning for a year which marks the end of one era and heralds the dawn of a future filled with optimism.
The special day began with an Alumni Breakfast and Dedication Ceremony for "Charter Hall", a new 735-seat facility that will serve as a symbol of the indomitable spirit of the University's very first students. "Spice Infusion" – a grand campus party and concert for members of our SGU community, friends and alumni followed. It began with a parade of countries and what a spectacular sight it was to witness the carnival of colors as members of our SGU family gathered at the lower True Blue campus. They came out in their numbers sporting hats, waving flags and wearing the colours of 136 nations of the world. They represented the nationalities from which our faculty, staff and student body have hailed over the thirty years of the University's existence. The parade ended with a global salute where each representative sounded-off their country's name and planted their flag at the front of the 30th Anniversary stage.
While declaring Spice Infusion open Provost, Dr. Allen Pensick expressed his joy and pride with the course of the University's development and the chart for the way forward. Chancellor Modica too expressed his overwhelming fulfillment in seeing his dream and that of the other Founders actualised. Emotions swelled during an unexpected presentation that evening by University Administrators. Witnessed by Grenada's Governor General, Sir Daniel Williams, Prime Minister Dr. the Right Honourable Keith Mitchell, parliamentarians, diplomats and other special guests, Chancellor Charles R. Modica became the first inductee to the Order of the Mace, a special award celebrating his phenomenal leadership of SGU from its inception.
It was the climax of an evening which paid homage to individuals and organisations under whose continued care the University flourishes.
Award Recipients:
Service Award
Mr. Victor Benjamin
Mr. Whitley Courtney
Mr. Fred Mark
Mr. Neville Mark
Diamond Service Award
Mr. Christopher Belgrave
Dr. David Brown
Mr. Henry Edgar Moore
Dr. C. V. Rao
Mr. Carlyle Stafford
Ms. Jane Sutter
Partnership Award
The Government & People of Grenada
Good Neighbour Award
Grenada Electricity Services
The Royal Grenada Police
Community Service Award
Fund for Orphans and Elderly
Grenada Heart Foundation
Mr. Alexander Paddy Ross
Student Humanism Award
Mr. Ahmed Feras Al-Khalid
Research Award
Dr. Calum Macpherson
Visionary Award
Mr. Andy Belford
Ms. Margaret Lambert
Founders Award
Dr. Charles R. Modica
Mr. Louis Modica
Mr. Patrick Adams
Mr. Edward McGowan
Colour, dance, food music and theatre from around the world all helped to create the perfect start for the SGU community to celebrate its internationalist growth over the last 30 years. And some say…it just keeps getting better. Stay tuned.
Published 1/29/2007
https://www.sgu.edu/wp-content/uploads/2016/10/30th-Anniversary-Parade.jpg
192
288
smashm3233
https://www.sgu.edu/wp-content/uploads/2020/02/sgu-logo-grenada.svg
smashm3233
2007-01-29 14:24:11
2017-01-18 03:01:00
"From the World to the World - 30 Years of Global Innovation"