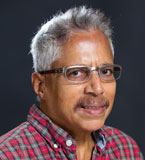 Harry Hariharan, BVSc, DVSM, MSc, PhD
Professor, Bacteriology/Pathobiology
Department of Pathobiology
Email: hhariharan@sgu.edu
Website: https://www.sgu.edu
Phone: (473) 444-4175 ext. 3677
Fax: (473) 439-5068
---
---
Biography
Click here to view complete Curriculum Vitae
Dr. Hariharan received a BVSc in Veterinary Medicine from U. of Kerala, India, a DVSM in Veterinary State Medicine & Public Health from U. of Edinburgh, UK, a MSc in Veterinary Bacteriology & Mycology, Epid. (Zoonoses), and in 1976, a PhD in Bacteriology, Epidemiology from U. of Guelph, Canada.
Since 2007 Dr. Hariharan has served as Professor, in the School of Veterinary Medicine, Department of Pathobiology, St. George's University (SGU), Grenada. Dr. Hariharan's responsibilities include teaching Bacteriology & Mycology to DVM students, research, establishment of graduate courses, graduate student supervision, and diagnostic bacteriology. In 2006 Dr. Hariharan was the recipient of the Paraclinical Award, St. George's University, Grenada and in 2009 was awarded the Pfizer Research Excellence Award.
Prior to his appointment at SGU, Dr. Hariharan spent 20 years teaching and conducting research in the DVM and graduate programs in the Department of Pathology and Microbiology, Atlantic Veterinary College, University of P.E.I., Charlottetown, Canada. In 2004 he received the UPEI Academic Scholarly Achievement Merit Award. Over the course of his teaching career, Dr. Hariharan has supervised 10 MSc Students, 3 PhD Students, and several DVM students (summer research).
Upon completion of his PhD, Dr. Hariharan spent approximately 10 years as an international Microbiologist/Researcher in several institutions including Ciba-Geigy Ltd., Basel, Switzerland, United Nations Food and Agriculture Organization, Rome, Sarabhai Research Center, Baroda, India, University of Missouri-Columbia, Missouri, USA, and the University of Zambia, Lusaka, Zambia.
Editorial activities include reviewer of the following journals over the past 20 years: Journal of Veterinary Diagnostic Investigation, Journal of Applied Research in Veterinary Medicine, Canadian Journal of Veterinary Research (CJVR), Canadian Veterinary Journal (CVJ), American Journal of Veterinary Research (AJVR), Journal of the American Veterinary Medical Association, Preventive Veterinary Medicine, Journal of Dairy Research, Veterinarni Medicina (International Journal of Veterinary and Biomedical Sciences), Comparative Biochemistry and Physiology, Small Ruminant Research, Journal of Aquatic Animal Health, Aquaculture, Journal of Veterinary Medicine Series A + B, Cornell Veterinarian, Proceedings of the Society for Experimental Biology and Medicine. He was a Board member for AJVR from 2002 to 2005.
Areas of Interest
Zoonotic Bacteria, Methods For Reduction Of C. Jejuni In Chickens, Antimicrobial Drug Resistance Problems In Animal Pathogens, Including Aquatic Bacteria, Cholera-Related Toxins, Shiga Toxin, Botulinum Toxin, Bacteriophagess, Plasmids, Non-Spore-Forming Anaerobes, Diagnostic/Clinical Bacteriology Of Rare And Emerging Pathogens, Bacterial and Fungal Diseases of Domestic Animals, Characterization of bacteria associated with feral cats
Affiliations
Member: American Society for Microbiology, Veterinary Medical Association of Prince Edward Island/CVMA, Canadian Association for Clinical Microbiology and Infectious Diseases, American Association of Veterinary Laboratory Diagnosticians, World Veterinary Association, Society for Tropical Veterinary Medicine, International Society for Veterinary Epidemiology, Society for Teaching and Learning in Higher Education, Fellow: Royal Society of Health, London, UK
Selected Publications
Hariharan H, Sharma S, Chikweto, A, Matthew V, DeAllie C. 2009. Antimicrobial drug resistance as determined by the E-test in Campylobacter jejuni, C. coli, and C. lari isolates from the ceca of broiler and layer chickens in Grenada. Comp Immunol Microbiol Infect Dis., 32:21-28.
Udayamputhoor RS, Hariharan H, Van Lunen TA, Lewis PJ, Price L, Woodward D. 200. Effects of diet formulations containing proteins from different sources on colonization of Campylobacter jejuni in broiler chickens. Can J Vet Res. 68:188-192.
Abouzeed YM, Hariharan H, Poppe C, Kibenge FS. 2000. Characterization of Salmonella isolated from beef cattle, broiler chickens and humans. Comp Immunol Microbiol Infect Dis., 23:253-266
Giles JS, Hariharan H. 1995. The plasmid profiles of fish pathogenic isolates of Aeromonas salmonicida, Vibrio anguillarum, and V. ordalii from Atlantic and Pacific coasts. Can J Microbiol 41:209-216.
Hariharan H, Mitchell WR. 1976. Observations on bacteriophages of Clostridium botulinum type C isolates from different sources and the role of certain phages in toxigenicity. Appl Environ Microbiol 32:145-158.
Selected Projects
Hariharan, H, Oliveira S. Genetic diversity of commensal Escherichia coli from chickens: application of ERIC-PCR. University of Minnesota, St. Paul, MN, USA
Hariharan, H, Oyarzabal,O. Molecular characterization on Campylobacter jejuni, C. coli, C. lari from Caribbean and South American countries. Auburn University, Auburn, AL, USA
Hariharan, H, Donachie, W. Bacteriology and somatic cell counts in subclinical mastitis in ewes in Scotland. Moredun Research Institute, Edinburgh, Scotland, UK (Paper: Hariharan H, Donachie W et al published in Can J Vet Res. 2004; 68:188-192).
Hariharan, H, Shanmugam, J. Association between Campylobacter jejuni/coli, and Guillain-Barré Syndrome in humans. Sree Chitra National Institute for Medical Sciences, Trivandrum, India (Papers: Hariharan H et al. published in Microbiologica. 1996; 19:267-271, Ind J Med Microbiol. 1995;13:125-129, Biomed. 1999;19:87-97.
Hariharan, H, Finkelstein, R. Cholera-related enterotoxins in Salmonella. School of Medicine, University of Missouri. Columbia, MO, USA (Paper: Hariharan H et al published in J Clin Microbiol. 1986; 24:298-300
Panigrahi D, Burks M, Hariharan H, Finkelstein RA. 1987. Evaluation of immunodot-blot assay for detection of cholera-related enterotoxin antigen in Salmonella typhimurium. J Clin Microbiol 25:702-705).
https://www.sgu.edu/wp-content/uploads/2016/12/Hariharan-Harrysm.jpg
160
145
VS
https://www.sgu.edu/sgu-main-website/wp-content/uploads/2016/01/SGU-Signature-Horizontal-SPOT-300x55.png
VS
2016-12-27 18:52:27
2018-12-04 17:31:49
Harry Hariharan, BVSc, DVSM, MSc, PhD