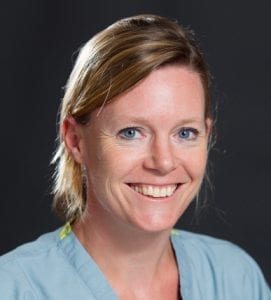 Karin Kalchofner Guerrero, Dr.med.vet., Dip. ECVAA
Associate Professor in Veterinary Anesthesiology
Email: kguerrero@sgu.edu
Website: https://www.sgu.edu
Phone: (473) 444-4175 ext. 3833
---
---
Biography
Dr. Kalchofner Guerrero terminated her thesis (Dr.med.vet.) about intravenous anesthesia with propofol-medetomidine in horses in 2003 at University of Zurich, Switzerland. She completed her residency in Veterinary Anaesthesiology and Analgesia in Zurich, Switzerland, in 2008 with the Diploma of Veterinary Anaesthesia and Analgesie (Dip. ECVAA).
Dr. Kalchofner Guerrero was assistant professor in Zurich for Small and Large Animal Anaesthesiology between 2007 and 2011 at the Vetsuisse Faculty of the University of Zurich. From 2009 to 2011 she was scientific assistant and head of small animal anaesthesia, also in Zurich.
She performed research first mainly in horse anaesthesia and then in small animal anaesthesia, where her main interests are pain assessment and pain management, especially in cats.
Dr. Kalchofner Guerrero is currently an Associate Professor of Anaesthesiology at St. George's University School of Veterinary Medicine. She is teaching Veterinary Anaesthesiology in 3 different terms, including supervision of students in their clinical rotation.
https://www.sgu.edu/wp-content/uploads/2017/01/Kalchofner-Karin.jpg
428
387
VS
https://www.sgu.edu/sgu-main-website/wp-content/uploads/2016/01/SGU-Signature-Horizontal-SPOT-300x55.png
VS
2016-12-27 16:58:31
2019-03-30 00:32:23
Karin Kalchofner Guerrero, Dr.med.vet., Dip. ECVAA