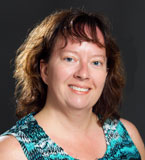 ---
Biography
Dr. Kathryn Gibson received her BA from Salem College in Winston-Salem, NC (2000), with majors in Biology and Music and a minor in Chemistry. She received her MS in Veterinary Biosciences in 2003, her DVM in 2007, and her PhD in Veterinary Biosciences in 2011 from Ohio State University, Columbus, OH.
Dr. Gibson participated in the DVM/PhD dual-degree program and performed summer research utilizing OSU Veterinary Summer Research Training Grants. During her PhD, she was awarded a T-32 training grant and had multiple opportunities to present research at university and national meetings. In 2010, she was awarded fifth place in the AVMA/AVMF-Sponsored 2010 Young Investigator Award competition in Atlanta, GA, and she received a travel award to present at the American Society for Rickettsiology general meeting in Stevenson, WA.
Dr. Gibson's research involves obligate intracellular bacteria of both humans and animals in the family Anaplasmataceae, mainly Neorickettsia spp. She has experience with molecular techniques, including PCR, RT-PCR, quantitative PCR, IFA, sequencing and subsequent analyses of species and strain variations, Western blotting, proteomics analyses, and proteoliposome-swelling assays. In addition, she has experience with environmental studies, including investigating bacterial and trematode loads in bats, birds, frogs, fish, insects, snails, sediment, water, and feces and investigating Potomac horse fever-endemic regions; mouse models of infection and disease; and the diagnosis and culture of Anaplasmataceae bacteria. To date, she has four first author and one co-author publications in peer-reviewed journals.
Dr. Gibson joined St. George's University, School of Veterinary Medicine in July, 2011. Her interests include continuing research on Neorickettsia spp. in fish, as well as studying related bacterial pathogens (Ehrlichia, Anaplasma, Wolbachia).
https://www.sgu.edu/wp-content/uploads/2016/12/Gibson-Kathrynsm.jpg
160
145
VS
https://www.sgu.edu/sgu-main-website/wp-content/uploads/2016/01/SGU-Signature-Horizontal-SPOT-300x55.png
VS
2016-12-27 16:45:28
2019-03-30 00:32:10
Kathryn E. Gibson, DVM, PhD