Benefits & Opportunities
at a Glance
Group Health Insurance 
Full-time members of staff can obtain medical insurance coverage through the Staff Group Health insurance plan, provided by Pan American Life Insurance (PALIG). Plan covers Medical, Dental and Visual, and coverage is also extended to dependents. Premiums are paid jointly by the employee and the University. 
Life Insurance 
Permanent employees are covered under our Life Insurance policy for the duration of their employment. This premium is paid by the University. 
Pension Plan 
A pension plan is in place for permanent employees and the premium is paid by both the employee and the University. 
Time off 
Leave is granted for several reasons, including statutory leave such as vacation, sick leave, maternity/paternity leave as well as special, compassionate, and supplemental reasons. Leave can be with or without pay, as applicable. 
PROFESSIONAL DEVELOPMENT
There are several options accessible to staff for continuing education and professional development. 
Study Leave 
Leave granted to access courses offered by the University, where such courses are job related or are essential for direct or cross promotion. 
Full-time staff employed for at least 2 

years

 

Max

. of

 6 hours to attend classes at SGU per 

week

 
Time-off is not granted for studies 

online

 
Scholarships 
Undergraduate Scholarships

 
Partial scholarships are awarded to full–time staff and their dependents for the first 30 undergraduate credits taken, as long as their employment with the University continues. Scholarships are valued at 91% of tuition for the first 30 undergraduate credits. 
External Fellowship Awards

 
Staff have the opportunity to competitively apply to the SGU Fellowship Awards Committee for fellowships to attend graduate degree programs at other approved institutions if they are not offered by SGU.  These fellowships are intended to strengthen capacity building and to further nurture research and scholarly activity at SGU.  A maximum of five concurrently running fellowships can be awarded. 
Uniforms 
Uniforms are provided by the University every 18 months. 
HEALTH AND WELLNESS
On-site Health Clinic 
University Health Services Clinic (UHS) provides easy access to health care to the University Community. They offer a wide variety of out-patient services to meet our SGU community's health care needs on campus.  Besides regular clinic hours, UHS provides emergency medical services 7 days per week and 24 hours per day. 
Psychological Services 
The Psychological Services Center (PSC) provides a variety of programs designed to meet the unique needs of our university community.  Activities range from outreach and crisis consultation to confidential counseling and psychotherapy. Services are available free of charge to SGU students, staff, faculty and their significant others. 
On-site Veterinary Services 
The Small Animal Clinic (SAC) provides high quality veterinary service to members of the SGU community and the people of Grenada.  Services at the SAC include vaccination, Heartworm Testing & Prevention, Flea & Tick Prevention, Deworming, Dental Care, Spays & Neuters, Wellness Examinations, Nail Trimming, Medical Grooming, Sick visits, 24 Hour Emergency Care. 
While the SAC is primarily a general practice clinic, they can, at times, offer its clients the benefit of specialist services for their pets.   St. George's University School of Veterinary medicine has a full complement of faculty including board certified internal medicine specialists, surgeons, criticalist, radiologists, anesthesiologists, and pathologists. 
University Club 
The University Club is a private members club and SGU employees are eligible for membership. The club features a restaurant, 2 bars, swimming pool, and water sports equipment. 
Access to On-site Gym Facility 
All Students, Faculty and Staff are encouraged to use our state-of-the–art gym facilities.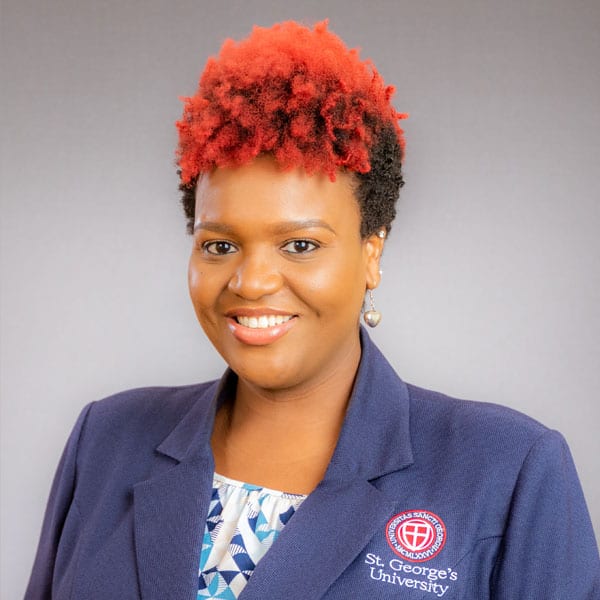 "The most interesting thing about working at SGU is the diversity of interaction. With students and faculty hailing from more than 140 countries from around the world, you can easily run into someone that comes from the opposite side of the globe while working at the True Blue campus."
Ray-Donna Peters
Communications Specialist
Marketing & Communications