The Master of Education (M.Ed.)
with Specializations in Global Education, Health Education, and Medical Education
Master of Education (M.Ed.) Curriculum
34 Credits Hours
75 % Asynchronous
25% Synchronous
15 Months, Full-Time, 3 Credit Each Except Practicum

Self-Paced

Cohort Collaboration
Professionals build on three themes:

How do people learn
How do learners engage in producing knowledge
How do learners use their knowledge to enact change?

Professionals immerse in foundational, and research-oriented courses before delving into their specialization.

75% of these engagements happen asynchronously.

Professionals collaborate with a diverse pool of educators in K-12, higher Education and health and medical careers.

25% of these opportunities happen synchronously.
Curricula Design

The curriculum has been designed to leverage digital technologies, while balancing rich and deeply immersive learning experiences.
The asynchronous online classes allow, you, the learner to schedule learnings around your priorities.
The synchronous engagements occur Monday-Friday, between 5-7pm.AST and are determined by course schedule.
The cohort model allows you to deepen collaboration, inquiry skills, which balances the self-paced learning opportunities.
The capstone positions the learner to have immediate impact in their field.
Courses have been designed with academic content experts.
Benefits Of Hybrid Learning
Learners can access the curriculum content as well as faculty and colleagues with established technological learning platforms.
The hybrid design allows learners to be anywhere and remain connected to the course content, faculty and colleagues.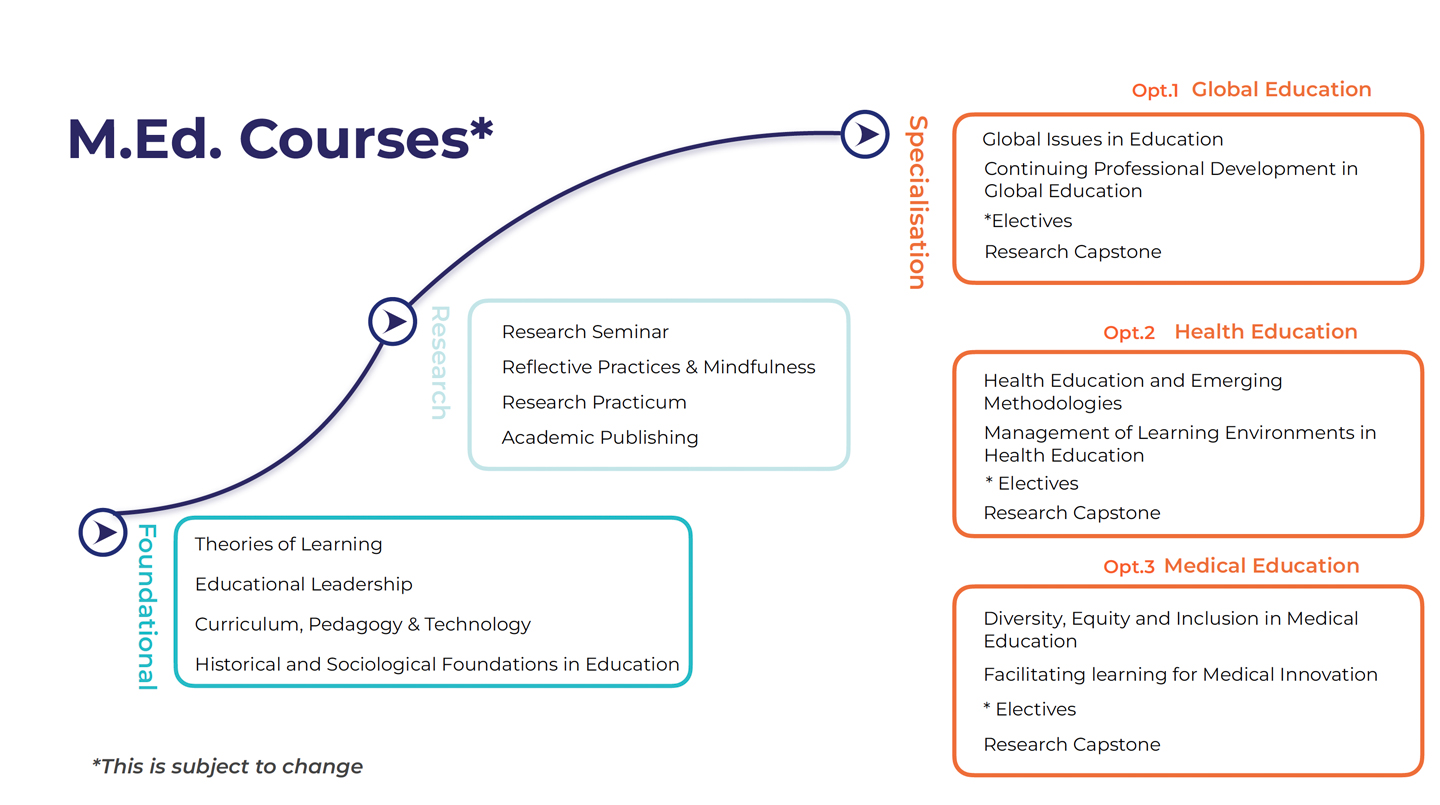 Pathway Specialization Courses*
Global Education
Health Education
Medical Education

Global Issues in Education
Continuing Professional Development in Global Education
*Electives
Research Capstone

Health Education and Emerging Methodologies
Management of Learning Environments in Health Education
*Electives
Research Capstone

Diversity, Equity and Inclusion in Medical Education
Facilitating Learning for Medical Innovation
*Electives
Research Capstone
**Professionals may select a 3-credit course from an Approved SGU Masters program which is directly connected to their specialization track.
Research Practicum
Course Offered During: Research Cycle, Session Four
Course allows for designing of the research practicum
Following the course, professionals have the choice of completing 80 practicum hours during June or July, and, conduct research Practicum in the Fall.
Program Timeline
Session 1:
Session 2:
Session 3:

8 Weeks
August to October
2 Asynchronous Courses

8 Weeks
October to December
1 Course w/3 Sync. Meetings
1 Asynchronous Course

8 Weeks
January to March
2 Asynchronous Courses
Session 4:
Session 5:
Session 6:

8 Weeks
March to May
1 Course w/ 3 Sync. Meetings
1 Asynchronous Course

8 Weeks
August to October
2 Asynchronous Courses

8 Weeks
March to May
1 Course w/ 3 Sync. Meetings
1 Asynchronous Course
Curricula Success
Learners can anticipate spending around six additional hours per week working on readings, papers, research and, or projects.
The amount of time devoted for out-of-class learning is dependent on learners' budgeting of time, learning proclivities, and learner priorities.
Apply

We are currently accepting applications for the next cohort!
The next cohort will begin August 2023 and will graduate with a Master of Education degree in May 2025.
In order to apply, you will need:
A completed application (please email LReason@sgu.edu or DModeste@sgu.edu)
Official transcripts (from institutions outside of SGU)
Two letters of recommendation (one academic, one professional)
CV/Resume
Applicants are required to have a bachelor's degree and previous teaching experience (this can be in non-traditional settings).
Applications are accepted on a rolling basis.
St. George's University
University Centre
Grenada
,
West Indies
Grenada
or
Office of Admission
St. George's University
c/o University Support Services, LLC
The North American Correspondent
3500 Sunrise Highway, Building 300
Great River, NY 11739