UK Major Affiliated Hospitals
UK Limited Affiliated Hospitals
Kent and Canterbury Hospital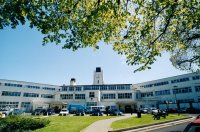 Address:
Ethelbert Road
Canterbury
Kent  CT1 3NG
Phone: 01227 766877
Website: www.ekht.nhs.uk
Director of Medical Education:
Mr. Nitin Shrotri
Student Coordinator:
Lisa Fletcher
Rotations Offered: Electives Only
Electives available:
Anaesthesia, Dermatology, Haematology/Oncology, Neurology, Radiology, Rehabilitation, Renal Medicine, Urology, Vascular Surgery.
THE HOSPITAL – The Trust and Hospital
East Kent Hospitals University NHS Foundation Trust is one of the largest hospital trusts in England, employing over 8,000 staff across five hospitals serving a local population of around 695,000. It also provides specialist services for a wider population across East Kent including child and adolescent mental health services, and renal services in Medway and Maidstone. The Trust has a national and international reputation for delivering high quality specialist care, particularly in cancer, kidney disease, stroke and vascular services.
Facilities at Kent & Canterbury hospital include a day surgery unit, a purpose-built endovascular theatre, a dermatology centre, an endoscopy suite, an aseptic suite, robotic automation for pharmacy and a unique children's assessment centre. There is a specialist haemophilia centre on site and the hospital is also the local centre for inpatient urology, vascular and renal services. Neurology services are also centralised on this site. We have a national and international reputation for delivering high quality specialist care, particularly in urology, kidney disease, and vascular services.
We value and pursue excellence in research and innovation. Our Trust has been ranked first in Kent for clinical research studies, as well as consistently recruiting high numbers of patients into research trials. As a teaching Trust we play a vital role in the education and training of doctors, nurses and other healthcare professionals, working closely with local universities and Kings College University in London.
Our vision is 'great healthcare from great people'.
GENERAL INTEREST – Canterbury is a popular tourist town, surrounded by chalk hills with beautiful flora and fauna known as the 'Garden of England'.  It is a beautiful cathedral and university city, 60 miles from London (1 hour and 20 minutes away by train).  Canterbury is only six miles from the Kent coast and provides easy access to Europe via the Channel Tunnel or by ferry.  There is a wealth of maritime history and Georgian architecture in the city itself.
IMMUNISATION REQUIREMENTS – Diphtheria, Tetanus, Polio, Hep B, Rubella, TB & Hep C. Students attached to this hospital are required to provide an English or Western European pathology laboratory report for Hepatitis B titre levels.  Proof of vaccination against tetanus, polio, diphtheria, TB and any recent chest X-rays is also required.  In some instances Rubella titre levels will be required as will Hep C titres for those students on exposure prone firms. Please also bring with you 2 passport sized photographs of yourself for your ID badge.
ACCOMMODATION – Single study bedroom within a 5-bed shared flat. £420 for bookings over one month. Keys for accommodation should be collected from Mrs Margaret Allen, the Accommodation Officer, between 8 am and 4 pm Monday to Friday.  Students will not be able to gain access to accommodation during a weekend and it is advisable to contact Mrs Allen to confirm exact details of arrival at the hospital.  Margaret Allen can be contacted by phone: 01227 783146 or Email: Margaret.Allen@accentgroup.org
DIRECTIONS FOR REACHING THE HOSPITAL –  Upon arrival at either Gatwick or Heathrow airport you will need to take transport into central London to VICTORIA British Rail mainline station. Take a train from here to CANTERBURY EAST STATION.  When you arrive at Canterbury East station take a taxi to the hospital or Sheehan House.  (You must let the Accommodation Officer know if you are going directly to Sheehan House).
Alternatively, you can get a bus from VICTORIA COACH STATION to the bus station in Canterbury town centre.