US Limited Affiliated Hospitals
Cleveland Clinic Hospital
Address: 2950 Cleveland Clinic Blvd., Weston, FL 33331
Phone: 954-659-5000
Website: www.clevelandclinic.org/florida/
Director of Medical Education:
Dr. Frederick Scott Ross
Elective Coordinator:
Evelyn Alvarez
Phone: 954-659-5469
Preferred method of contact: Email
Rotations Offered:Medicine Elective and selected Surgery Electives
Community Health South Florida
Address: 10300 SW 216th St, Miami, FL 33190
Phone: 305-253-5100
Website:  https://chisouthfl.org/
Director of Medical Education:
Dr. Saint Anthony Amofah
Student Coordinator:
Lisa Steinbrenner
Email:lisas@mdcsa.net
Phone: 678-712-6818
Rotations Offered:
Family Medicine, Pediatrics, Psychiatry, Ob/Gyn
Hospital Information:
Community Health of South Florida Inc. is a nonprofit health care organization providing affordable quality primary and behavioral health care services to the residents of rapidly growing South Florida. CHI operates 11 state-of-the-art community health care centers and 35 school-based programs. All centers offer quality comprehensive primary and behavioral health care services. Our physicians are board-certified or board eligible. Additionally, CHI is accredited by the Joint Commission and is accredited as a Patient-Centered Medical Home by the National Committee for Quality Assurance (NCQA). CHI offers a "one-stop-shop" model where the organization and delivery of quality services are seamless, affordable, accessible, and culturally sensitive.
Loyola MacNeal Hospital
Address: 3249 Oak Park Ave, Berwyn, IL 60402
Phone: 708-783-9100
Website: https://macnealhospital.org/
Director of Medical Education:
Dr. Priyanka Sultania Dudani
Medical Education Coordinator:
Adriana Ortiz
Phone: 708-783-3402
E-Mail: Adriana.Ortiz@luhs.org
Rotations Offered:
Internal Medicine
i. 3rd year students, 12-week rotation
ii. 4th year students, 4 weeks, 6 days a week rotation
Loyola MacNeal hospital honors the esteemed legacy of Dr. Arthur W. MacNeal. As a physician, Dr. MacNeal strove to meet the needs of the community and from his home founded what became MacNeal Hospital. Today, the modern day MacNeal Hospital continues to remain committed through partnership with Loyola Medicine to meet the unique needs of our growing community.  MacNeal Hospital is a 374-bed community teaching hospital and is a Level II Trauma Center, Located in Berwyn, Illinois, just 20 minutes west of downtown Chicago. For nearly a century, MacNeal Hospital has been providing quality healthcare in the near western suburbs and the city of Chicago. We have ACGME accredited residency programs in Family Medicine, Internal Medicine, and Transitional year residency.  MacNeal Hospital offers a rich and robust clinical learning environment with a diverse patient population. Our residents and faculty have the privilege in working a community hospital and giving back to Berwyn and the surrounding communities. This is done not only in our inpatient setting and clinic but also through various community service activities sponsored by MacNeal and Loyola Medicine.
Brentwood Hospital of Shreveport
Address: 1006 Highland Avenue, Shreveport LA 71101
Phone: 877-678-7500
Website: www.brentwoodbehavioral.com
Director of Medical Education:
Katherine E. Smith
Medical Education Coordinator:
Shelley Pate
Phone: 318-841-5465
E-Mail: Shelley.Pate@uhsinc.com
Located in Shreveport, Louisiana, Brentwood Hospital is the largest psychiatric hospital in the state. We've been providing help and hope to people across the state of Louisiana since 1971 by offering behavioral health and substance abuse treatment. Providing services for patients 4 and up, our confidential, caring environment promotes crisis resolution, positive self-awareness, socials skills, and personal growth through our mental health services and clinical excellence across acute inpatient and outpatient levels of care.
Saint Clare's Denville Hospital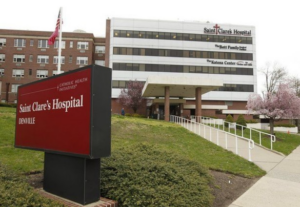 Address:
25 Pocono Road
Denville, NJ 07834
Phone: 973-625-6000
Website: https://www.saintclares.com/
Director of Medical Education:
Dr. Payam Benson
Medical Education Coordinator:
Jenny Baguidy
Phone:  973-365-4661
Email: jbaguidy@primehealthcare.com
Saint Clare's Health is an award-winning provider of safe, high quality, compassionate care, serving the communities of Morris, Sussex, and Warren counties.
Our multidisciplinary team of experts is committed to providing advanced care in a patient-centered environment that is tailored to meet the needs of each individual and their family.
Saint Clare's is a member of Prime Healthcare, an award-winning national hospital system.
St. Mary's Hospital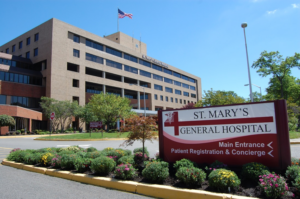 St. Mary's General Hospital
Address: 350 Boulevard, Passaic, NJ 07055
Phone: (973) 365-4300
St. Mary's General Hospital is an acute care hospital offering a broad range of health care services and community outreach programs. St. Mary's is a member of Prime Healthcare, an award-winning national hospital system.
Director of Medical Education: Dr. Michael Akerman
Medical Education Coordinator: Jenny Baguidy
Phone: 973-365-4661
Email: jbaguidy@primehealthcare.com 
Maimonides Medical Center
Address:
4802 Tenth Avenue
Brooklyn, NY 11219
Phone:  718-283-6000
Website: www.maimonidesmed.org
Director of Medical Education:
Vijay S. Shetty, MD
Administrator:
Tina Marshall
Phone:  718-283-7629
Fax:  718-283-8239
Email: tmarshall@maimonidesmed.org
Rotations Offered: selected electives only
(Maimonides will not accept foreign medical schools in the following disciplines: Orthopedics, Obs/Gyn, and Emergency Medicine)
To Apply:  Electives must be no more than 4-months in advance of the start date.  Please go on-line to complete the online application by going to: www.maimonidesmed.org then go to medical education, and to Internships & Undergraduate medical education.  Please allow us 3 weeks to process.
Maimonides Medical Center is a leading provider of graduate medical education (GME) in the Northeastern United States.  With 23 fully accredited residency and fellowship programs, over 400 residents, 300 full-time faculty, 550 voluntary attending physicians, 4.500 employees, and 700 inpatient beds.  Maimonides is one of the largest independent academic medical centers in the country.
The primary service area of the medical center includes the Borough Park, Bensonhurst, Bay Ridge, and Sunset Park sections of Brooklyn.  These areas contain a diverse cross-section of communities with a broad range of health care needs.
Maimonides is currently affiliated with the following medical schools as a major teaching hospital: State University of New York–Downstate (SUNY), New York University (NYU), Albert Einstein School of Medicine (AECOM), New York College of Osteopathic Medicine (NYCOM), and St. George's University School of Medicine (SGU).
Train for your calling in medicine with an innovative MD program.
St. George's University
University Centre
Grenada
,
West Indies
Grenada
or
Office of Admission
St. George's University
c/o University Support Services, LLC
The North American Correspondent
3500 Sunrise Highway, Building 300
Great River, NY 11739