Doctor of Medicine Program: Pathway to Residency Match
Students enrolled in our Four-Year Doctor of Medicine program spend two years studying the basic sciences, followed by access to clinical training opportunities at over 70 affiliated hospitals and clinical centers in the United States, United Kingdom, and Grenada.
Entry points are available for students from any education system around the world—including a four-year program for those entering with a traditional baccalaureate degree, and five-, six-, and seven-year MD pathways for those entering with undergraduate degrees.
Multiple Entry Points for Medical Students
There are a range of entry points into our Doctor of Medicine program, accommodating applicants of all educational systems and academic backgrounds.
Preclinical / Undergraduate Programs
Preclinical Year 1 - 7 Year MD Pathway
The seven–year MD pathway is designed for students who have secondary school credentials who need to study a complete course in the foundation sciences necessary to be successful in the MD program. With a focus on preclinical sciences, social sciences, and humanities, the seven-year entry point offers this necessary foundation.
Entry Qualifications
Secondary School Diploma: Strong science grades
Preclinical Year 2 - 6 Year MD Pathway
Entry into the six-year MD pathway is designed for students with the further education examination qualifications and provides foundation sciences necessary for mastering the basic and clinical sciences phases of the pathway later in the MD curriculum.
Entry Qualifications
Further Education:

AS Levels, Baccalaureate, South African Matric, Higher School Exam, Irish Leaving Certificate, Senior Certificate
Preclinical Year 3 - 5 Year MD Pathway
The five-year MD pathway is designed for students with Advanced Level or International Baccalaureate credentials. Students build on an academic background in science with challenging medical education coursework in anatomy, physiology, and other foundational sciences necessary for success in the basic sciences and clinical sciences phases of the MD degree program in SGU's medical school.
Entry Qualifications
3 Advanced Levels/CAPE Units 1 and 2: A's and B's in Chemistry, Biology, and either Math or Physics.
Full IB Diploma with strong grades. 3HL science courses recommended; 2HL required
India 10 + 2: Minimum 80%
Year 1 and 2 (Basic Sciences)
Students complete their courses on the True Blue Campus in Grenada. Students learn through traditional lectures and laboratory sessions augmented by small–group sessions and case–based learning exercises.
Year 3 and Year 4 (Clinical Training)
Students complete their final two years at SGU-affiliated hospitals and clinics across the United States, the United Kingdom, Canada, and Grenada using bedside learning, augmented by lectures, small groups, and directed study.
One MD Degree Program, Four Locations
St. George's University is truly an international institution, not only with its diverse student body and faculty but the unique opportunity for students to begin their medical education in Grenada, the United Kingdom, or India. The three paths feature the same curriculum and provide a strong foundation for SGU's future physicians. The last two years have the option of doing clinical rotations either in the US or the UK.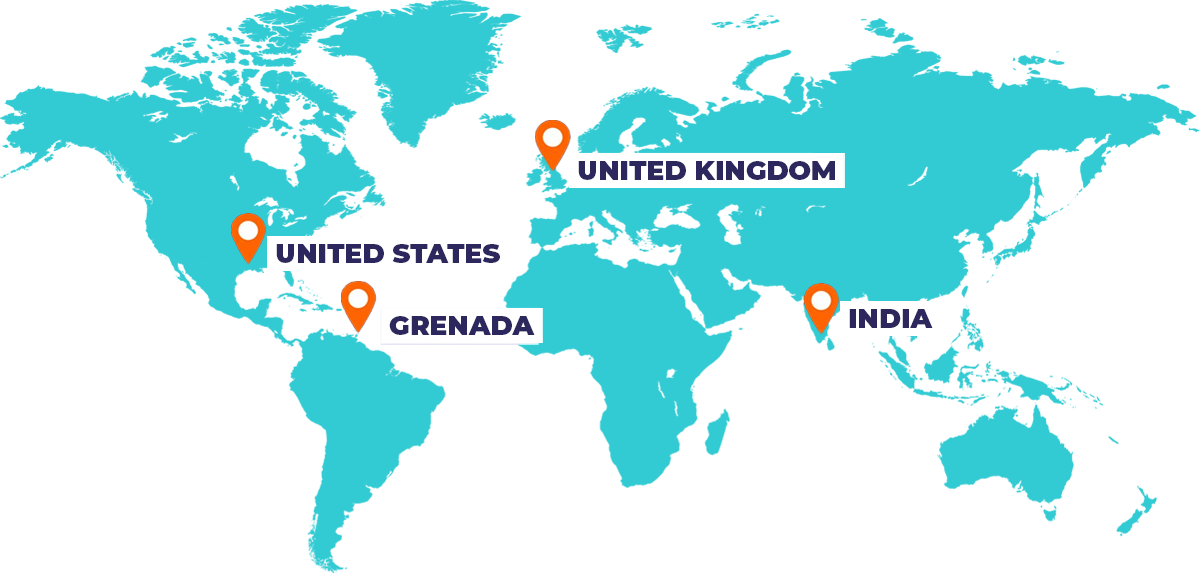 FAQs About Doctor of Medicine (MD) Program