Medical School MD Program Requirements
Qualified students from around the world apply to the St. George's University School of Medicine to pursue their Doctor of Medicine (MD) whether it be in the Four-year postbaccalaureate program, or in the Five, Six, or Seven year MD programs.
Located in St. George's, Grenada, SGU is a Caribbean medical school with a global reach. Our medical school admission requirements recognize the needs of our international students.
Students applying for a dual MD/MSc or MD/MPH degree program must include the Graduate Addendum of the application to the MD program.  Candidates will be reviewed by the School of Medicine's Committee on Admission first and then by the subcommittee that determines acceptance to graduate degree programs.
ALL APPLICANTS: Applicants are advised that the Committee on Admission requires an academic indicator (completed coursework or examination score) within the three years prior to application. North American applicants are advised that MCAT scores may be used as a recent academic indicator.
Requirements
School of Medicine: 4-Year MD Program Entry Requirements For US and Canadian Candidates
Degree. A bachelor's degree from an accredited university is required. Candidates accepted during the final year of undergraduate study are accepted with the assumption that their undergraduate degree will be completed before matriculation into the School of Medicine; a candidate's acceptance will be withdrawn if the degree is not obtained.
Coursework. The following specific undergraduate coursework (or its equivalent) is required as part of the preclinical program requirements for admission:

One year General Biology or Zoology with lab
One year Inorganic Chemistry (General or Physical) with lab
One year Organic Chemistry with lab
One semester Physics with lab
One semester Math (Calculus, Computer Science, or Statistics)
One semester of English
The Committee on Admission strongly recommends one more semester of Physics (one year in total), two semesters in social science courses (Psychology, Sociology, etc.), and courses in Biochemistry, Microbiology, and Physiology as preparation for medical school.

Computer literacy. Basic computer knowledge is imperative.
Medical College Admission Test (MCAT). All North American applicants must submit MCAT scores. (The University's MCAT code is 21303.)
Inquiries concerning application, test dates, and locations should be directed to:
Association of American Medical Colleges (AAMC)
Medical College Admission Test
655 K Street, NW, Suite 100
Washington, DC 20001-2399
Phone: +1 (202) 828-0690
mcat@aamc.org
aamc.org/mcat
The AAMC administers the MCAT, which is a standardized, multiple-choice examination used to assess student readiness for medical school admission. Test scores are reported in four sections:
Biological and Biochemical Foundations of Living Systems
Chemical and Physical Foundations of Biological Systems
Psychological, Social, and Biological Foundations of Behavior
Critical Analysis and Reasoning Skills
Each section is scored from 118 to 132, with a total overall MCAT score ranging from 472 to 528. The total score midpoint is 500.
Individual score reports provide more information beyond the actual scores, including percentile ranks, confidence bands and score profiles.
School of Medicine: 4-Year MD Program Entry Requirements For Non US/Canadian Applicants
Degree. A bachelor's degree with a strong science background is necessary.
English language. If English is not the principal language, the applicant must have achieved a minimum score of 7.0 on each band of the International English Language Testing System (IELTS).   Alternatively, the applicant must have achieved a 600 (paper-based), 250 (computer-based), or 100 (internet-based) on the Test of English as a Foreign Language (TOEFL).  The University's TOEFL code is 2864.
COVID-19 Update:
Due to the COVID-19 outbreak, IELTS centers have suspended testing in many of the countries, and it is anticipated that when centers do re-open, there will be a very large backlog of tests to clear. To enable our international applicants who are planning to join the St. George's University School of Medicine in August 2020 to meet our admissions documents' requirements, we will be temporarily accepting English test results by a number of other providers, including TOEFL, CAE, and Pearson.
This change will ensure that students, who are required to provide English Language proficiency scores, will have greater access to English Language Test slots.
The approved English Language Test Providers for August 2020 class are as follows:
IELTS – No changes to the current scoring*;
TOEFL – No changes to the current scoring*;
PassWord-Skills – Scoring is the same as IELTS scoring for direct entry;
C1 Advanced (CAE) – A score of 185 overall is required for direct entry;
PTE- Academic (Pearson) – A score of 65 overall is required for direct entry.
Please note that these changes do not apply to students planning to start their studies with our partner Northumbria University in the UK.
MD Program Entry Points with Possible English for Medicine Pathway (EMP) Based on IELTS Score
4 Yr. MD
Entry Point
IELTS Score
4MD Direct Entry
7.0 overall / 7.0 on all bands
4MD Direct Entry with MAC
7.0 overall / 7.0 on all bands with a deficit of 6.5 in the writing section only
4MD / EMP 1 Term
7.0 overall with a deficit of 6.0 in 1 – 2 bands
6.5 overall with a deficit of 6.5 in 1 – 2 bands
4MD / EMP 2 Terms
6.0 overall with a deficit of 6.0 in 1 -2 bands
5 Yr. MD
Entry Point
IELTS Score
5MD Direct Entry
7.0 overall / 7.0 on all bands
5MD Direct Entry with MAC
7.0 overall / 7.0 on all bands with a deficit of 6.5 in thewriting section only
5MD / EMP 3 Terms
6.5 or 6.0 overall with a deficit of 5.5 in 1-2 bands
6 Yr. MD
Entry Point
IELTS Score
6MD Direct Entry
7.0 overall / 7.0 on all bands
6MD Direct Entry with MAC
7.0 overall / 7.0 on all bands with a deficit of 6.5 in the writing section only
6MD / EMP 3 Terms
6.5 or 6.0 overall with a deficit of 5.5 in 1-2 bands
7 Yr. MD
Entry Point
IELTS Score
7MD Direct Entry
7.0 overall / 7.0 on all bands
7MD Direct Entry with MAC
7.0 overall / 7.0 on all bands with a deficit of 6.5 in the

writing section only

7MD / EMP 3 Terms
6.5 or 6.0 overall with a deficit of 5.5 in 1-2 bands
The FSSC reserves the right to change these placement guidelines if it deems that there is a significant weakness in one or more areas of a student's English mastery which will negatively impact the study of medicine.
Reference Points
International English Language Testing System (IELTS)
IELTS assesses student's abilities in English listening, reading, writing, and speaking
Results are reported as band scores on a scale from 1 (lowest) to 9 (highest)
The overall band score is the average of the four component scores, rounded to the nearest whole or half band. The component scores are weighted equally
A score of 7 = a good user skill level. The test taker has operational command of the language, though with occasional inaccuracies, inappropriate usage and misunderstandings in some situations. They generally handle complex language well and understand detailed reasoning
Medical Academic Communication (MAC)
One (1) hour language/communication support per week
---

UKCAT. SGU recommends that our international students sit the UKCAT (ukcat.ac.uk) to provide the Committee on Admission additional quantitative information on your academic and science foundation to allow us to properly assess your file.  The UKCAT is not mandatory but is a suggestion.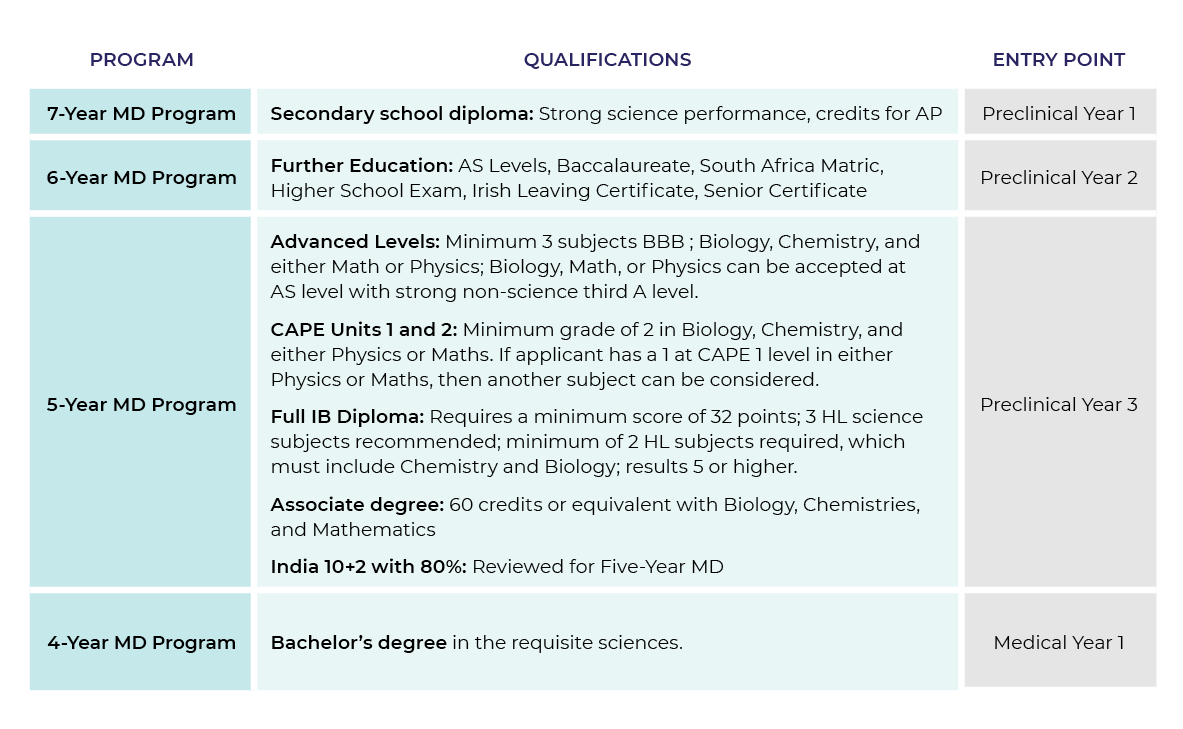 Student Selection
The Faculty Student Selection Committee takes seriously its charge of choosing future physicians who will contribute positively to the world's community of healthcare practitioners, and chooses SGU candidates who will, as future physicians, contribute positively to the world's community of healthcare practitioners.  Throughout the review process, this Committee seeks candidates for its MD program who demonstrate:
Strong academic potential

Compassion, competency, flexibility, motivation, perceptiveness, and empathy

Strong communication skills

Health professions experience

Satisfactory Medical College Admission Test (MCAT) scores (when applicable)

Letters of recommendation regarding the applicant's personal qualities, character, motivation, and academic abilities

Familiarity with the ethical questions they will face on a daily basis

Sense of community responsibility and community service involvement

Interest in and exposure to knowledge creation

Diversity of background, culture, and country of origin
Additionally, the medical school faculty specified the following non-academic and academic standards which applicants/medical students are expected to meet to participate in the medical education program and the subsequent practice of medicine.
Observation Skills
The applicant/medical student must be able to participate actively in all demonstrations and laboratory exercises in the basic medical sciences and to assess and comprehend the condition of all patients assigned to him or her for examination, diagnosis and treatment.
Communication Skills
The applicant/medical student must be able to communicate effectively and sensitively with patients in order to elicit information, describe changes in mood, activity and posture, assess non-verbal communications, and be able to effectively and efficiently transmit information to patients, fellow students, faculty, staff and all members of the health care team. Communication skills include speaking, reading and writing, as well as the observation skills described above.
Motor Skills
The applicant/medical student must have sufficient motor function to elicit information from patients by palpation, auscultation, percussion and other diagnostic maneuvers, be able to perform basic laboratory tests, possess all skills necessary to carry out diagnostic procedures and be able to execute motor movements reasonably required to provide general care and emergency treatment to patients.
Intellectual-Conceptual, Integrative and Quantitative Abilities
The applicant/medical student must be able to measure, calculate, reason, analyze, and synthesize. Problem solving, the critical skill demanded of physicians, requires all of these intellectual abilities. In addition, the applicant/medical student must be able to comprehend three-dimensional relationships and to understand the spatial relationships of structures. The applicant / medical student must have the capacity to perform these problem-solving skills in a timely fashion.
Behavioral and Social Attributes
The applicant/medical student must possess the emotional health required for full utilization of his or her intellectual abilities, the exercise of good judgment, the prompt completion of all responsibilities attendant to the diagnosis and care of patients, and the development of mature, sensitive and effective relationships with patients and others. An applicant/medical student must also be able to tolerate taxing workloads, function effectively under stress, adapt to changing environment, display flexibility, and learn to function in the face of uncertainties inherent in the clinical problems of many patients. Compassion, integrity, concern for others, commitment and motivation are personal qualities which each applicant/medical student should possess.
Admissions Process
St. George's University's School of Medicine takes a student's entire background into account during the application and acceptance process. Among other things, we assess academic achievement, volunteer and job experience, extracurricular activities, and exposure to the medical profession.
Application Process
Upon receipt of your application, an SGU admissions counselor will be assigned to you and contact you. That counselor will help you ensure that you have provided all supporting documentation and that you meet the minimum admission requirements (courses, degree or diploma, tests, etc.).
Once your application is complete (all required documentation has been received), your counselor will inform you when your application is being presented to the School of Medicine Committee on Admission (SOMCOA). The SOMCOA would review your application to determine whether it will go to the next step (the interview).
Interview Process
If you are approved for an interview, we will inform you by phone and by email. We encourage you to request an interview in Grenada, and we will work with you to schedule an in-person interview.
SGU recognizes that financial considerations may prevent many candidates who reside at great distances from Grenada from choosing this option, so we also may conduct interviews in the United States, the United Kingdom, Africa, the Middle East, the Far East, the Caribbean, or other locations that best serve the diverse applicant pool. The interview gives us a chance to know candidates better and gives the candidates a chance to articulate themselves in ways that might not show in an application.
After the interview, the SOMCOA would make a final determination of your application's acceptance, and whether you would be "wait listed" or accepted into another medical program (preclinical, for example) leading to future admission into SGU's Doctor of Medicine degree program.
Acceptance and Matriculation
Within three weeks of acceptance notification, a student must submit a signed Acknowledgment of Admission along with a non-refundable tuition deposit in order to reserve a seat in the class. Additionally, the Health Care form must be completed before registration.
Acceptance into St. George's School of Medicine is granted upon the presumption by the Committee on Admission that:
All courses currently being taken by the applicant will be completed prior to registration.
All statements made by the applicant during the admission process, whether oral, written, or in submission of academic documentation, are true and correct.
If we subsequently discover that we made our decision based on false or inaccurate information, we may nullify a student's acceptance or, if the student is registered, dismiss the student.
Acceptances cannot be deferred, but if you want to matriculate in a later term than the one offered, you must submit your request in writing for the Committee on Admission to review. Please be aware that, if you delay matriculation, SGU cannot guarantee that you would be offered the same terms as in the initial acceptance offer.
Application
For your convenience, we encourage you to apply online and track your application status through Self-Service Admission. As an alternative, you can still download a paper copy to print and complete manually.
APPLY or DOWNLOAD AN APPLICATION NOW
Application Deadlines
The Committee on Admission uses a rolling admission policy; therefore, we accept and review applications on an ongoing basis.
The School of Medicine begins first-term classes in mid-August and again in mid-January. The final deadline for receipt of applications and all supporting documentation is June 30 of the current year for the August class and November 15 of the preceding year for the January class.
If you are considering application to SGU's Doctor of Medicine program, please allow for the time necessary to secure official transcripts, standardized test scores and letters of recommendation.
Please note that entering classes are highly competitive and applications completed early have the advantage of being reviewed at the beginning of the admission process. The Committee on Admission reserves the right to defer an application to the following semester if there are no available seats.
Advanced Standing Applications
Applications for advanced standing are considered rarely and only for the beginning of the second year. The Committee on Admission does not seek or encourage transfer applications.
A candidate seeking advanced standing should write to the Chairman of the Committee on Admission to determine whether an application will be considered. The letter should include the citizenship of the candidate, the prior medical school with years attended, a brief summary of academic achievement and the reason for leaving. Should the Committee on Admission consider the application, the candidate will be notified of the procedures for applications.
Prepare for an MD degree with global reach. More than 18,000 SGU doctors have practiced in the US and around the world.
SGU is committed to providing students value in their education. We assist students in financial planning and the aid application process. 
Plan for your future. Learn more about SGU's affordable tuition and fees.
St. George's University
University Centre
Grenada
,
West Indies
Grenada
or
Office of Admission
St. George's University
c/o University Support Services, LLC
The North American Correspondent
3500 Sunrise Highway, Building 300
Great River, NY 11739