Island Veterinary Scholars Program
Advance your research skills in comparative and veterinary medicine.
Interested in learning more about research but don't have much (or any) research experience? You can advance your skills in veterinary research methodology at St. George's University through the Island Veterinary Scholars Program (IVSP).
Home
Welcome to the Island Veterinary Scholars Program (IVSP)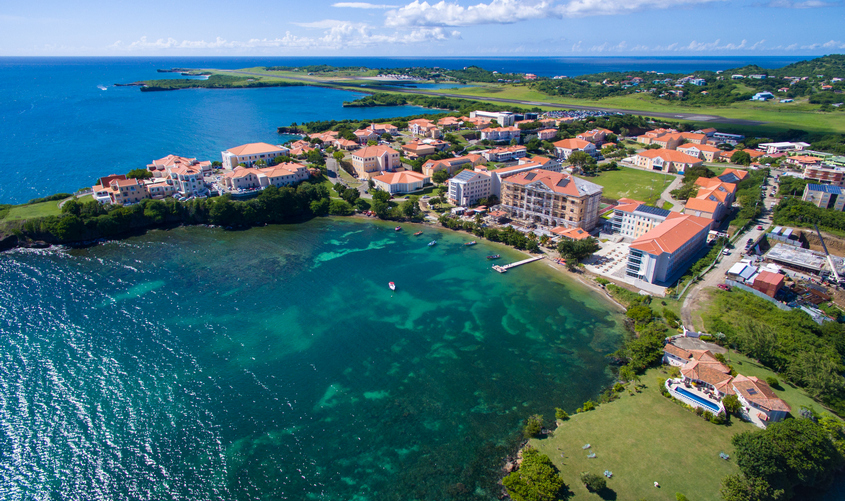 St. George's University, School of Veterinary Medicine (SGUSVM) is proud to offer the Island Veterinary Scholars Program (IVSP) for veterinary students interested in summer veterinary research.
Features:
Research experience with skilled mentors
Field trips, workshops, poster presentations and other extracurricular activities
A stipend for each IVSP scholar
Potential opportunity to attend and present at the 2021 Veterinary Scholar Symposium which will be hosted by Iowa State University in Ames, Iowa, August 4 – 6, 2021. For additional information please visit http://veterinaryscholars.boehringer-ingelheim.com/national-symposium.
To learn more about the program and to apply, please check out the corresponding tabs on the right.
Overview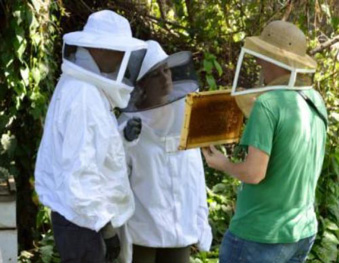 The IVSP is a summer research program ideal for veterinary students with little or no research experience. Paired with a skilled mentor, you will be encouraged to develop independent research skills and collaborate with fellow researchers and students. With support from your mentor, you'll complete your research project within the 10-week summer program for presentation at the upcoming SGU Research Day and possible presentation at the 2021 Veterinary Scholar Symposium, which will be hosted by Iowa State University in Ames, Iowa, August 4 – 6, 2021. Additionally, through seminars, workshops, and field trips, you'll gain insights into the best practices driving contemporary research.
Program Objectives
Provide a mentored research experience for veterinary students with little to no previous research exposure. Mentors in the IVSP are committed to providing a positive learning environment for novice, but motivated students.
Provide a structured environment in which veterinary students will successfully develop research independence and successfully collaborate with fellow researchers and research students. The IVSP is designed to provide scholars with a framework in which they can successfully experience training and full immersion in veterinary research.
Promote effective research mentoring. Scholars will interact with senior researchers; junior faculty; graduate students; and other students, researchers, and technicians.
Enhance understanding of and interest in veterinary research. Through seminars, workshops, and field trips, scholars will be exposed to the breadth of research opportunities in Grenada in particular and how research in this part of the world can have global significance.
Requirements
For a student to be considered for the IVSP scholar stipend, co-funded by Boehringer Ingelheim:
Applicants must be active veterinary students at SGU or a non-host veterinary institution.
Applicants must be in the first or second year of their veterinary program (SGUSVM: Term 1-4 during Spring Term 2020).
Applicants must NOT have a master of science degree (MSc) or a Ph.D., nor be in an MSc or Ph.D. program. Scholars may have a master's in public health or be in an MPH program.
Applicants must have a proposed research project and mentor before applying. Please see the tab labeled Proposed Projects and Mentors for further information.
Applicants must able to fulfill all IVSP requirements, including being present at SGUSVM for all scheduled IVSP events, actively participating in mentored research during the designated summer research time, and constructing and presenting a poster for the SGU Research Day and the Boehringer Ingelheim/NIH Symposium.
Applicants must have strong undergraduate and professional academic records.
Applicants with little to no research experience will be given preference.
Applicants must complete and e-mail the IVSP student application to Dr. Donna Neckles -Charles (DNecklesCharles@sgu.edu) no later than Friday, February 26, 2021. Please see the tab labeled 2021 Student Application for further information.
For a student to be included in the 2021 IVSP summer program:
Applicants must be active veterinary, medical or undergraduate students at SGU or a non-host veterinary institution.
Applicants must exhibit a sincere interest in research.
Applicants must contact India Paharsingh (ipaharsi@sgu.edu) to be added to the online course site
For a student to get recognition on their transcript for completing the IVSP:
Students must participate in all IVSP events.
Students must actively participate in mentored research during a designated research time period.
Students must construct and present a research poster for the upcoming SGUSGU Research Day.
2021 Proposed Projects & Mentors
***You do not have to specify a mentor at the time of application. If you do not have a mentor, please indicate this on your application. If you are chosen to be an IVSP scholar, we will help you find a mentor.***
You may also view the current list of SGU researchers HERE
IVSP Directors
Hyperlinks or emails are provided for directors and support listed below:
Wayne R. B. Sylvester, DVM, MSc
IVSP Co-Director
School of Veterinary Medicine
Lucian Peters, DVM, MSc
IVSP Co-Director
School of Veterinary Medicine
India Paharsingh, DVM
IVSP Co-Director
School of Veterinary Medicine
Dr. Euan Allan, BSc, MSc, PhD
Associate Dean of Graduate Programs
School of Veterinary Medicine
Sonia Cheetham-Brow, DVM, PhD
Professor, Department of Pathobiology
Email: eduscheetha@sgu.edu
Proposed IVSP Mentors
Hyperlinks or emails are provided for potential mentors listed below:
Satesh Bidaisee DVM, MSPH, EdD, CPH, FRSPH
Department of Public Health and Preventative Medicine
Topics: Emerging infectious diseases, zoonoses, food safety, and food security. One Health/One Medicine concept
Alfred Chikweto, BVetMed, MSc, PhD
School of Veterinary Medicine
Topics: Toxoplasmosis, cryptosporidiosis in small ruminants, animal neoplasms, honey bee diseases
Dan Fitzpatrick, MSc
School of Veterinary Medicine
Topics: Entomology, molecular genetics analysis, virology, parasitology, cell and bacterial culture
Richard Kabuusu, BVM, MPH, PhD
School of Veterinary Medicine
Topics: Disease mapping, injury epidemiology, molecular epidemiology, historical research, zoonotic infections
Firdous Ahmad Khan, BVSc, MVSc, DVSc, Diplomate ACT
School of Veterinary Medicine
Topics: Large animal medicine, theriogenology, equine and bovine research
Ian V. J. Murray, PhD
School of Medicine
Topics: Alzheimer's disease, Parkinson's disease, diabetes, bacterial metabolites, memory and learning, education
Bhumika Sharma, MSc
School of Veterinary Medicine
Topics: Ehrlichia, Anaplasma, heartworm, molecular techniques
Melinda J. Wilkerson, DVM, PhD, Dipl. ACVP
School of Veterinary Medicine
Topics: Molecular techniques, magnetic bead technology, pathogenic bacteria, zoonoses, Ehrlichia, Anaplasma
Other Potential Mentors or Co-Mentors
School of Veterinary Medicine
Tom Aifuo Aire, DVM, PhD
Topics: Reproductive biology of male laboratory animals, reproductive biology of male wildlife, reproductive biology of male birds, reproductive toxicology in laboratory animals and birds
Victor Amadi, MSc, PhD
Topics: Bacterial culturing and identification, Salmonella, Campylobacter, enteric bacteria
Muhammad I. Bhaiyat, BVM, PhD
Topics: Infectious diseases of domestic and wild animals and poultry
Brian Phillip Butler, DVM, MPH, PhD, Dipl. ACVP
Topics: Mucosal immunology, infectious disease, enteric pathology, food safety, salmonellosis
Anne Marie Corrigan, MS, DVM, MS, Dipl. ACVIM
Topics: Canine Ehrlichiosis, transmissible venereal tumor
Tomas Guerrero Dr. med vet Dipl. ECVS
Topics: Small animal orthopedics, biomechanics, traumatology, total hip replacement in the dog
Kamashi Kumar, MVSc, PhD
Topics: Medicinal plants and effects on pathogenic bacteria
Marta Lanza-Perea, BVM, MRSVS, MSc
Topics: Infectious diseases (Ehrlichia, Anaplasma, Bartonella, TVT), zoonotic diseases
David Marancik, DVM, PhD, CertAqVet
Topics: Aquatic medicine, lionfish, foodborne pathogens, molecular techniques
Rhonda D. Pinckney, MS, DVM, PhD
Topics: Zoonotic diseases, infectious diseases, parasites of public health significance, parasitic diseases, parasitology, tropical medicine, community outreach programs
Rohini Roopnarine, BVSc, MRCVS, M.Phil
Topics: Public health, epidemiology, food safety
Wayne R. B. Sylvester, DVM, MSc
Topics: Zoonotic diseases, vector-borne diseases
Arno H. Werners, DVM, MEd, PhD, Dipl. ECVPT
Topics: Innate immunity, (equine) clinical pharmacology
Catherine Werners-Butler, PhD, DVM, MRCVS, Dipl. ECEIM, Dipl. RNVA
Topics: Equine, tick-borne diseases, zoonoses, Anaplasma phagocytophilum, Borrelia burgdorferi, Theileria equi, Babesia caballi
School of Medicine
Dirk Burkhardt, MD, MSc, PhD
Topics: Energy conservation, photovoltaic systems, environmental research, sustainable energies, renewable energy sources
Mark T. Clunes, PhD
Topics: Epithelial ion transport, mucociliary clearance, cellular transduction, airway pharmacology
Vincent A. DeBari, PhD
Topics: Epidemiology and biostatistics, physiological and clinical chemistry, Immunochemistry and Molecular Immunology
Calum N. L. Macpherson, PhD, DIC
Topics: Parasitology, tropical medicine, epidemiology of parasitic zoonoses, ultrasound for tropical parasitic diseases
Cheryl Cox Macpherson, PhD
Topics: Palliation and end of life; Caribbean bioethics; culture and bioethics, research ethics, bioethics education, ethics in public health and health policy, climate change and health
Marios Loukas, MD, PhD
Topics: Cardiac anatomy, cardiovascular pathology, surgical anatomy and technique, arteriogenesis, angiogenesis, medical education, history of medicine, molecular biology, teaching, learning and assessment, ultrasound, medical education
Mary C. Maj, PhD
Topics: Biochemistry, molecular and cellular biology, study of inborn errors of metabolism, mitochondria drug discovery, nutrition and metabolism, mitochondrial disease, human genetics
Kesava Kumar Mandalaneni, MBBS
Topics: Neurology, stroke study, educational research, history of neurology, neuromyelitis optica, multiple sclerosis, neurological and mental health policy making
Cristofre Martin, PhD
Topics: Heat shock proteins, marine biology, global warming effects on coral reef development, developmental biology, molecular biology, genomics
Clare Morrall, PhD
Topics: Protected areas and marine protected areas (designation, development, management planning and implementation), reef status and threats, coral disease, coral bleaching, environmental conservation, sustainable development and practice, environmental health, experimental developmental biology, global warming effects on coral reef development
Stephen Nimrod, MSc
Topics: Marine protected areas, coral reef conservation, coral bleaching, threats and impacts to coral reefs, macroalgal growth on coral reefs, sea urchin fisheries
Trevor Paul Noël, MPH, PhD
Topics: Neglected tropical diseases, rheumatic fever, rheumatic heart disease, genetic correlates of addictive diseases
Roger L. Radix, MD MPH, MIB, FRSPH
Topics: Health policy and management, decision making, healthy organizations, presenteeism and absenteeism, nutrition, stress and chronic disease, prevention of needle stick injuries and blood borne pathogens
Samina Rutrecht, PhD
Topics: Parasitic diseases, microsporidia, cryptosporidia, evolutionary parasitology, zoonotic diseases
Andrew Sobering, PhD
Topics: Investigations of natural toxins found in native Caribbean flora
Randall Waechter, BBA, PhD
Topics: Mental health, behavioral health, cognitive neuroscience, attention, working memory, reasoning, decision-making, anxiety, trauma, stress, resilience, child maltreatment, meditation, yoga, intent, placebo effect
Department of Public Health and Preventive Medicine
Martin St. Clair Forde, ScD, PEng
Topics: Occupational health and safety, environmental health, persistent organic pollutants, biomedical waste, ergonomics
Emmanuel O. Keku, MA, MSPH, MD, FAHA
Topics: Chronic disease epidemiology, cancer, cardiovascular diseases, obesity, nutritional determinants of chronic diseases, genetic determinants of diseases, infectious disease epidemiology, emerging infectious disease, HIV, HPV
Undergraduate and Behavioral Sciences
Reccia N. Charles, DIBA
Topics: National cultures, national context, absenteeism, goal orientation, nutmeg industry, eco-tourism, country-of-origin marketing
Antonia MacDonald, PhD
Topics: The writings of Caribbean women, Caribbean literary theory, gender studies, cultural studies, black studies, post-colonial studies, folklore, St. Lucian literature
Ramsey Saunders, PhD
Topics: Biomagnetism, EEG analysis, Alzheimer's disease, arteriosclerosis, water disinfection
2021 Student Application
Remember to review the IVSP requirements before applying.
You can access the 2021 IVSP Student Application HERE
While filling out the IVSP application, please be aware of the following:
Save the document (2021 IVSP Student Application.docx) to your computer. Make sure that the file name of your application includes at least your last name (for our benefit when receiving e-mailed applications).
This is a Word document set up with text box form fields (grey rectangular boxes), checkbox form fields (framed grey squares), and drop-down form fields ("Choose an item."). Information can be added to the form fields, but the document itself cannot be altered.
Content for text box form fields can be copied from a separate document and pasted into the application.
Follow the instructions and character/page limits.
Put your name on every page of the application.
Part E: Student Transcript must be scanned and e-mailed as a separate attachment or submitted as a hard copy. The transcript does not have to be an official copy.
Two components of the application: (1) Part D: Student Curriculum Vitae, and (2) Part F: Mentor Letter of Support, may be e-mailed as separate documents. Please adhere to the character/page limits.
The Scholar/Mentor contract (Part G) is due after acceptance into the IVSP and before the commencement of the IVSP (May 17, 2021).
Dr. Donna Neckles -Charles (DNecklesCharles@sgu.edu) no later than Friday, February 26, 2021.
Calendar of Events
Description of Events
IVSP Laboratory Workshops:
Background information and corresponding questions for laboratory-based workshops will be provided for participants in a laboratory handout.
Workshop #1: Necropsy
The purpose of this workshop is to understand basics of necropsy and histopathology techniques and their applications in veterinary research.
Workshop #2: Marine Center Clinical Examination, Anesthesia and Blood Sampling of Fish
The purpose of this section is to understand the basic principles of clinical examination, anesthesia and blood sampling of fish, and how they apply to veterinary research.
Workshop #3: Clinical Pathology in Research
The purpose of this workshop is to understand the basic principles of hematology, clinical chemistry, and cytology techniques and how they apply to veterinary research.
Workshop #4: PCR
The purpose of this laboratory exercise is to understand the basics of how DNA is extracted from cells and how to perform PCR.
IVSP Field Trips:
Field trips will include a questions workbook, in which scholars will be posed questions involving research opportunities for each of the field trip locations.
Marine Center: With the inclusion of the marine research veterinarian at SGUSVM, we will be focusing more specifically on marine aspects of veterinary research for field trips and workshop. Scholars will be given a tour of the marine center, learn about ongoing future marine research at SGU and participate in marine-based research techniques
Snorkel/Scuba trip: We will be taking student on a scuba/snorkeling trip to enrich this experience from lab to fieldwork.
GSPCA/Ministry of Agriculture: This trip to the Grenada Society of the Prevention of Cruelty of Animals (GSPCA) will expose scholars to the need for further research and education for companion animals of Grenada. A tour will also be made of the research facilities at Grenada's Ministry of Agriculture.
IVSP Seminars:
All seminars are selected and designed to educate and to promote discussion among IVSP scholars on research topics and considerations.
Public Health in Research session
This session will discuss Public Health and its role in veterinary research.
Partners in Research
This session will have presentations by members of the Grenadian Ministry of Agriculture. Its purpose was to expose scholars to the widespread relevance of veterinary research to the Government of Grenada and the current research projects by the Ministry of Agriculture.
Safety and Compliance
Veterinary research relies on proper adherence and awareness of safety in the laboratory and clinic, as well as compliance with rules and regulations. This session will involve presentations on safety and IACUC regulations on animal research.
Ethics in Research
Ethics involving research are always a consideration that must be discussed. This session will provide scholars with ethics-based articles and hold a discussion on the issues addressed in these articles.
Poster Creation session
This session and one-on-one assistance will be provided to scholars as they prepare their posters for the IVSP Poster Day and the Merial/NIH Symposium.
Group Laboratory Meetings:
These meetings will be provided for IVSP scholars to discuss their research and questions/concerns with mentors, meeting leaders, and each other.
IVSP Poster Day:
IVSP Poster Day will be dedicated to displaying the veterinary scholar's research achievements at St. George's University and to preparing for future presentation at the Boehringer Ingelheim/NIH symposium. Posters will be displayed, and IVSP scholars will give a brief presentation of their posters to attending faculty, staff, and students.
Symposium
Boehringer Ingelheim/NIH Symposia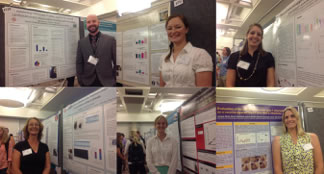 The Boehringer Ingelheim (formerly Merial)/NIH Symposium is held every year and gives veterinary students the opportunity to showcase their summer research. There are also a variety of sessions involving different research topics and numerous chances to network with fellow colleagues and seasoned researchers from the United States, Canada, the Caribbean and Europe.
Click HERE for information on the Boehringer Ingelheim/NIH Symposium.
2021 Boehringer Ingelheim/NIH Symposium: Ames, Iowa, USA
The 2021 Veterinary Scholar Symposium will be hosted by Iowa State University in Ames, Iowa, August 4 – 6, 2021.
2020 Boehringer Ingelheim/NIH Symposium
In 2020, the AAVMC hosted a virtual Veterinary Summer Scholars Symposium. The virtual Veterinary Summer Scholars Symposium featured a virtual poster session for student scholars to share their research.
2019 Boehringer Ingelheim/HIH Symposium:  Worcester, MA, USA
The general consensus was that the 2019 Boehringer Ingelheim (BI) National Veterinary Scholars Symposium at The Worchester State University, Massachusetts, USA was an overall success and excellent learning experience.
The range of oral presentations, the topics covered, the opportunities for students to present their summer research projects using poster presentations and interactive networking sessions, were truly outstanding. Both the students and faculty of   St. George's University thoroughly enjoyed the opportunity to participate in the symposium.
The record number of student poster presentations is a positive indication that more and more veterinary students are interested in research and pursuing careers in research post-graduation.
The variety and range of presentations were impressive. All of the presentations were excellent, the speakers had great knowledge base and made themselves available to answer questions after their presentations. The presentations by Dr. Daniel Fletcher and the other criticalists were particularly outstanding,
2017 Boehringer Ingelheim/NIH Symposium: NIH, Bethesda, MD, USA
There were many strong attributes of the symposium but most outstanding amongst for Dr. Paharsingh and the scholars was the focus on Professional Student Development by Drs. T. Lyle and T. Mashima. Their presentation was memorable not only for content but also for delivery. The worked well worked with each other, had meshing personalities and they created a comfortable and inviting atmosphere for students to voice their concerns and ask questions (one of our students included).  Dr. Tiffany Lyle's insight into how she networked with various schools and used her human resource and organizational skills, shared a much needed and more practical perspective on how to approach the professional veterinary world as a student. Both presenters gave insight on how to balance personal life and having family while still achieving the most from your career. The symposium had an emphasis on encouraging future vets to go into research as a career, educating them on the ways in which they could achieve this goal and the opportunities available to them both as students (for example the comparative biomedical research track) and when they graduate.
Dr. Paharsingh and the students enjoyed the wildlife and conservation lectures, in particular Dr. A. Alonso Aguirre's presentation: "Do You Want to be a Conservation Medic?: Dealing with the Gaps and Challenges of One Health for a Greener Planet". His presentation was educational and the students felt that it was much needed exposure to the life of conservation medicine. Many students from multiple schools were heard considering careers in the field after the talk! All presenters were very helpful and inviting and the students were able to approach them easily after each track to ask questions and network. The scholars loved meeting students from other veterinary schools especially their fellow Caribbean island students from Ross University and they formed an inseparable bond from day one.
2016 Merial/NIH Symposium: Ohio State University, Columbus, OH, USA
All participants overall felt that the 2016 Merial/NIH symposium at The Ohio State University, Columbus, OH was an excellent learning and networking experience. It was considered a highlight by the scholars for the summer research program and a welcome return to her alma mater by Dr. Gibson.
The foci for the symposium were One Health and infectious disease. The IVSP scholars loved meeting students from other veterinary schools and the variety of talks, in particular the presentation by Dr. Jan Ramer. While disappointing that the symposium was not held on campus, it was still rich with information and contacts for the scholars and directors.
2014 Merial/NIH Symposium: Cornell University, Ithica, NY, USA
All participants felt that the 2014 Merial/NIH symposium at Cornell University, Ithica, NY was an excellent experience and participated to their fullest extent. It also was an excellent way to conclude the IVSP, with our non-host student able to catch up with her Colorado classmates and the director able to network with colleagues. The director also interacted with the two other SGUSVM students who were MVSP scholars at other veterinary institutions.
Overall, the scholars and director appreciated the experience of seeing and learning about the wide variety of researchers and research projects in veterinary medicine. Scholars commented that they appreciated receiving Dr. Natterson-Horowitz's book: Zoobiquity in their packet. Dr. Gibson appreciated that the symposium was held at on-campus locations, allowing participants to see the campus. The choice of speakers, in her opinion was excellent. One of the speakers, Dr. Natterson-Horowitz, MD provided thought-provoking views of how veterinary and human medicine can interrelate and interact. There was a wide variety in the posters' research topics and presentation of results, and it was enjoyable to listen to students explain their summer research experiences.
2013 Merial/NIH Symposium: Michigan State University, Lansing, MI, USA
All participants felt that the 2013 Merial/NIH symposium at Michigan State University (MSU) was a powerful learning experience. It also was an excellent way to conclude the IVSP, with our non-host student able to catch up with his Auburn classmates and the co-director able to network with colleagues and potential future collaborators. The co-director was also able to speak with other SGUSVM students and one former SGUSVM student who were MVSP scholars at other veterinary institutions. The SGUSVM co-director voiced multiple positive comments on the choice of symposium talks and entertainment. One of her favorite presentations was: "Nanoemulsion-based vaccines" by Dr. Paul Makidon. The co-director was also pleased to announce the inclusion of St. George's University at the Merial program director's meeting.
Most comments from IVSP scholars and other SGUSVM scholars attending the program at other veterinary institutions were positive. They enjoyed the hands-on experience of research and appreciated the comments, questions, and discussions generated about their posters and research. They appreciated all the work, difficulties, and rewards involved in a research project. It was also very entertaining to meet socially at the zoo and hear the surgeons' band crooning to "Icky" ("Mickey" with reworked lyrics).
IVSP Scholars
2014
Lori Miller
Zachary Pearl
2015
Kathryn O'Connell
2016
Amber Lee
Maya Lantz
2017
Alok Desai
Elan Armstrong
Samantha Cook
Christopher McMonagle
2018          
Alyssa Gerbus
Brianna Piechowski
2019
Alexander Tsompanas
Devin Almonor
2020
Jieun Hong
Sara Schectman
Other Student Research Opportunities
Train for your calling in veterinary medicine with an innovative, world-class DVM program.
St. George's University
University Centre
Grenada
,
West Indies
Grenada
or
Office of Admission
St. George's University
c/o University Support Services, LLC
The North American Correspondent
3500 Sunrise Highway, Building 300
Great River, NY 11739