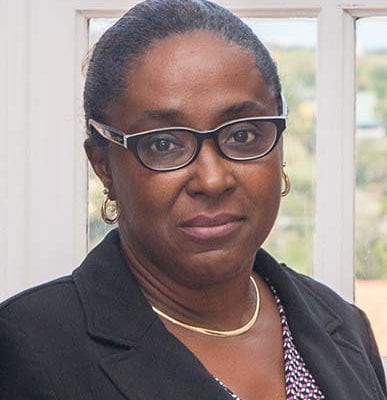 Dawne Buckmire
Vice President, Business Administration
Dawne Buckmire, vice president of business administration, brings a wealth of history and experience to SGU's executive team. She joined St. George's University in 1983, just a few years after the University opened its doors in Grenada.
Ms. Buckmire's earliest efforts helped to create an administrative framework to a university still in its infancy. Throughout her 36-year career at SGU, Ms. Buckmire has served in different departments and offices of the University, spending her earlier years as payroll manager, then as housing and financial aid manager. In 1999, she was promoted to assistant business administrator, a position she held until her predecessor's passing.  In 2007, she became SGU's business administrator, responsible for the overall management of all the non-academic areas of the University, including staffing, student services, maintenance, and housekeeping departments. She was appointed to vice president of business administration in May 2019.
Ms. Buckmire holds an associate degree in business and a bachelor's degree in business administration from the University of Phoenix. She has also completed numerous continuing education courses in areas relevant to her professional development, which serves her well as she encounters day to day occurrences at the University.
An ardent horticulturalist, she grows orchids and anthuriums, along with many other flowering plants. Ms. Buckmire was born in Grenada, receiving her early and secondary education at the St. Joseph's Convent in St. George's.
https://www.sgu.edu/wp-content/uploads/2017/01/Dawne-Buckmire-web-mug.jpg
428
387
Erin Shaw
https://www.sgu.edu/wp-content/uploads/2020/02/sgu-logo-grenada.svg
Erin Shaw
2019-12-31 00:38:49
2021-01-14 20:50:54
Dawne Buckmire