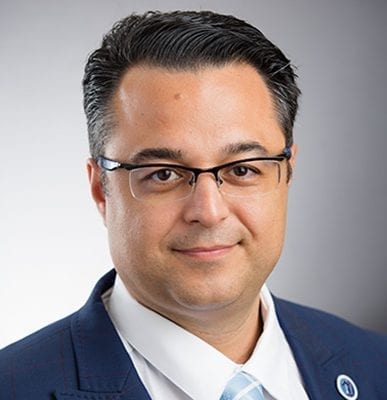 Marios Loukas, MD, PhD
Dean of School of Medicine
Professor of Anatomical Sciences
Dr. Loukas earned his MD degree from Warsaw University School of Medicine, and a PhD in pathology from the Institute of Rheumatology at the Department of Pathology in Warsaw, Poland. He held a post-doctoral position at the Ulm University Clinic in Germany working on arteriogenesis and angiogenesis projects.
Dr. Loukas began his academic career at Harvard Medical School, where he served as lecturer and laboratory instructor for the Human Body Course. In 2005, he joined St. George's University (SGU) in Grenada and shortly after became Professor and Chair of the Department of Anatomical Sciences.
In 2008 he held the position of Chair of the Department of Anatomical Sciences and assistant Dean of Basic and Allied Health Sciences. Under Dr. Loukas's leadership, the department of Anatomical Sciences established a unique division of Ultrasound in Medical Education and a second unique division of Biomedical Visualization.
In 2012, Dr. Loukas was appointed Dean of Research for the School of Medicine at SGU. One of his main responsibilities was to develop a transdisciplinary research infrastructure to support translational research and to bridge the gap between basic sciences and clinical departments to enhance student and faculty research.
In 2015 he was elected President of the American Association of Clinical Anatomists. At the same year he was named Dean of Basic Sciences at School of Medicine and also served as the vice chair of the Caribbean Accreditation Authority for Education in Medicine and Other Health Professions. In 2021 he was appointed the Dean of School Medicine.
Dr. Loukas has published over 900 papers in peer-reviewed journals, authored 20 books, including Gray's Anatomy Review, Gray's Clinical Photographic Dissector of the Human Body, McMinn and Abrahams' Clinical Atlas of Human Anatomy, History of Anatomy, and Bergman's Com¬prehensive Textbook of Human Variation and has authored several chapters in various medical and surgical textbooks, including Gray's Anatomy. He has also served as an editor and co-editor for several journals. He is Co-Editor of the journal Clinical Anatomy and the founding Editor-in-Chief of the journal Translational Research in Anatomy.
https://www.sgu.edu/wp-content/uploads/2017/01/LOUKAS-Marios-20170914_0805.jpg
428
387
https://www.sgu.edu/wp-content/uploads/2020/02/sgu-logo-grenada.svg
2017-01-19 16:01:45
2023-09-10 15:22:13
Marios Loukas