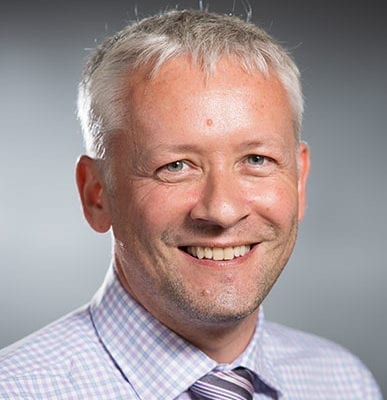 Mark T. Clunes, PhD
Senior Associate Dean, Basic Sciences
Mark Clunes, PhD, is the Senior Associate Dean of Basic Sciences at St. George's University School of Medicine. In his role, Dr. Clunes is responsible for overseeing all SOM basic science courses and reviewing the curriculum's implementation, student evaluations, faculty recruitment, and evaluations, setting basic sciences academic standards, and overseeing compliance with accreditation bodies. Dr. Clunes played a central role in the team that developed the SOM's College System, which implemented a new small class format for the MD program, incorporated a team-based instruction delivery method for curricula, and initiated the Academic Advising Development and Support department for proactive tracking of student performance.
Dr. Clunes joined the SOM faculty as an Associate Professor of Physiology in 2008. He was appointed to his latest position in July 2018 from Assistant Dean of Basic Sciences. Prior to becoming Assistant Dean, Dr. Clunes was the Deputy Chair of the Department of Physiology, Neuroscience, and Behavioral Sciences. He is the founder and former chair of the Department's Graduate Affairs Committee, where he oversaw the writing and implementation of the master's degree and PhD programs in physiology and neuroscience. He remains a member of the committee.
Dr. Clunes received his Doctor of Philosophy at the University of Dundee before completing postdoctoral research at the University of Dundee and Glasgow Caledonian University, both in Scotland, and the University of North Carolina at Chapel Hill. He is an elected fellow of the Royal Society of Biology, a UK professional organization representing those working in and/or studying biology and the life sciences. He is also a member of the Physiological Society (London), The American Physiological Society, and the American Association of Clinical Anatomists.
https://www.sgu.edu/wp-content/uploads/2017/01/CLUNES-Mark.jpg
428
387
Erin Shaw
https://www.sgu.edu/wp-content/uploads/2020/02/sgu-logo-grenada.svg
Erin Shaw
2017-01-28 00:31:39
2021-01-15 19:59:44
Mark Clunes