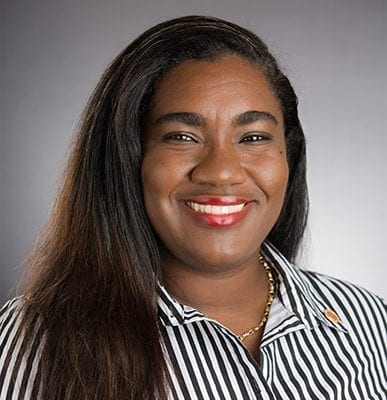 Zanifa Payne, MSc
Associate Dean and Director, Accreditation and Quality Assurance
Associate Professor, Department of Business and Management Studies
Ms. Payne is associate professor and deputy chair in the Department of Business and Management Studies and associate dean in the School of Arts and Sciences. She currently lectures undergraduate and graduate students in the areas of finance and accounting, as well as project risk management and construction financing.
Additionally, Ms. Payne also serves as director of the Accreditation and Quality Assurance Unit (AQAU), for which she is responsible for overseeing the preparation and submission of the requirements of various accreditation agencies. She is also in charge of creating processes for monitoring compliance with accreditation standards and developing and documenting continuous quality improvement initiatives.
She is currently the faculty advisor to the Caribbean Students Association and also serves as an academic faculty advisor to students within the department.
Prior to joining SGU, she worked as a pricing analyst, actuary, construction project manager, draftsperson, and a high school teacher.
Ms. Payne received her Bachelor of Arts in business administration and actuarial science from Georgia State University in 2002, followed by her Master of Science in actuarial science in 2005 from the University of Central Florida. In 2010, she earned her MSc in finance at Johns Hopkins University and is currently working on her PhD in financial Management at Northcentral University, to be completed in 2022.
Ms. Payne is a lifetime member of the Golden Key Honor Society and the Phi Beta Delta Honor Society for International Scholars.
https://www.sgu.edu/wp-content/uploads/2018/02/PAYNE-Zanifa-20180228_7004-BIO.jpg
428
387
https://www.sgu.edu/wp-content/uploads/2020/02/sgu-logo-grenada.svg
2018-02-13 20:37:43
2021-01-14 21:24:04
Zanifa Payne