Back to Blog
Grads Share 5 Ways SGU's School of Veterinary Medicine Stands Out
sgu graduates, sgu school of veterinary medicine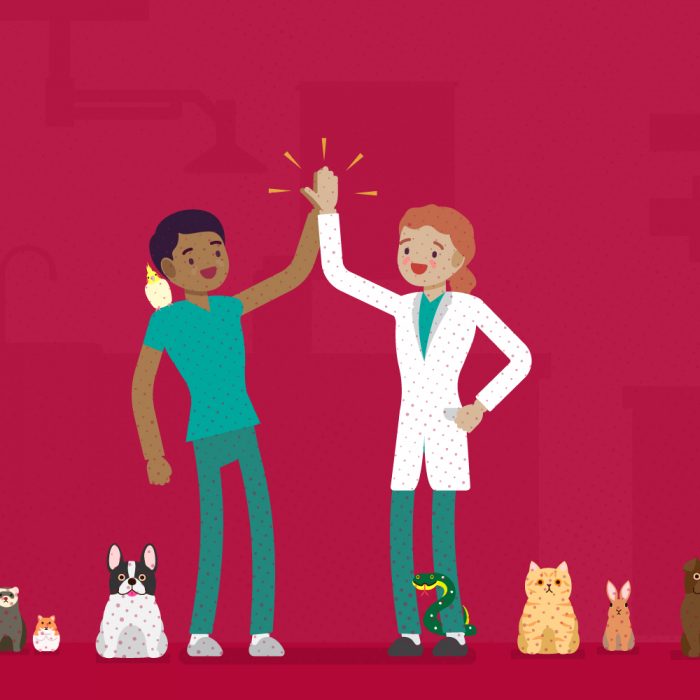 Some people prefer living life spontaneously, making quick decisions at the drop of a hat. But you're just not comfortable taking that approach, especially when choosing a veterinary school. You would never dream of purchasing a home without having a professional complete a final inspection. Why should committing to a vet program be any different?
You've been thinking about the School of Veterinary Medicine at St. George's University (SGU), but you want to make sure you have the same insider knowledge an inspector provides home buyers. This type of behind-the-scene insight is more available than you might think. Listening to graduate experiences is one of the best ways to really get a feel for a veterinary program.
You'll be happy to hear SGU alumni have a lot of great things to say about the School of Veterinary Medicine. Keep reading to hear why they think St. George's University is a step above the rest.
5 Ways the SGU School of Veterinary Medicine stands out
Who better to hear from than former students who were once in your shoes? Hear firsthand what SGU graduates have to say about their experience in the Doctor of Veterinary Medicine (DVM) program.
1. SGU grads are ready to hit the ground running
There has been a growing trend of new DVM graduates seeking internships in recent years. While some are interested in pursuing additional training to specialize, a lot of these DVMs are seeking internships because they don't feel ready to start practicing. This isn't common among SGU graduates, though.
The program at St. George's University focuses on gaining hands-on experience as early as possible. Dr. Emelie Fogelberg, veterinary technical advisor for Ceva Animal Health, mentions participating in SGU's biannual One Health One Medicine Vaccination Clinic was a great opportunity to start building her skills. "It gave us students a chance to apply our knowledge to real cases at an early stage in our education," she says.
"It gave us students a chance to apply our knowledge to real cases at an early stage in our education."
Students continue to build their clinical skills as they progress in their education, often completing far more spays and neuters than students at other schools. Focusing on practical experiences proves incredibly beneficial once students complete the program.
"My experience at SGU was amazing," says Dr. Francisco Torrado, veterinarian at Live Oak Animal Hospital. "I felt completely prepared to enter the veterinary profession, maybe even more so than my US counterparts."
2. SGU faculty always put students first
Most veterinary students need at least a little bit of guidance as they work toward earning their degree. SGU provides a range of student support services to make sure you obtain the assistance you need, but the professors also go above and beyond.
Dr. Sylke Lohmann, staff veterinarian at VCA Newark Animal Hospital, was blown away by how much her surgery instructors supported her. "They were so encouraging and made surgery such a great experience," she recalls. Dr. Lohmann thinks emphasizing hands-on learning really indicates how much instructors want their students to succeed. "With the relatively short time the professors had with us, it was clear they really cared and wanted to teach us everything possible," she says.
The experience was similar for Dr. Jennifer Lopez, staff veterinarian at VCA Aventura Animal Hospital and Pet Resort. "The faculty spent time with us," she explains. "They really cared about us doing well, going on to do clinics well, and becoming very good veterinarians."
3. SGU students get to work with experienced specialists from around the world
Every good veterinary school makes sure to hire experienced faculty with substantial veterinary experience. SGU takes it one step further. "We have professors who come from all over the world to teach us, and they are specialized in their fields," Dr. Fogelberg says when reflecting on her education.
Receiving instruction from professors with such specialized training can help students learn about fields they might not have otherwise considered. Even if they don't pursue one of those specialties, they can certainly build a more robust veterinary medicine foundation.
4. The SGU campus immerses you in a one-of-a-kind cultural experience
Attending veterinary school in another country is certainly a little bit out of the norm. But have you considered there might actually be advantages to stepping outside of your comfort zone?
"One of the best things about SGU is the fact that it isn't a US school."
"One of the best things about SGU is the fact that it isn't a US school," explains Dr. Kirsten Traul, equine veterinarian. "It makes you think in a different way, and makes you a better vet."
Dr. Traul isn't the only one who benefited from expanding her horizons at SGU. "It opened me up to a whole new world and perspective, and I feel like I left there incredibly well-rounded," says Dr. Raye Taylor, veterinarian at Blue Skies Pet Home Euthanasia and Hospice.
It wasn't just getting outside of the US that Dr. Taylor appreciated—it was Grenada in particular. "That SGU students can experience culture and balance a stressful education with a tropical island is a distinct advantage," she adds.
5. SGU students form close personal relationships with each other
While traveling to an unfamiliar location for veterinary school is exciting, it can also be a little bit nerve-wracking. Dr. Joshua Morgenstern, board-certified veterinary cardiologist at the Veterinary Medical Center of Long Island, notes this unique circumstance actually brought classmates together.
"We were all experiencing the same thing, and we all had a passion and drive to become veterinarians," Dr. Morgenstern says. "I think we all found comfort in that and grew together not only as a class but also as a family."
"I think we all found comfort in that and grew together not only as a class but also as a family."
For many graduates, the friendships they formed in veterinary school have lasted long after everyone has left Grenada. "It just felt like I was away yet with family," says Dr. Laura Paasch, staff veterinarian at the Veterinary Referral & Emergency Center of Westbury. "I am still close with many of my classmates, who remain dear friends."
Begin your veterinary medicine journey
It's clear St. George's University grads finish school with much more than a degree. They aren't just alumni; they're part of a global community that's excited to open its doors to even more veterinarians. There are opportunities for just about every veterinary interest.
If you think you could see yourself as a student at the SGU School of Veterinary Medicine, then take the next step. You can learn more about how to achieve your veterinary career goals by visiting our request information page.
sgu graduates, sgu school of veterinary medicine