Back to Blog
What Is a Veterinarian? Uncovering the Role of Animal Doctors
careers, veterinarian advice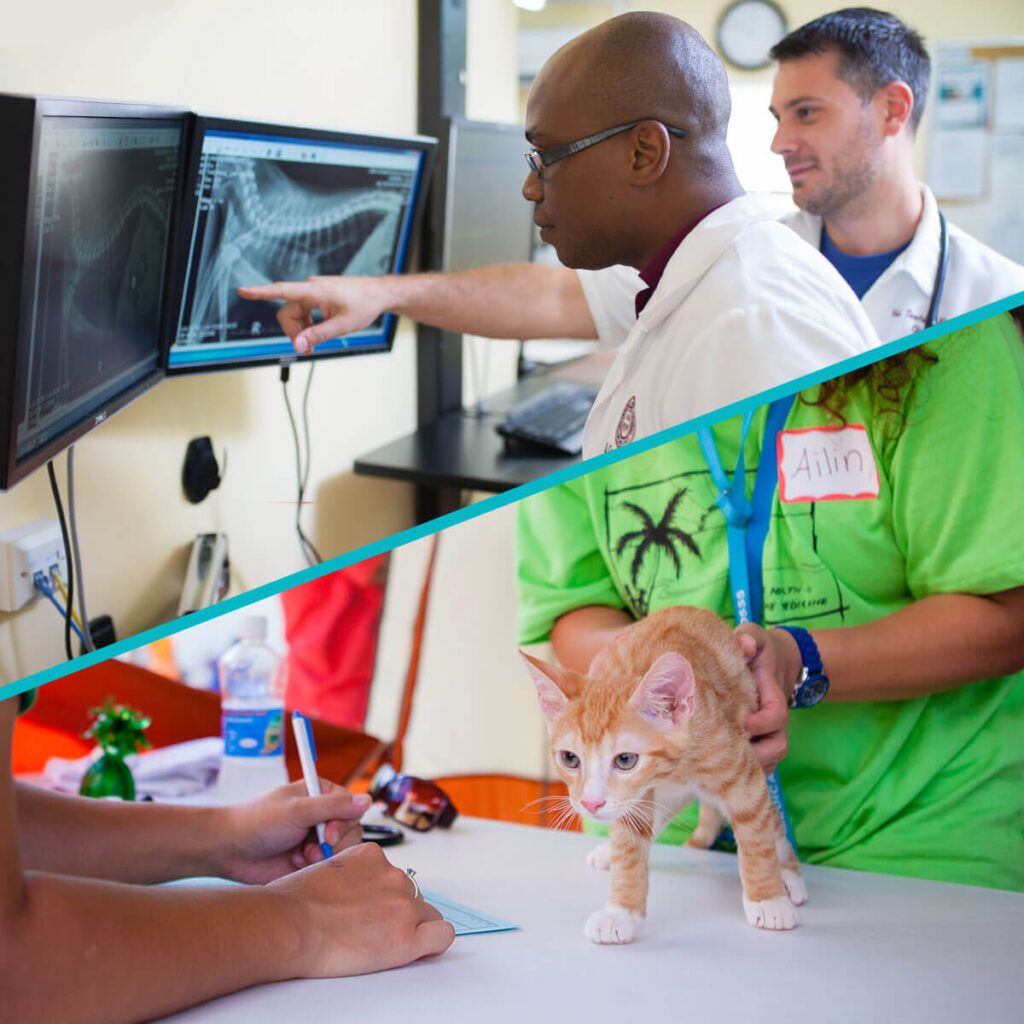 You might think of veterinarians as the medical professionals who simply care for dogs, cats, and similar domestic animals. Like other doctors, veterinarians attend school to get a Doctor of Veterinary Medicine (DVM) degree before being a practicing vet. Their jobs are actually surprisingly diverse, spanning numerous industries. So, just what is a veterinarian? The answer is a little more complex than you might first expect.
What is a veterinarian, exactly?
Veterinarians are the doctors of the animal world. They use their skills to evaluate patients, make diagnoses, and treat a wide range of conditions.
"Our goal is to preserve quality of life and alleviate pain while making sure that we work with our pet owners as best we can to help them care for their pets," says Dr. Justine Lee, board-certified veterinary specialist in emergency/critical care and toxicology. She also notes these medical professionals can treat different species, depending on their specific focus.
Veterinarians improve animals' lives, and that may even translate to better health outcomes for humans.
What do vets do in a typical day?
Working with animals just scratches the surface of what veterinarians do. Some common veterinarian duties include:
• Diagnosing conditions
• Administering vaccines
• Prescribing medication
• Performing surgeries
• Completing diagnostic tests
• Educating pet owners
Veterinarians can provide pet owners with valuable information to keep their animals healthy. In fact, Banfield Pet Hospital's State of Pet Health  suggests listening to a veterinarian's nutrition recommendations is one of the best ways to combat common issues like osteoarthritis, skin allergies, and animal obesity.
Responsibilities can vary, depending on a vet's focus area. "Just like human medicine, where there are specialties in internal medicine, surgery, dermatology, and emergency, veterinary medicine has also started to move that way," Dr. Lee explains.
Veterinarians specializing in behavioral medicine perform detailed evaluations to determine whether there's a medical reason for animal conduct issues and help develop treatment plans. Veterinary toxicologists, on the other hand, may work in an office setting, often answering pet owners' questions.
Dr. Lee consults for the American Society for the Prevention of Cruelty to Animals (ASPCA) Animal Poison Control Center. Pet owners and vets call these types of centers to connect with a specialist when they suspect an animal has consumed a dangerous substance.
"At the ASPCA Animal Poison Control Center, we counsel both pet owners and veterinary professionals on how best to treat the poisoned pet or patient," Dr. Lee says. Some potential courses of action are teaching someone how to induce vomiting at home, directing a person to seek veterinary attention nearby, or even nonaction in the event the substance in question isn't harmful.
Where do vets work?
Exactly where a veterinarian works depends largely on their specific role. You might be surprised by how varied the locations can be. The Centers for Disease Control and Prevention (CDC) outlines some of the common settings:
• Veterinary clinics and hospitals
• Animal shelters
• Farms and ranches
• Animal processing facilities
• Zoos and aquariums
• Laboratories
Many individuals and group-practice veterinarians, which the CDC estimates to be around 80 percent of all vets, work in clinics. This still allows for some variety. Vets can work in brick-and-mortar clinics as well as in mobile facilities. The latter are often less expensive to operate and allow veterinary professionals to provide more convenient services for pet owners.
What qualities do you need to be a veterinarian?
Every professional relies on specific skills, and veterinarians are no different. They should possess compassion, decisiveness, manual dexterity, and solid communication skills.
Being able to effectively communicate goes beyond interacting with animals. "Potential candidates interested in pursuing the veterinary field as a career have to realize that if they don't get along with other people, they should not be in the field of veterinary medicine," Dr. Lee says. "That's because there's a lot of interaction with pet owners."
How do you become a veterinarian?
You'll need to obtain a number of credentials to practice veterinary medicine—the most important being your Doctor of Veterinary Medicine (DVM) degree. There are usually strict course prerequisites you need to complete in order to become an eligible applicant.
Before you start applying to veterinary schools, you need to make sure you meet all the requirements, which cover more than just course credits. Most programs require you to take the Graduate Record Examination (GRE), submit letters of recommendation, write a personal statement, and obtain a substantial amount of veterinary experience.
Gaining that experience is particularly important. "[Applicants] should have at least 100 hours of experience working—or volunteering—in a veterinary clinic," Dr. Lee advises. She adds that gaining veterinary experience will also help you understand if you're truly dedicated to the field before you invest a substantial amount of money in an education.
Once you start veterinary school, you will most likely spend your first three years taking courses on campus and spend your final year away on clinical rotations. Near the end of your education, you'll sit for the North American Veterinary Licensing Examination (NAVLE)  , a 360-question test you must pass in order to practice. After the NAVLE, you may also need to complete an additional licensing exam depending on where you plan to practice.
Some DVM grads choose to pursue a residency or internship to become a certified specialist, but it's not a requirement. "Once you graduate from veterinary school, you can go straight out to become a general practitioner or family veterinarian," Dr. Lee notes.
What is the career outlook for veterinarians?
Having a passion for animals is a fantastic reason to pursue a career in veterinary medicine. On top of that, it's a growing field with plenty of opportunity.
Thanks to increased pet expenditures and a need for professionals who can maintain a safe food supply, veterinarians are poised to see substantial growth in the coming years. According to the US Bureau of Labor Statistics, veterinarian employment is expected to grow by 17 percent through 2030. This far outpaces the national average for all occupations.
Is a career as a veterinarian right for you?
You now have plenty of information about what role vets play in our world. You might even have enough knowledge to confidently fill someone in the next time you overhear a person ask, "What is a veterinarian?"
If veterinary medicine sounds like a field you might want to pursue, make sure you know what you're getting yourself into. There's a lot more to this career than playing with pets. Learn more about what to expect on the job by reading our article, "8 Things You Should Know Before Becoming a Veterinarian."
This article was originally published in 2018. It has since been updated to include information relevant to 2021.
careers, veterinarian advice