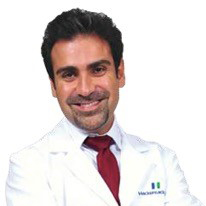 Abdulla Al-Khan, MD
Graduation Date: 1995
Bahrain
Hackensack University Medical Center
Vice Chair and Division Director of Maternal-Fetal Medicine and Surgery
Dr. Abdulla Al-Khan is the vice chair and division director of maternal-fetal medicine and surgery at Hackensack University Medical Center, which is part of the Meridian Healthcare System. He is also the director and founder of The Center for Abnormal Placentation at Hackensack University Medical Center in New Jersey.
As a double-board-certified physician, he holds academic titles as an assistant professor of obstetrics and gynecology at the University of Medicine and Dentistry of New Jersey, New Jersey Medical School, and Seton Hall University School of Graduate Medical Education. He is an associate professor at St. George's University School of Medicine.
After completing medical school at St. George's University, Dr. Al-Khan took an internship at Mount Sinai School of Medicine in New York City and a residency in obstetrics and gynecology at Seton Hall University in New Jersey. He was in academic faculty practice for two years and then proceeded to a three-year fellowship in maternal fetal medicine at the University of Medicine and Dentistry at New Jersey Medical School.
Dr. Al-Khan is recognized as an expert in high-risk pregnancy, caring for patients with the most complex medical and surgical conditions. He was the first physician in the world to perform a robotic transabdominal cerclage on a pregnant patient.
In 2008, he established The Center for Abnormal Placentation at Hackensack University Medical Center, a multidisciplinary center that was the first in the world to coordinate the care of patients who present with placenta accreta, a major cause of obstetric hemorrhage and maternal mortality.
What initially drew you to a career in obstetrics and gynecology?
I enjoyed all aspects of my medical studies, but I chose obstetrics and gynecology because it offers a combination of a number of disciplines, including pediatrics, surgery, psychiatry, radiology, and urology. It's extremely rewarding to help women who have difficult pregnancies to deliver a healthy baby. It allows you to make an impact on the person in your care, wider society, and generations to come.
In 2008, you established the world's first Center for Abnormal Placentation at Hackensack University Medical Center. What motivated you to do this?
Placenta accreta is a serious pregnancy condition that occurs when the placenta grows too deeply into the uterine wall and other pelvic structures (primarily the bladder). It's a major cause of obstetric hemorrhage and maternal mortality. Fifteen years ago, I witnessed a pregnant woman suffering from placenta accreta in her second pregnancy. She required emergency treatment, 12 hours of surgery, and three days of surgical ICU admission on a ventilator with an open abdomen, followed by numerous surgeries in order to save her life. I told myself that I never wanted another woman to experience this. I dedicated my time to finding effective diagnoses and treatments for this condition and now have models which are replicated in the world's leading hospitals.
The center provides much-needed comprehensive services to women who currently have no other place to go for expert care. Our innovative program has been developed and designed to serve as a template for regional, national, and international institutions. It has led to the improvement of pre-delivery diagnosis and delivery complications have been significantly reduced.
We have operated on 250 pregnant women with placenta accreta and have had a 100 percent success rate. I now have four PhD researchers dedicated to developing further diagnosis techniques and treatments, and our methods are being practiced across the world. We also have two senior research scientists actively working on data collection and outcome analysis. I have helped set up our care for placenta accreta programs across Europe, the Middle East, Far East, and of course the United States.
What are your hopes for the future of maternal health care?
Over 500,000 women die worldwide each year from pregnancy-related conditions. That is unacceptable. It's heartbreaking to visit developing countries and see the rates of avoidable maternal death. Wealthier countries can change this by donating medical equipment we no longer use and continuing to research and share our knowledge with practitioners across the globe, particularly those with limited resources.
In developed countries, we're seeing a significant increase in births by cesarean section each year, which directly contribute to problems with placental formation in subsequent pregnancies. Because of this, the incidence of placenta accreta will continue to rise, as will mortality rates for pregnant women. This trend is set to continue so further research is crucial if we're going to improve the health outcomes of pregnant women and their babies. My goal is to establish methods for diagnosing placenta accreta in pregnant women with 100% accuracy as early as possible so we can provide timely treatment and avoid maternal deaths.
How did your experiences at St. George's University shape your career?
My time at St. George's was extremely beneficial. Living in the Caribbean for two years was very different to my childhood in Bahrain and teenage years in the United States. I was 21 when I started my studies there and it made me mature quickly and gave me a work ethic and drive to succeed. My class of medical students was relatively small so we became close and this created a great support system. All the St. George's professors were outstanding, and they encouraged me to push myself and have belief in my abilities. I received a fabulous education at SGU, and my desire to learn and succeed is still with me today.
What advice would you give to medical students at the start of their careers?
I would say that, while nothing in life is easy, if you work hard and take opportunities as they appear, then there are no limits to what you can achieve. Throughout your career, if you have ideas, speak up and be persuasive. Think big and never settle for less.
Published January 2019
Find out if St. George's University is right for you.
https://www.sgu.edu/wp-content/uploads/2020/02/sgu-logo-grenada.svg
0
0
bpmauser
https://www.sgu.edu/wp-content/uploads/2020/02/sgu-logo-grenada.svg
bpmauser
2019-01-07 21:02:39
2021-02-02 15:40:41
Abdulla Al-Khan, MD