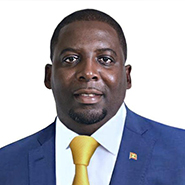 Adrian Joseph, BSc
Graduation Date: 2010
Grenada
Grenada's Ministry of Foreign Affairs
Head, Protocol Division
As Adrian Joseph, BSc '10, sees it, every day is an opportunity to grow, to learn, and to serve his home country. Today he directs and coordinates the activities as head of the Protocol Division in Grenada's Ministry of Foreign Affairs, a position he's held for nearly a decade.
Mr. Joseph shares why he went into public service, as well as how SGU afforded him the opportunity to remain close to home and family while furthering his education.
St. George's University: What are your responsibilities in the Ministry of Foreign Affairs?
Adrian Joseph: As chief of protocol, I oversee the security, logistics, and etiquette in diplomatic and national events or functions. In this role, I am also responsible for all consular matters and for serving the diplomatic corps/regional and international organizations accredited to Grenada in accordance with the Vienna Convention.
SGU: Did you always want to work in public service?
AJ: I've always wanted to serve my country in some way or another. However, it was while serving as the vice president of the SGU Model United Nations that in many ways piqued my interest in the field of modern diplomacy. That experience provided a wonderful opportunity to interact and learn from different cultures.
I chose this field because, in my opinion, it is quite extraordinary given that its main objective is to achieve a sense of harmony in the world. I find the work that I do very fulfilling as it allows for facilitation in communication and knowledge exchange and in promoting peace. I am also working on further strengthening my business acumen by earning a doctorate in business administration with a specialization in global business at Keiser University in Florida.
SGU: How have you been affected by the events of this past year?
AJ: This pandemic has been tough on many of us, but despite the adversities, it has also shown us the importance of family and friends and how grateful we should be for our health. For me personally, it has given me a new insight on issues such as food security and self-reliance. As a result, I have been dabbling in farming, which has turned out to be quite interesting and rewarding. I hope to expand on it because, apart from providing an additional source of food, it's also a great form of exercise and I find it very relaxing.
SGU: What advice would you give to someone pursuing a similar path as you at SGU?
AJ: I will always be grateful to SGU for affording me the opportunity to earn a degree that has helped me in so many ways in becoming a well-rounded individual. The University is fully equipped with all the essential instruments for learning and for preparing its students for the professional environment. I am proud to be an alumnus of an esteemed institution that continues to produce distinguished graduates who are thriving in their respective fields.
– Ray-Donna Peters
Find out if St. George's University is right for you.
https://www.sgu.edu/wp-content/uploads/2020/02/sgu-logo-grenada.svg
0
0
bpmauser
https://www.sgu.edu/wp-content/uploads/2020/02/sgu-logo-grenada.svg
bpmauser
2021-06-14 15:26:57
2021-06-14 15:26:57
Adrian Joseph, BSc