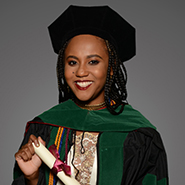 Akwe Nyabera, MD
Graduation Date: 2018
Kenya
Brooklyn Hospital Center
Surgical Intern
You left Kenya for Grenada when you were just 19. Who or what influenced your decision to study at St. George's University?
I've always had an interest in traveling, so from a young age I knew I wanted to study abroad. It was actually my school counselor who told me about SGU and the beautiful island of Grenada.
When I was 16, I worked under an engineer at a hospital in Nairobi. I was inspired by the work of the doctors and nurses and the role of the hospital in the community it served. After this, I volunteered at a number of hospitals and made the decision to study medicine.
Where has your SGU degree taken you?
I'm now living in Brooklyn, New York, and I'm working as a surgical intern at a large hospital. I love my job. It's extremely practical and I enjoy working on surgical procedures. In the future, I hope to specialize in gastroenterology or interventional cardiology. I didn't plan to move to the United States, but I'm glad I have because the knowledge and experience I'm gaining here can be practiced anywhere in the world. New York City is a terrific place to live and work. It's extremely diverse and I love the mix of people and cultures.
Apart from academic qualifications, what did you gain from studying at SGU?
A huge amount. My professors taught me how to learn and to improvise during difficult circumstances. The teaching staff were all excellent and they were always there to help if you needed it. Grenada is also the most beautiful place I've ever been. It's a really wonderful setting to live and learn. The people are so friendly and welcoming, the food is delicious, and living there gave me the opportunity to meet people from all over the world.
Alongside my studies, I got involved with a number of voluntary roles during my spare time. I regularly made volunteer visits to the Bel Air Children's Home on the island and worked with orphaned children with complex disabilities. I was also an executive board member of the University's Physicians for Human Rights chapter, community outreach coordinator and president of the Neuroscience Society, and I participated in a four-month American Sign Language selective as well as volunteering at the Dorothy Hopkins Home for the Disabled.
Your education and experience shows you're keen to live and work in a variety of countries. Is that something you hope will continue throughout your career?
Definitely. I want to work for international organizations and in countries that don't have a lot of resources. Working for an international non-profit organization would give me so many opportunities to help people who don't always have access to medical services. One day, I would like to return to Kenya and work there. The world is so big and I have so many opportunities ahead of me. Medicine is unpredictable by nature, but I'm really grateful to SGU for giving me such a good start. I'm incredibly excited about my future.
What has been your career highlight so far?
While studying at SGU, I took a two-week selective in India where I worked at a hospital in Karad. It was really eye-opening and sparked my interest in global health systems. I also recently helped to organize a medical camp in Eldoret, Kenya, with a group of neurosurgeons. I had the opportunity to scrub in on surgeries for people who couldn't afford medical care. This was extremely rewarding.
But my absolute highlight was my graduation day. My family is very important to me, and it was so special that they were all able to attend. They have always supported me, and my graduation ceremony was the culmination of all my work since I was 16.
Published May 2019
Find out if St. George's University is right for you.
https://www.sgu.edu/wp-content/uploads/2020/02/sgu-logo-grenada.svg
0
0
bpmauser
https://www.sgu.edu/wp-content/uploads/2020/02/sgu-logo-grenada.svg
bpmauser
2019-05-10 21:17:55
2021-02-02 19:52:13
Akwe Nyabera, MD