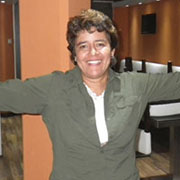 Alicia Chilito, MD
Graduation Date: 2004
Colombia
When it came time to choose the path down which she would travel, Dr. Alicia Chilito, MD '94, weighed her options, and chose the field that offered the most variety—family medicine. More than a decade into owning and operating a successful practice in Miami, she is more than pleased with her choice.
"I thought about going into surgery, but I like that I can visit with patients of all ages and backgrounds, and also treat different diseases and conditions," she said. "In family medicine, you have to know a little bit about a lot of different areas of medicine."
Born and raised in Colombia, Dr. Chilito immigrated to the United States at 17, residing with her grandmother in Texas. She earned a Bachelor of Science in biology from the University of Texas at Dallas in 1987. Dr. Chilito was admitted to a US medical school, but when that ceased operation during her first semester, she met with a past professor, John Cush, MD '81, the director of clinical rheumatology at the University of Texas Southwestern Medical School, who spoke highly of his alma mater.
She welcomed the opportunity to experience a new country and culture, and professes that the diverse student body and faculty at SGU has helped her in her current practice, which sits in one of the US's most diverse cities.
"At SGU, you meet people from all over the world, and I really liked that," Dr. Chilito said. "You learn to respect people's different religions and different beliefs. It was very rewarding to learn about these different points of view."
When it came time to apply for residency, Dr. Chilito focused solely on family medicine. "I didn't want to specialize in one thing because I didn't want to get bored," she said. "Family medicine is very broad, so you always have to study and you're always learning."
Dr. Chilito completed her residency at Allegheny Family Physicians in Altoona, PA, and after working at Miami-based clinics in the late 1990s, she opened her own practice in 2002. Outside her practice, she is the medical manager for the Miami-Dade Fire Department's Urban Search and Rescue unit. She also volunteers on numerous medical missions, treating underserved patients at clinics throughout the Caribbean, Central America, South America, Africa and the Middle East. A recent trip took her to Haiti, where she worked to address the country's outbreak of cholera.
"It's wonderful to provide medical care for people who need it and are very appreciative," Dr. Chilito said. "To change someone's life like that is very rewarding."
Dr. Chilito has served in the United States Army Reserves since 2000, ascending to her current rank of lieutenant colonel. In October 2013, her active-duty commitment took her to a clinic in Afghanistan, where she helped treat military personnel and contractors.
Published October 2013
Find out if St. George's University is right for you.
https://www.sgu.edu/wp-content/uploads/2020/02/sgu-logo-grenada.svg
0
0
Erin Shaw
https://www.sgu.edu/wp-content/uploads/2020/02/sgu-logo-grenada.svg
Erin Shaw
2016-12-16 19:31:35
2021-01-21 21:56:37
Alicia Chilito, MD