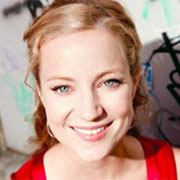 Amie Dmytryshyn, MD
Graduation Date: 2008
Canada
Dr. Amie Dmytryshyn grew up in a close-knit family in Vancouver where she always knew she wanted to study medicine. She recalled, "My father is a physician, so dinner time conversations about surgery was the impetus to my desire for medicine, then surrounding myself volunteering and working in health care solidified it." In 2002, Amie earned her Bachelors of Human Kinetics with honors from the University of British Columbia.
She heard about St. George's through a fellow Canadian and good family friend who had a great experience as a former student at the University. Like many students who might be fearful of medical school in the Caribbean, Amie explained, "I thought I was going to a third world country, but the facilities were first-rate, top-of-the-line with superior equipment." Of island life, she explained, "My first impression was that it was breathtaking. I loved the beaches and the tropical rainforests."
Still, Amie was nervous about leaving her family and long-time boyfriend, but their frequent visits to Grenada helped ease the transition. Additionally, her boyfriend moved to be with her, completing his degree online. The couple was very active during their time in Grenada, participating in annual dodge ball tournaments, weekly beach volleyball, running clubs, and more.
Initially Amie believed it might be a challenging process to return to Canada; she was pleasantly surprised it turned out not to be the case at all! "It's a difficult process no matter what because it's a competitive field, but I think I was well equipped to come back. St. George's University prepared me extremely well for my board exams—Canadian and American. I did fantastic and it's not because of memorizing—because I can't! The school shows you how to study and how to learn for your own needs. I feel indebted to the school for what they did for me."
Amie admitted that for most people medical school in the Caribbean might not be their intended route. She believes St. George's University compares favorably to other medical universities because "there is passion that comes with having to travel around the world to get your medical education." In regard to the faculty she says, "We had the best of the best!" The greatest advantage of studying in Grenada was her early hands-on experience with the local population. "Clinical experience blends into your first two years—at least one session a week of practice really prepares you for your third and fourth clinical years."
Amie graduated St. George's University in 2008. She was married to her long-term boyfriend in Summer 2010 and is currently practicing pediatric medicine in Vancouver. Although she would love to return to Grenada, Amie is busy finishing her last two years of residency. In December 2010, she was promoted to Chief Resident of Pediatrics at Children's Hospital in British Columbia. What does Amie love the most about her job now? "Sounds cheesy, but working with children and learning how to put a smile on their face is a skill I have started to learn and it is a lifelong purpose. Watching children heal is a joy."
Dr. Dmytryshyn hopes to continue this lifelong learning process practicing pediatric medicine in Canada. She and her husband hope to travel the world and continue their global education. "I have friends to visit throughout the States, UK, Australia, and New Zealand!"
She is most proud that she had the courage to leave her home, adapt to different cultures, and learn about medicine in different environments. She advises prospective students, "Do not be afraid. It is common to be apprehensive about not knowing what will happen after medical school. If medicine is your dream, let go of your fears because St. George's University will prepare you well. Your dreams will be fulfilled."
Find out if St. George's University is right for you.
https://www.sgu.edu/wp-content/uploads/2020/02/sgu-logo-grenada.svg
0
0
Erin Shaw
https://www.sgu.edu/wp-content/uploads/2020/02/sgu-logo-grenada.svg
Erin Shaw
2016-12-16 19:46:15
2018-11-07 19:08:42
Amie Dmytryshyn, MD