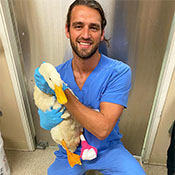 Andrew Kushnir, DVM
Graduation Date: 2019
USA
St. George's University School of Veterinary Medicine graduate Dr. Andrew Kushnir may have some star power.
Since graduating in 2019, he has made media appearances on multiple veterinary-themed podcasts, social media, and cable programs, including Vanderpump Dogs on the Peacock Channel. But Kushnir, who describes his life simply as "in scrubs," is not seeking attention. He loves to talk about his work with wildlife animals both big and small.
With his DVM degree in hand, Dr. Kushnir settled in the San Diego area where he has since completed two internships before joining the staff of Project Wildlife, which is dedicated to treating the area's diverse population of endangered species. A love for medicine runs in the family, too, as both of Dr. Kushnir's siblings, Christina and Matthew, graduated from SGU's School of Medicine.
SGU News spoke to Dr. Kushnir to learn how he fell in love with animals and what drove his desire to work with this population as a profession.
St. George's University: How did you get involved with Project Wildlife?
Dr. Andrew Kushnir:  I never really saw myself as the kind of veterinarian you'd find at a local small animal practice. I always wanted to be working with the most vulnerable animal populations such as wildlife, animals on the street, or in a shelter setting. Essentially, those who have no one really advocating for their health and well-being.  After graduating from SGU, I went on to complete a Shelter Medicine internship followed by a Wildlife Medicine internship, both at San Diego Humane Society. Currently as a staff veterinarian at Project Wildlife in San Diego, we see 14,000 wildlife patients each year.
SGU: What is a typical day like for you at Project Wildlife?
Dr. Kushnir: A typical day at the wildlife center really depends on the season. During the spring and summer when wildlife is born, there is a non-stop flood of animals arriving for care. Examining over 100 new animals a day is not uncommon and their medical presentation can range from healthy babies to debilitated and injured adults. I could be examining a group of nine healthy young opossums one minute, and then scrubbing into orthopedic surgery to fix a fractured humerus in a great horned owl the next minute. During the 'busy season,' the days are incredibly long but incredible fulfilling, knowing we've been able to give these critters a second chance at life.
SGU: Is it true that California has a unique wildlife population unlike any in the US, especially in the San Diego area?
Dr. Kushnir:  We do. We care for over 300 different species of animals found throughout Southern California, ranging from hummingbirds and raccoons to mountain lions and black bears. We see essentially any wild animal living its life out beneath the open sky in California.
SGU: What appeals to you most about working with animals in this way?
Dr. Kushnir:  I love work with wildlife and getting to experience first-hand just the incredible amount of diversity in this world. Seeing over 300 different species of birds, reptiles, and mammals each year both keeps me on my toes in the hospital and keeps me excited about what I'll see next.
SGU: You find time to do quite a lot of volunteer work as well. Can you share some of the organizations that you donate your time to?
Dr. Kushnir: I regularly volunteer with Baja Spay/Neuter Foundation, an organization determined to reduce the stray dog and cat population in Baja California, Mexico. I am currently collaborating with RRRCORA (a center for rescue, rehabilitation, and release of native reptiles and amphibians in Central Florida) regarding disease and toxicosis surveillance. I spent this past November and December volunteering at a wildlife hospital in Costa Rica, where I discovered a fascination and love for sloths! I am also currently the sole veterinarian on the FIGS Healthcare Advisory Board.
SGU: You work in a highly specialized area. How did your education at SGU's School of Veterinary Medicine prepare you for your career?
Dr. Kushnir:  The transition from being a veterinary student to veterinary professional is challenging for everyone, but the experience of attending SGU and living in Grenada really prepared future professionals like myself on how to adapt to change. I think the life experience of living in Grenada was equally as important as the course material learned in veterinary school.
Find out if St. George's University is right for you.
https://www.sgu.edu/wp-content/uploads/2020/02/sgu-logo-grenada.svg
0
0
lchartor
https://www.sgu.edu/wp-content/uploads/2020/02/sgu-logo-grenada.svg
lchartor
2022-04-01 11:11:50
2022-04-01 11:11:50
Andrew Kushnir, DVM