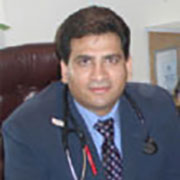 Asif Ghauri, MD
Graduation Date: 2002
United Kingdom
Growing up in Essex, England, Dr. Asif Ghauri always had the ambition to study medicine. Competition to gain acceptance into medical schools in the United Kingdom is very intense, regardless of the strength of one's grades, and so Dr. Ghauri decided to become a pharmacist. This was "the closest thing to medicine" that he had the opportunity to study in the UK, he said.
Though an accomplished pharmacist, Dr. Ghauri headed to the United States for a new challenge and started taking classes toward an MSc in Biology at the University of Texas, Arlington. While he was enrolled in classes, he had a chance meeting with a preclinical advisor who suggested he apply to St. George's University School of Medicine (SGUSOM) if he was still interested in pursuing his dream of becoming a physician. He was accepted to SGUSOM in 1998 and so began his journey.
Dr. Ghauri received excellent grades in medical school and was a top scorer on many of the medical exams, including the USMLE and the PLAB. One would think that getting a job after graduation would not be too difficult for this former pharmacist; however, in the early 2000's in the UK, for every spare internship job not filled by a UK medical graduate, there were hundreds of applicants. This situation made it rather difficult to obtain an interview.
"I got myself an interview at the Eastern Deanery and started to promote myself, talking about my excellent medical education and how well I had done academically and professionally," Dr. Ghauri recalled. "Somehow the conversation turned to old cars and their restoration, which happens to be a hobby of mine, and we must have talked about cars for more than two hours!" After this interview Dr. Ghauri had a medical internship job specially created for him and funded by the Eastern Deanery so that he could become a registered UK physician in one of the toughest markets in existence—something that had never been done before for an international medical graduate. With his foot finally in the door, Dr. Ghauri worked very hard, using his medical knowledge to care for patients at Basildon University Teaching Hospital and working long hours to prove that he was motivated and determined. He is currently chief resident in family practice at Laindon Health Center in the UK and he credits St. George's University for giving him the tools he needed in order achieve.
Dr. Ghauri's experience at SGU was a great one: "The training I received during the basic science years was very good," he said. "In hindsight, looking at the education I received, it was excellent. The SGU administration and faculty set high standards for medical students. SGU prepared students for clinical training just as well as any UK medical school. They made us go that extra mile and achieve that much more."
"One of the things I especially liked about SGU was the combination of training opportunities in the US and the UK," he continued. "It is very unique for someone with my background to be able to learn about the two different systems of medicine at one school."
Dr. Ghauri did his clinical rotations in Jersey City and some electives in UK teaching hospitals. After graduation, he considered furthering his training in the US but, in the aftermath of September 11, 2001, he decided he should return to the UK to be with his family. He commenced his postgraduate training program in 2003, and was the highest scoring applicant in family practice at the Eastern Deanery for that year. Now that he is settled and enjoying his work, Dr. Ghauri tells his story about the way he secured his position in the UK. His experience has led him to start a consulting company where he helps foreign medical graduates figure out the best way to negotiate the UK system and become successful, practicing physicians. Dr. Ghauri is and will always be very thankful for his years at SGUSOM: "St. George's University provides opportunities for those who really, really want to study medicine," he said. "If you are totally determined to become a doctor, come hell or high water, then this is the place to be."
The future looks bright, and he is quick to once again express his gratitude for SGUSOM as he concludes: "As of August 2008 I will be joining my father's practice as a full GP principal and partner. I am still extensively involved in the training of doctors and nurse practitioners. Hopefully our practice will be taking on final year residents in family practice in the not-too-distant future. Also quite soon, I will be undertaking a senior position for the local drug and therapeutics committee that ties in with my pharmaceutical background. Once again I cannot thank SGUSOM enough for making all of these dreams possible."
Published September 2008
Find out if St. George's University is right for you.
https://www.sgu.edu/wp-content/uploads/2020/02/sgu-logo-grenada.svg
0
0
Erin Shaw
https://www.sgu.edu/wp-content/uploads/2020/02/sgu-logo-grenada.svg
Erin Shaw
2016-12-16 20:06:05
2021-01-29 16:41:27
Asif Ghauri, MD