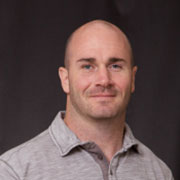 Austin Enright, MD
Graduation Date: 2011
Canada
Having grown up playing competitive rugby, Dr. Austin Enright was exposed to the magic of orthopedics at a young age.
"I probably broke 16 or 17 bones playing various sports," he estimated.
Now a fourth-year orthopaedic surgery resident at the University of Manitoba in Winnipeg, he is on the other end of these procedures, treating conditions involving the musculoskeletal system. From arthroscopic surgery and knee replacements to hip fractures and rotator cuff repair, Dr. Enright has seen a wide variety of issues at the hospital, a place with which he was all too familiar as an athlete.
"As I went through medical school, I realized that I really liked that part of medicine," Dr. Enright said. "For the most part, you're working with your hands, and you also don't have to wait long to see results in your patients. If someone comes in with a hip that's really bothering them, you can have them walking two days later without that pain."
He has thoroughly enjoyed his experience in Winnipeg, and is now looking forward to starting a fellowship in spine surgery at Middlemore Hospital in Auckland, New Zealand.
Originally from Vancouver Island, Dr. Enright obtained his Bachelor of Science in kinesiology from the University of Victoria. When weighing his options, his mother, an anesthesiologist, explained that a colleague's son had come through St. George's University. Dr. Enright learned about the St. George's University of Grenada School of Medicine/Northumbria University Four-Year MD Program, which allowed students to spend their first year of basic sciences at NU in Newcastle, United Kingdom. There he learned the UK medical system while enjoying small class sizes, personal relationships with faculty, and a centrally located campus. In addition, he carved out time to play hockey for University of Northumbria and competitive rugby with The Newcastle Medics RFC.
Dr. Enright spent his second year in Grenada, and then it was on to clinicals, for which he felt well prepared.
"It was hard not to like living in the Caribbean, and we received the same quality of education in our classrooms as students in the US and Canada," Dr. Enright said. "When we reached clinicals, I thought we were easily on par with the American students and certainly as good as or better than those from other Caribbean schools."
Dr. Enright strengthened his residency candidacy by completing orthopedics electives at the University of Manitoba, the University of Saskatchewan, and Lenox Hill Hospital in New York City.
"In vying for this position, I certainly thought I was competitive," Dr. Enright said. "Visiting electives are a big factor in the match process. If you go somewhere as an elective student and do well, you have a leg up on anyone else competing for the spot."
His time in New York City saw him continue to play competitive rugby for The Village Lions RFC in New York City. The Big Apple is also where he met his wife, Kristen.
On the side, Dr. Enright has even made his way back to the rugby pitch, albeit on the sidelines as a coach, his injuries finally catching up with him. He knows full well the risks that are involved, having seen injuries as a patient and now as a clinician.
Published September 2014
Find out if St. George's University is right for you.
https://www.sgu.edu/wp-content/uploads/2020/02/sgu-logo-grenada.svg
0
0
Erin Shaw
https://www.sgu.edu/wp-content/uploads/2020/02/sgu-logo-grenada.svg
Erin Shaw
2020-07-24 20:10:52
2021-01-29 16:50:54
Austin Enright, MD