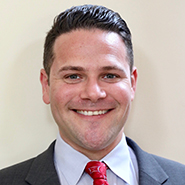 Benjamin Kahn, MD
Graduation Date: 2020
United States
NYC Health + Hospitals/Coney Island
PGY-1 Resident
Benjamin Kahn's story could be turned into a documentary, one that, in his past life, he may have assembled himself.
After all, it isn't often that an Emmy Award-winning producer leaves behind the glitz and glamour to pursue a career in medicine. The 2020 St. George's University graduate—a quintissential career changer—is now less than two months away from starting his internship year at NYC Health + Hospitals/Coney Island, at a time and in a place where care is most crucial.
"We are the first class of graduates to embark on our medical careers during these unsettling times in the middle of this pandemic," Dr. Kahn said. "This is one of those life-changing events for our generation. And in facing this challenge, we not only join our brothers and sisters on the forefront in the battle to save lives from this novel virus, but we also get to set the precedent for the future and for those who will be following us.
"I look at this not only as a personal duty to grow into that role, but a privilege to serve my community the very best way I can and to take care of my patients with the greatest level of care."
SHOW BIZ
Dr. Kahn's career in television began at Syracuse University's prestigious SI Newhouse School of Public Communications, which has produced such on-screen personalities as Ted Koppel, Steve Kroft, and Bob Costas. He earned his degree in TV and film production and set off to tell stories through his camera lens. His work included a documentary titled "A Walk in the Dark," which chronicled how a man whose eyesight was taken from him following an automobile accident and then worked to overcome his disability to succeed in school.
"He hadn't been back to New York City since his car accident and was afraid to go back there independently," Dr. Kahn said. "My goal was to empower him and help him go back to face his fear. We went on a road trip to Manhattan and he was able to experience the sights and sounds of New York City again through a different perspective."
The film won Best Short Documentary at the New York International Film and Video Festival and opened up doors for him in the world of television. He went on to work as a producer for such outlets as The Glenn Beck Program, ESPN, SNY, as well as NBC, for which his work on "George to the Rescue," a home renovation series that helped local families impacted by tragedy, earned a New York Emmy Award.
With wear and tear from the job, however, he discovered that he had torn his labrum, an injury that required surgery. His hospital stay reinforced a feeling that he had been having of late—that he wanted something more.
"I felt vulnerable. I had never really hurt myself before, and it was a very difficult recovery," he said. "My doctor was very integral in making a real difference in my life. He explained everything to me and become involved in my life. So I asked if could shadow him one day to see what it was like."
When he did, it changed the course of Dr. Kahn's life. He was struck by the doctor's professionalism, interaction with patients, and impact on their lives.
"It lit a fire in my belly," he added. "In TV, there's an authenticity to everything, but there's also an element of fabrication done behind the camera. But when I was shadowing him, I remember thinking 'this is real.' I just felt like I wanted to make more of a difference in people's lives."
"I look at this not only as a personal duty to grow into that role, but a privilege to serve my community the very best way I can and to take care of my patients with the greatest level of care."
A NEW FRONTIER
With no science background, Dr. Kahn "took the leap of faith and never looked back." He put up high marks on his prerequisite courses at Hunter College and Stony Brook University. It was then that he learned about the Emmy win—and opportunities that came with it—but by that point had committed to his second career.
"I made the decision that I was all in," he said. "I felt like I had closure at that point, and that all the experiences that I had in television had led me to medicine. I learned how to perform in high pressure environments, to work well with a team, and that everybody is just as important as the next."
At age 30, he applied to and enrolled at SGU. It took time for him to find a rhythm, but with the help of the University's student support services, he developed strong study skills and test-taking habits.
While he described himself as being "all business" during his two basic science years in Grenada, he took in all that the island had to offer. The knowledge and skills he acquired set him up well to excel in clinical training, which he completed in Brooklyn.
"It wasn't easy; I really had to work for it," Dr. Kahn said. "In the end, I just feel so blessed to have been given the opportunity to become a doctor, and the confidence and the tools that I need to succeed."
He'll return to Brooklyn for residency at Coney Island Hospital, joining a 371-bed facility in one of the NYC Health + Hospital system's 11 acute care facilities across the five boroughs. He will enter a transitional year and then turn his sights to continuing with a position in dermatology or internal medicine.
Coming from a family of dentists, from an award-winning stint in television, and making a late start to his second career, Dr. Kahn's path to becoming a physician has not been a straight line, but he firmly believes that his experiences will only help his future patients.
"I have a different perspective on everything," he said. "My background and my experience at SGU molded me into the person and the physician that I am today, and I look forward to getting started." 
Published June 2020
Find out if St. George's University is right for you.
https://www.sgu.edu/wp-content/uploads/2020/02/sgu-logo-grenada.svg
0
0
rpetersgmail
https://www.sgu.edu/wp-content/uploads/2020/02/sgu-logo-grenada.svg
rpetersgmail
2020-06-17 20:31:49
2021-02-04 17:00:14
Benjamin Kahn, MD